DAR, PCIC place 500,000 CARP beneficiaries under insurance coverage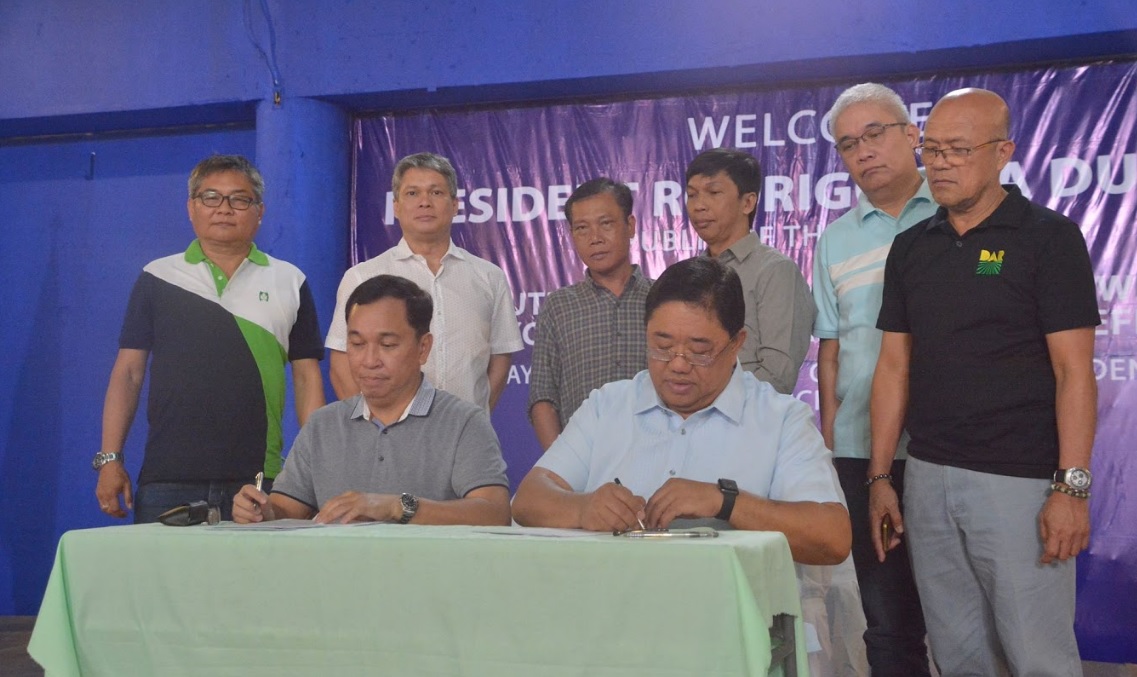 SAGAY CITY – Over half a million agrarian reform beneficiaries (ARB) nationwide can now avail themselves of free insurance coverage after the Department of Agrarian Reform (DAR) and the Philippine Crop Insurance Corporation (PCIC) recently agreed to revive the insurance program for farmers.
DAR Secretary John R. Castriciones and PCIC President Jovy C. Bernabe, signed on March 8 the memorandum of agreement to earmark P1 billion from the PCIC budget for the insurance premium of 515,000 program beneficiaries.
"The insurance program will be of great help to our farmer-beneficiaries since it guarantees that they can recoup farm losses that they may have incurred as a result of natural calamities," Castriciones told members of the media at the Balay Kauswagan in Sagay City, Negros Occidental.
The insurance program, dubbed Agrarian Reform Beneficiaries-Agricultural Insurance Program (ARB-AIP), covers farmers' crops damaged by diseases, pest infestation, and natural calamities, such as typhoons, floods, drought, tornado, earthquakes and volcanic eruptions.
Castriciones said the insurance program also covers the lives and limbs of the insured farmers and members of their families. He stressed, however, that "only farmers listed under the Registry System for Basic Sectors in Agriculture (RSBSA)" can avail themselves of the insurance program.
A similar insurance program was successfully implemented in 2013, with the DAR shouldering the P1-billion program fund for the farmers' insurance premium. A total of 350,819 farmer-beneficiaries were served and indemnified.
Under the latest agreement, the DAR will be responsible in identifying the RSBSA-registered farmers and members of their families, assisting them in preparing required documents, endorsing them to the PCIC for insurance coverage, and ensuring that they are issued with certificates of insurance coverage or insurance policy.
The DAR will also take charge in the preparation and timely submission of the required document for the farmers' indemnity claims and in the conduct of claims adjustment verification on notices of loss and claims filed by the concerned ARBs.
ARB organizations and members identified by the DAR and partner micro-finance institutions will act as PCIC underwriters.
For its part, the PCIC will be responsible in providing insurance coverage and policies to qualified RSBSA-registered farmer-beneficiaries and members of their families, facilitating field assessment, settling of claims and furnishing the DAR with monthly status reports.
To ensure the effective implementation of the ARB-AIP, the DAR and the PCIC agreed to create the following teams:
1. Operations Team for insurance program implementation;
2. Secretariat for extending technical support to the Operations Team; and,
3. DAR-PCIC Regional Coordinating Team for resolving issues and concerns, recommending new rules and regulation and coordinating with concerned parties, groups and individuals for a smooth implementation of the insurance program.
#agrarianreformPH #supportservicesdelivery