DAR, LBP, PCIC roll out AFFORD-ARBs program in AgSur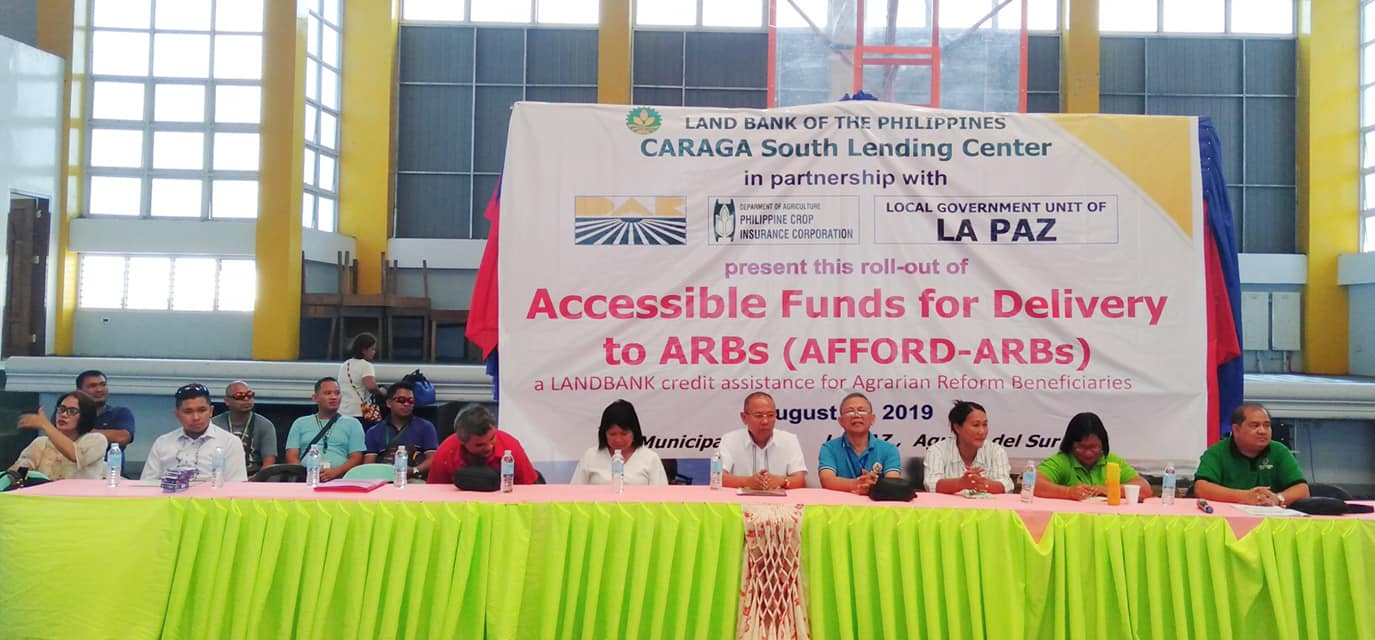 La Paz, Agusan del Sur- Over a thousand farmers were hopeful as they gathered for a day-long roll out of Accessible Funds for Delivery to ARBs (AFFORD-ARBs), a P5-B direct financial assistance by the Land Bank of the Philippines (LBP) in coordination with the Department of Agrarian Reform (DAR), Philippine Crop Insurance Company (PCIC) and the Local Government Unit last August 13, 2019 at La Paz, Agusan del Sur.
This initiative complies with Presidential Directive No. 2018-0176 dated April 24, 2018 to reach out to farmers and provide them with financial assistance for their agricultural needs as well as timely provision of credit assistance to small farmers for crop production and acquisition of small farm implements at an interest rate of 6% per annum.
"We will help you in any way we can and provide you with the right assistance so that we will grow together. All we have to do is help each other to realize our goal for a better future." Said Arnel M. Caalim, manager of the Land Bank of the Philippines.
AFFORD-ARBs is a scheme which caters individual farmers other than through association or cooperative.
"Eligible borrowers are individual holders of the Certificate of Land Ownership Awards (CLOA), must engaged in rice, corn and high value crops, an actual tiller or directly supervising of at least 0.5 but not to exceed 3.0 hectares," explains DAR -13 Regional Director Leomides Villareal.
"DAR will provide the list of landowners to LBP as their basis for authenticity of a CLOA holder and will handle loan orientation for borrowers and financial literacy seminars." Fe Mosquera, head of the DAR-Agusan del Sur's Beneficiaries Development and Coordinating Division, said.
"Through this program, the farmers will have the chance to increase their productivity and income, and we are aiming this to happen to our farmer beneficiaries in 14 municipalities across the province." She added.
Account Officer of the Land Bank of the Philippines Dindo D. Dinopol urge the farmers to avail of the program.
Immediately after the orientation, LBP conducted interview and verification of documents for farmer-loan applicants.
Meanwhile, the Philippine Crop Insurance Company (PCIC) also conducted orientation about their programs and services and urged farmers to avail insurance of their crops and livestock to guarantee a money back in case of calamities.