92-hectare Carp land in Negros Occidental distributed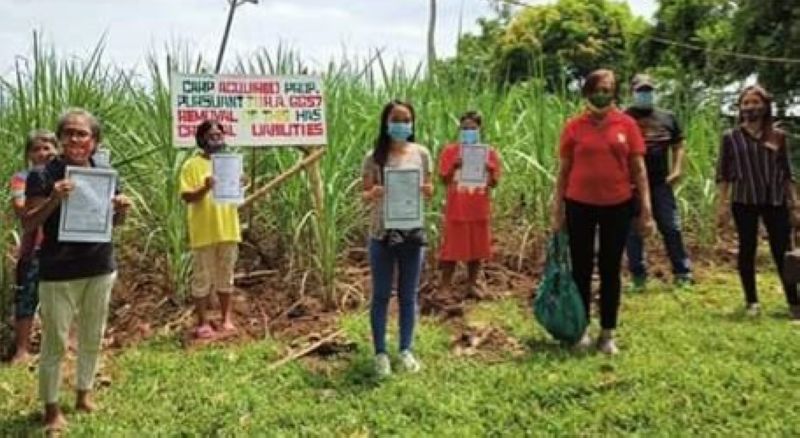 A TOTAL of 92-hectare land areas covered under Comprehensive Agrarian Reform Program (Carp) were distributed in the northern part of Negros Occidental.
On June 19, some 72 agrarian reform beneficiaries (ARBs) in Barangay San Pablo in Manapla town received their certificates of land ownership award (Cloas).
The covered landholdings included a 75.0082-hectare land formerly owned by Julian Chiong and a 6.2936-hectare land formerly owned by Noemi Acuña.
Municipal Agrarian Reform Program Officer Ma. Victoria Delgado told farmer-beneficiaries that "now that you have lands awarded to you, be responsible, take good care of it, and secure that it is free from abuse. Just abide by the laws and you will never go in vain."
On June 18, about 11 hectares of land were awarded to the four ARBs in an individual Cloa distribution in Salvador Benedicto.
The landholdings formerly owned by Virginia Sumaray are located in Barangay Bunga.
"May you till and cultivate it responsibly and use it to enhance your economic capacity so to improve the lives of your family," Municipal Agrarian Reform Program Officer Emily Bergara told the ARBs, adding that "never forget the taxes you should pay and other obligations you should perform."
Both Cloa distributions are also through land acquisition and distribution under the Comprehensive Agrarian Reform Program Extension with Reforms (Carper).
Under the program, public and private agricultural landholdings are acquired by the government to be distributed to tenants, farmers, farmworkers and other tillers who are qualified to become ARBs.
This is in the form of Cloas covering one contiguous tract or several parcels of land cumulated up to a maximum of three hectares per ARB.
Also, this is anchored to the agency's aim to provide lands to landless farmers and farmworkers, guarantee the farmers' land security, deliver social equity, and provide them with the necessary productive resources needed to ensure their economic viability and productivity.
Source: https://www.sunstar.com.ph/article/1861314/Bacolod/Business/92-hectare-Carp-land-in-Negros-Occidental-distributed