Army assists in CLOA distribution to Escalante farmers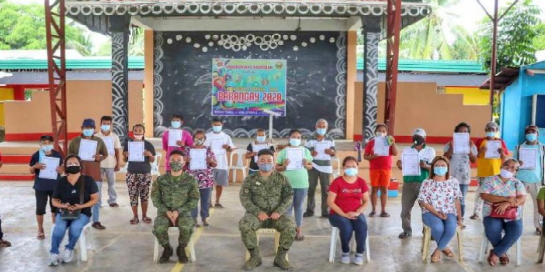 NEGROS OCCIDENTAL, July 27 (PIA)- The Philippine Army's 79th Infantry (Masaligan) Battalion assisted the Department of Agrarian Reform (DAR) in distributing Certificate of Land Ownership Award (CLOA) to farmer beneficiaries in a ceremony held recently at Barangay Dian-ay, Escalante City, Negros Occidental.
Twenty Agrarian Reform Beneficiaries (ARBs) under the Comprehensive Agrarian Reform Program (CARP) sealed ownership of the land as they received the CLOAs covering about 10 hectares of farmland, a press release from the 79th Infantry Batallion said.
Escalante DAR office headed by Maricel Seduco initiated the activity with barangay officials of Dian-ay and Escalante City Center for Collaborative Solutions representative Janet Pantonial.
During the distribution, social distancing and wearing of facemasks were strictly observed in compliance with health protocols against COVID-19.
The issuance of CLOA formalizes the legitimacy of the farmer beneficiaries as owners of the land they till. Farmers were reminded of their obligations as CARP beneficiaries.
Lieutenant Colonel Gerard T. Alvaran, Commanding Officer of 79th IB praised the efforts of Escalante City DAR office and the Escalante City under the leadership of Mayor Melecio J. Yap Jr.
"The government, through its agencies under the program to end local communist armed conflict is doing its best to deliver the services to our farmers. Thus, we encourage our farmers and farm workers to always trust the capabilities of our government and avoid being used and exploited by the communist terrorist for their evil and selfish interests," Lt. Colonel Alvaran said. (79th Infantry Battalion, PA /JSC/Lljr/PIA6 Negros Occidental)