31 IP families in Boracay receive land, lumber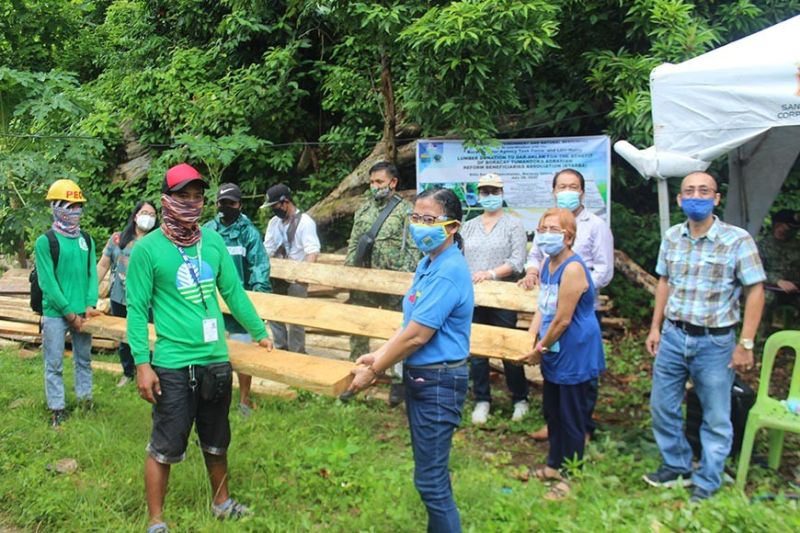 AT LEAST 31 families belonging to indigenous group known as Tumandok were given a titled land Tuesday, July 28, covering 1.9187 hectare of a private property in Sitio Angol, Manoc Manoc Boracay Island.
Teresa Valencia, acting chief of the Department of Agrarian Reform (DAR)-Aklan said the property was given to the families under the Certificate of Land Ownership Award.
The families were former residents of the wetland number 6, which is a public land.
In 2018, President Rodrigo Duterte announced that it is rehabilitating Boracay and that he promised to give lands to the indigenous groups in the island.
"We are thankful to the cooperation of the Department of Environment and Natural Resources (DENR), the Boracay Inter-Agency Task Force and the local government of Malay that these were made possible," said Valencia.
Prior to the installation of the beneficiaries, armed guards of private groups calmly welcomed the government troops. The guards said they were given prior notice about the land turnover and the company has already posted a legal protest at the trial court.
Aside from the land, the Hennan Group of Resort also donated some P930,000 as cash assistance to the beneficiaries.
The DENR also gave hundreds of lumber that the beneficiaries can use in building their temporary houses.
"The installation of these Tumandoks now organized under the name Boracay Tumandok Agrarian Reform Beneficiaries Association was supposed to happen last March. But because of the pandemic, this has been delayed. Fortunately, this materialized today," said Valencia. (SunStar Philippines)
Source: https://www.sunstar.com.ph/article/1865105/ILOILO/Local-News/31-IP-families-in-Boracay-receive-land-lumber