25 ARBs in Toboso, Murcia now land owners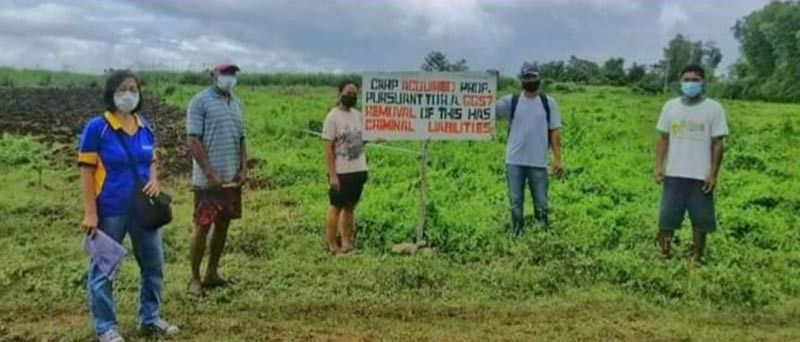 TWENTY-FIVE agrarian reform beneficiaries (ARBs) in northern portion of Negros Occidental are now land owners after they received their certificates of land ownership award (Cloas) from the Department of Agrarian Reform (DAR).
In Toboso town, about 14 hectares of land were awarded to the 21 ARBs in a Cloa distribution and installation rites held recently.
Municipal Agrarian Reform Program Officer Jasmin Castillo, who led the activity in Barangay Bandila, congratulated the new land owners.
She urged them to make the land productive to uplift their economic stability, and to always keep in mind their obligations like paying of annual amortization and land tax.
The 14-hectare covered landholding formerly owned by the Philippine National Bank-Victorias is situated in Barangay Bandila.
It was distributed through the process called Land Acquisition and Distribution (LAD) under the Comprehensive Agrarian Reform Program Extension with Reforms (Carper).
In Murcia town, DAR-Negros Occidental I awarded at least one hectare of land to four ARB also in a Cloa distribution and ARB installation rites held recently.
The 1.13-hectare covered landholding situated in Barangay Talotog was formerly owned by Alfredo Hilado.
Also, the distribution and installation were conducted through LAD process.
Municipal Agrarian Reform Program Officer Antonia Figueroa, in her message, told farmer-beneficiaries that their responsibilities as new landowners have started.
Figueroa is upbeat that ARBs will cultivate and harvest good products, citing their diligence.
"Make sure to fulfill your tax obligations and amortizations as proprietors of the land and never engage in any form of a lease contract," she reminded farmers.
The DAR is mandated to acquire public and private agricultural landholdings to be distributed to tenants, farmers, farmworkers and other tillers who are qualified to become ARBs.
This is in the form of Cloas covering one contiguous tract or several parcels of land cumulated up to a maximum of three hectares per ARB.
The agency said it aims to provide lands to landless farmers and farmworkers, guarantee the farmers' land security, deliver social equity, and provide them with the necessary productive and emergency resources thus, ensuring their economic viability and productivity.
With Negros Occidental under the Modified General Community Quarantine, it said the activities complied with minimum health protocols set by the Inter-Agency Task Force on Emerging Infectious Diseases and the Department of Health.
Source: https://www.sunstar.com.ph/article/1873257/Bacolod/Business/25-ARBs-in-Toboso-Murcia-now-land-owners