27 farmer-scholars trained on organic agri production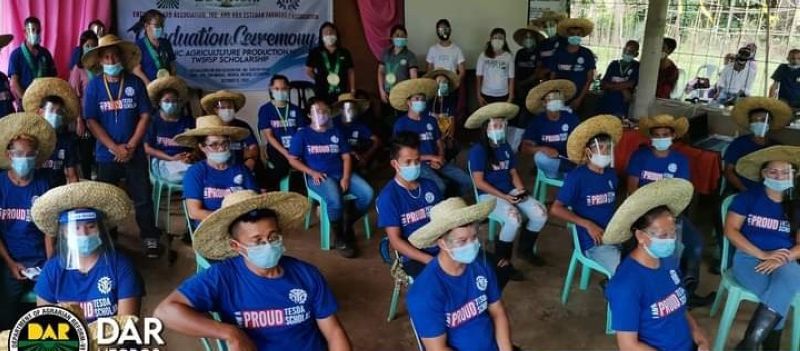 TWENTY-seven farmer-scholars comprised of agrarian reform beneficiaries (ARBs) and ARB household members in Negros Occidental have completed the training on organic agriculture production.
The farmer-scholars, who are from Entorilan ARB Association and A&G Esteban Farmers Association, received their National Certificate (NC) II in rites held at Barangay San Miguel in Murcia town on Monday.
They qualified for the Training for Work Scholarship Program (TWSP) of the Department Agrarian Reform (DAR) and the Technical Education and Skills Development Authority (Tesda).
The scholars completed the 29-day training and passed the competency assessment conducted from July 27 to September 2 and September 3 to 4, respectively.
The activity was also in partnership with the Ecological and Agricultural Development Foundation Inc. as the training provider.
Provincial Agrarian Reform Program Officer I of DAR in Negros Occidental - North, who was present at the graduation, lauded the farmer-scholars for appreciating the initiative of the government.
"The appreciation you have shown inspires us to do more and serve more," she told the farmer-scholars.
Flores stressed that with so much going on now especially during this pandemic, threats to food safety and security have started to arise.
"May this training equip our farmers to counter these threats and capacitate them to produce quality products to provide for their community and help boost the economy," she added.
The organic agriculture production training was positioned to enhance the farmers' knowledge, skills, and attitude on organic agriculture.
DAR-Negros Occidental I said it is geared towards developing their competencies in raising organic chicken, producing organic vegetables, producing organic fertilizer, raising organic chicken, hogs, and small ruminants.
The DAR-Tesda partnership was forged to equip ARBs with skills that will enable them to boost their farm productivity and economic participation, it said.
The agencies recognized them as primary movers in the country's food production industry, it added.
Source: https://www.sunstar.com.ph/article/1873361/Bacolod/Business/27-farmer-scholars-trained-on-organic-agri-production