DAR-12 turns over P55.7-M farm-to-market road in S. Kudarat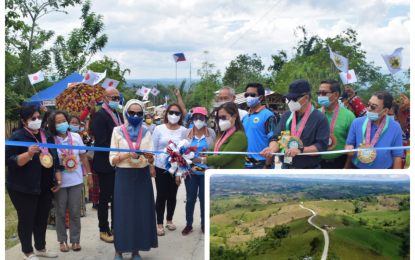 COTABATO CITY – The Department of Agrarian Reform turned over Tuesday an 8.9-kilometer farm-to-market road (FMR) worth PHP55.7 million to local officials of Bagumbayan town in Sultan Kudarat.
Ranibai Dilangalen, DAR Undersecretary for Mindanao Affairs and Rural Development and the focal person for Foreign Assisted and Special Projects, led the turnover of the PHP55.7 million project, funded under the Mindanao Sustainable Agrarian and Agriculture Development (MinSAAD).
Dilangalen said the project, implemented in coordination with the Department of Public Works and Highways and the local government, seeks to alleviate poverty in the marginalized target areas and improve the quality of life of its beneficiaries through sustainable agricultural development.
Engr. Levie D. Trabado of DPWH 2nd district said the FMR project connects Barangay Sumilil in Bagumbayan to adjacent Barangay Ned in Lake Sebu, South Cotabato.
"It comprised 3.52-kilometer concrete road, and more than 5-kilometer gravel road," Trabado said.
During the turnover ceremony, Mayor Jonalette de Pedro lauded the DAR-MinSAAD, and the Japan International Cooperation Agency Philippine Office, for funding the project in Bagumbayan town.
De Pedro noted that the FMR is the biggest project that the local government of unit (LGU) has ever received.
"This road was just a dream of the constituents before, and now, it came true," the mayor said. "The road will be a great aid to the transport of products and commodities in the locality as it traverses the areas of which the largest agricultural land in the barangay is situated."
MinSAAD project manager Eduardo E. Suaybaguio said the farm-to-market road hopes to bring more opportunities for the production, and agricultural enterprise of various crops in the area.
Edlina de Pedro, the village chairperson of Sumilil, vowed to "take good care of the project." (PNA)