76 La Castellana farmers take oath as potential ARBs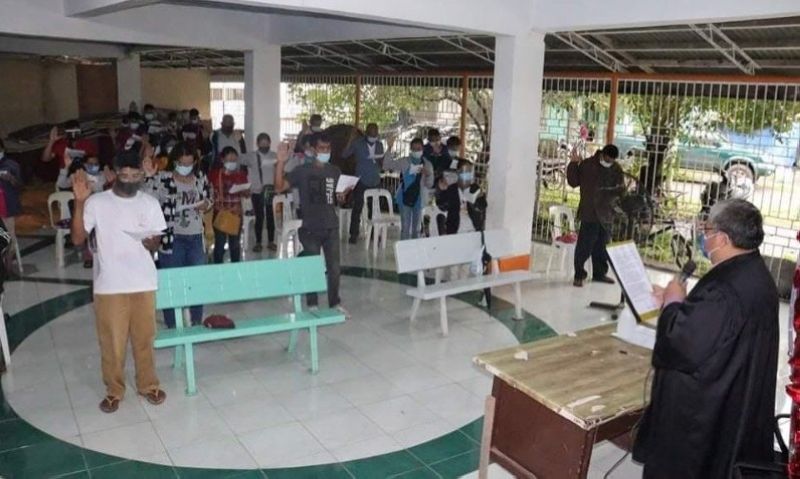 SEVENTY-SIX farmers in La Castellana town in Negros Occidental have been identified as potential beneficiaries of the Comprehensive Agrarian Reform Program (Carp) of the Department of Agrarian Reform (DAR).
Municipal Agrarian Reform Program Officer Josephine Yap said the farmers signed an undertaking and took oath to signify that they have qualified to become Carp-beneficiaries.
The farmers signed their application to purchase and farmer's undertaking and took their oath before La Castellana Municipal Trial Court Judge Honorable Joseph Gedeoni Valencia on Wednesday, June 2, 2021.
"These potential beneficiaries are about to share the 47.8293 hectares of the agricultural property owned by Federico Infante located at Hacienda Magdayao in Barangay Mansalanao," she said.
Yap, however, admitted that there has been an existing application for conversion filed by the landowner.
Under the law, that could not bar the agency to proceed with its land acquisition and distribution process, she stressed.
"As the Municipal Agrarian Reform Program Officer who has the jurisdiction over the property, it is my utmost responsibility to perform my mandate," Yap said, adding that "as of this time, there is no any order issued by the court or by the agency to halt our coverage."
For his part, Senior Agrarian Reform Program Technologist Dindo Gelasque said by signing the undertaking, the farmers expressly manifested their willingness to work on the land to make it productive.
"Land covered through Carp is a gift to our farmers who have worked untiringly for so many years. Now, we are in the process to award these parcels to qualified beneficiaries," he said.
Gelasque reminded the agrarian reform beneficiaries (ARBs) of their obligations and responsibilities including the payment of taxes and land amortization.
Source: https://www.sunstar.com.ph/article/1896529/Bacolod/Business/76-La-Castellana-farmers-take-oath-as-potential-ARBs