BARMM distributes CLOAs to 351 farmers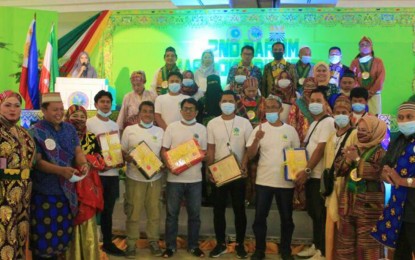 COTABATO CITY – Landless farmers in three provinces of the Bangsamoro Autonomous Region in Muslim Mindanao (BARMM) can now claim ownership of the lands they have been tilling after the government granted them certificates of land ownership award (CLOAs).
Minister Mohammad S. Yacob of the BARMM's Ministry of Agriculture, Fisheries, and Agrarian Reform (MAFAR) on Wednesday said his office has facilitated and distributed 351 CLOAs to agrarian reform beneficiaries (ARBs) from the provinces of Maguindanao, Basilan, and Tawi-Tawi.
On Tuesday afternoon, Yacob was accompanied by BARMM Senior Minister Abdulraof Macacua in the mass distribution of the CLOAs in a ceremony held at the BARMM government center in this city.
MAFAR Agrarian Reform Services Director Taugan Kikay and Department of Agrarian Reform (DAR) Undersecretary for Mindanao Affairs and Rural Development Ranibai Dilangalen also joined the event.
Yacob said the CLOA distribution covers 788.9238 hectares of land in the three provinces.
Of the total number of beneficiaries, 146 were from Datu Odin Sinsuat in Maguindanao, 34 from Lamitan City in Basilan, and 171 from the municipalities of Bongao, Languyan, and South Ubian in Tawi-Tawi.
Yacob assured the farmers and fisherfolks in the region that MAFAR would continuously support them in improving their livelihood and income.
"We are happy to be part of making our farmers and fisherfolks' dream of having their land come true," he said in a statement Wednesday. "(Your land) can be the beginning of the gradual lift of your standard of living, (your) own land that can be inherited by your children one day."
Since 2019, MAFAR has granted 507 land titles to 758 ARBs across the region, covering a total of 1,590.29 hectares.
Former Moro combatant Koteng Meto, a beneficiary from Maguindanao, promised to nurture his land and be the government's partner in improving agricultural productivity in the region.
"I can hardly express how I feel at this moment. This is my first time to receive something from the government," Meto said in an interview with reporters. "In the name of my fellow beneficiaries, as well as the Moro Islamic Liberation Front, I would like to inform you that we are very happy for this peace dividends because it will legalize our land ownership."
Yacob said more CLOAs are to be distributed starting next year. (PNA)