Solar irrigation system to boost Cavite farmers' productivity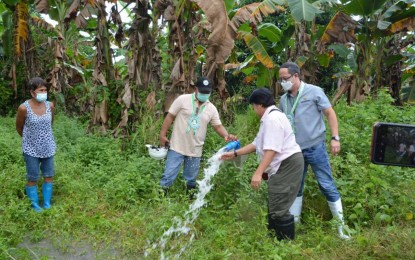 MANILA – Cavite farmers will now have access to sustainable water sources that will improve the quality and quantity of their crops after the Department of Agrarian Reform (DAR) recently turned over two units of solar powered-irrigation system (SPIS) worth PHP6 million each.
Danilo Arnes, Tres Cruses Agrarian Reform Beneficiaries and Farmers Association Inc. president, said tapping solar energy is an environment-friendly way of providing farmers with water for their palay (rice) and high-value crops.
"I was talking to market vendors. They said they would buy our vegetables because it is clean as compared to rain-fed or vegetables that were irrigated from the creek," Arnes said in a news release. "We can plant anything when there is water."
James Arthur Dubongco, DAR-Cavite Provincial Agrarian Reform Program Officer II, said the SPIS offers a viable energy solution for irrigated agriculture.
The project would contribute to rural electrification as it provides a reliable source of energy in remote areas, help reduce energy costs for irrigation, and enable low-emission agriculture.
It can irrigate 32 hectares of agricultural lands that will primarily benefit 34 agrarian reform beneficiary households and neighboring farmers.
"SPIS runs on solar energy, so that bringing water to farmlands will be much more affordable than the traditional diesel and gasoline-powered engine pumps," Dubongco said.
During the turnover on September 14, DAR Undersecretary for Support Services Office Milagros Isabel Cristobal asked the beneficiaries to take care of the SPIS.
"You should take care and be responsible for this project because not all agrarian reform cooperatives are given the opportunity to be provided with it," she said.
Arnes assured DAR that they will preserve and properly use the SPIS.
The project was implemented under DAR's Climate Resilient Farm Productivity Support and in partnership with the National Irrigation Administration.
The SPIS units are located in Sitio Gugo, Barangay Tres Cruses in Tanza and Barangay Baliwag in Magallanes.
Secretary Conrado Estrella III previously identified the provision of irrigation as one of the primary goals of DAR. (PNA)