House OKs agri loan restructuring, condonation bill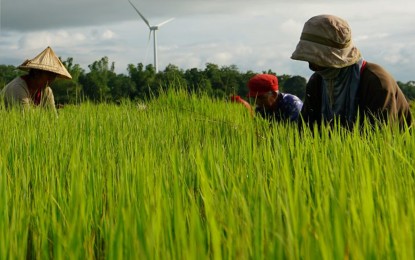 MANILA – A measure proposing a one-time condonation of unpaid loan penalties and interests owed by farmers, fisherfolk and agrarian reform beneficiaries from various government agencies has hurdled second reading at the House of Representatives.
During Tuesday's plenary session, the chamber approved through voice voting House Bill 5702, or the proposed Agrarian and Agricultural Loan Restructuring and Condonation Act.
The bill aims to facilitate the reintegration into the financial and banking system of farmers, fisherfolks and agrarian reform beneficiaries who have unpaid loans and thus enabling them to avail of other credit facilities.
Under the measure, all unpaid interests, penalties and surcharges of agricultural and agrarian loans secured by farmers, fisherfolk, agrarian reform beneficiaries, Cooperative Development Authority (CDA), CDA-registered cooperatives, agrarian reform beneficiary organizations and farmer organizations from the Department of Agriculture, Department of Agrarian Reform, People's Credit and Finance Corp., National Food Authority and Quedan and Rural Credit Guarantee Corporation will be condoned upon the approval of the application of a qualified borrower.
It provides that the loan condonation shall cover only cases involving force majeure or market aberration and cannot be applied to cases of willful default of a borrower.
Another condition for condonation is that accumulated payments of not less than 2 percent of the loan principal should have been made at the time of application.
The condonation of unpaid interests, penalties and surcharges from loans acquired through conduit banks , financial institutions and the agencies mentioned above shall be in conformity with the applicable general banking laws and regulations of the Bangko Sentral ng Pilipinas.
Loans restructured under the proposed law shall be restored to good standing status upon three consecutive payments by the borrower.
Government agencies may issue the appropriate certifications to the borrower thereby facilitating their reintegration into the financial and banking system.
The concerned agencies shall be mandated to write off from their books the loans secured under lending programs that have been terminated.
During his first State of the Nation Address in July last year, President Ferdinand R. Marcos Jr. urged Congress to pass a law that will lift the burden off agrarian reform beneficiaries who have loan dues so they could concentrate on farm productivity.
Such a measure, Marcos said, would ensure the success of the administration's food security program. (PNA)