Road and bridge now benefits farmers, IPs
GENERAL SANTOS CITY— Agrarian reform beneficiaries (ARBs) and indigenous people (IPs) heaved a sigh of relief after the Department of Agrarian Reform (DAR) recently turned over a foot bridge and a farm-to-market road.
Provincial Agrarian Reform Program Officer Felix C. Frias said, the residents, mainly farmers and IPs, used to wade through a shallow river to get to the other side of the road.
"It gets very dangerous when it rains because the river gets high and the current becomes too strong for people to cross," Frias said.
And with a very rough road, farmers and residents were also in danger of collision because of big rocks and pot holes," Frias added.
"Before, people would take the longer route to avoid crossing the river. With the concreted road and bridge, they now get to their destination faster and without getting their feet muddy and wet," said Frias.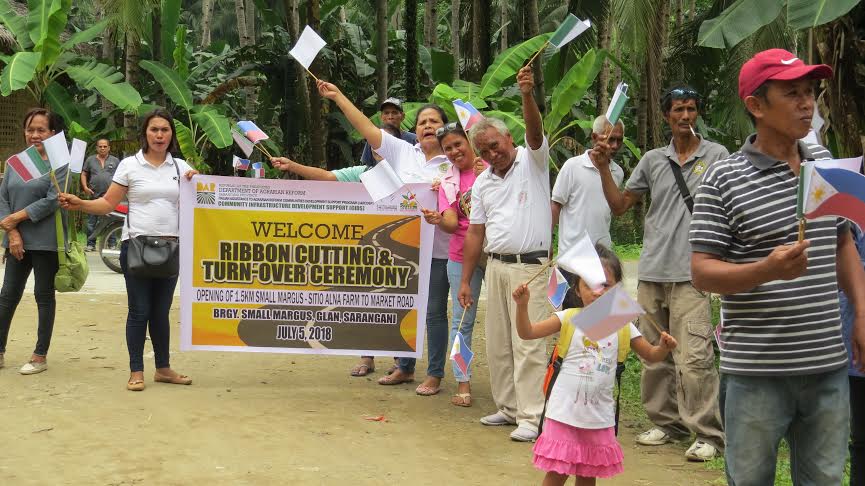 The turned-over infrastructures were a footbridge in Sitio Mateo, Brgy. Atlae and a 460-meter concreted farm-to-market road in Brgy. Datal Tampal, Malungon. The projects, worth P22 million, were implemented under the DAR-Italian Assistance to Agrarian Reform Community Development Support Program.
Mateo Elementary School Principal Niño C. Olivo said, the footbridge benefited around 70 percent of their students. A daily increase of three percent in the school attendance was also noted.
"Roads are vital components in the department's drive to spur rural development in farm communities. This concreted road and foot bridge would greatly help farmers and IPs bring their farm products to the market faster and easier," DAR Undersecretary for Foreign Assisted Projects Sylvia F. Mallari said.
Mallari said the road and bridge benefits the municipalities of Malungon and Glan where some 3,590 IPs and 960 ARBs reside.
"Since the DAR-Italian and local government have done their obligations as far as the project implementation is concerned, I challenge each one of you to take care of these projects for the sake of the future generation and for the interest of your tribe," Malungon Municipal Mayor Maria Theresa Constantino said.
Meanwhile, Mayor Victor James B. Yap, Sr. of Glan expressed gratitude to DAR-Italian for considering the ARBs in his municipality.
"Road projects indeed have high impact in the community. I can relate to those residents who pass difficult routes to transport their farm products", Yap said.
About ₱93 million and ₱87 million worth of infrastructure projects are hoped to be implemented in Malungon and Glan respectively in the coming months. These infrastructure projects include day care center, line canal irrigation, potable water system, and farm to market roads. (Agnes Torino, Information Officer)
#AgrarianReform #DAR4Farmers #Land4Farmers #ComfortableLifeForAll #PartnerForChange #CARP@30:DARe2Change