142 North Cotabato ARBs complete farmers' field school on sugarcane production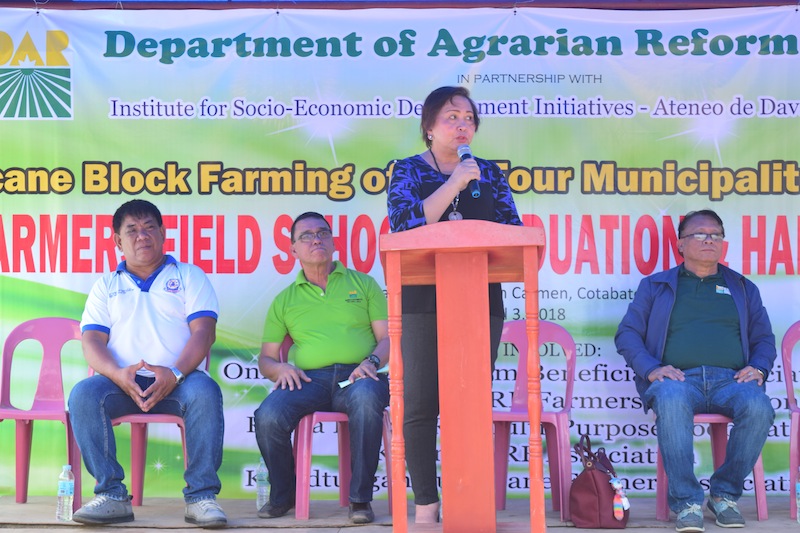 NORTH COTABATO – A total of 142 Agrarian Reform Beneficiaries (ARBs) in the province of North Cotabato completed on Tuesday, April 3 their Farmers' Field School (FFS) on sugarcane production under the Sugarcane Block Farming Project (SBF) of the Department of Agrarian Reform (DAR).

DAR Undersecretary for Support Services Rosalina Bistoyong graced the recognition of the ARBs in a graduation ceremony held on Tuesday in Carmen town.

In her message, Bistoyong emphasized that "SBF project is one of the support services interventions of DAR in agrarian reform areas to provide opportunities in improving the lives of the ARBs. Through FFS, we want to help our farmers who are into sugarcane farming to increase their income by surpassing the average yield of 60t/ha through the adoption of technologies introduced in the technology demonstration farms."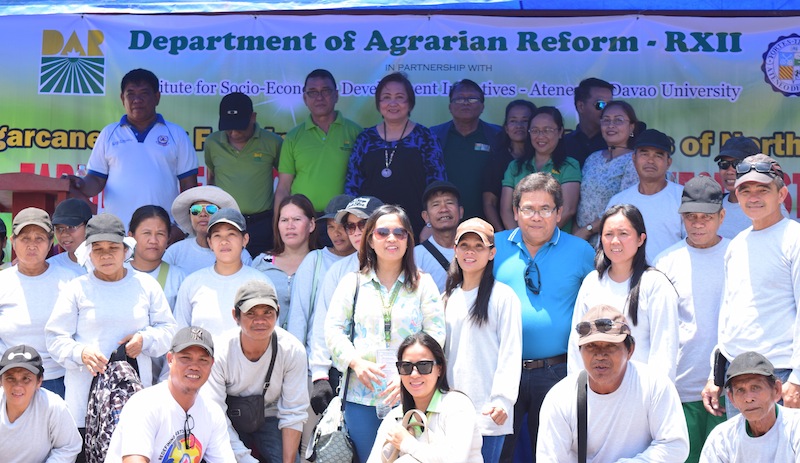 Bistoyong added that DAR does not only distribute lands to the landless but also provides support services to help them improve their lives through the lands they till.

"I hope that you will not sell your lands or lease it to anyone, instead, you should use it to uplift your lives from poverty," she said.

She also pointed out that DAR is documenting the stories of ARBs, especially the SBF farmers to show that they are already earning thousands of pesos because of increase in yield in sugarcane production.
"We want you to become role models of progress through our holistic interventions. We want to organize you to manage the consolidated farms (block farms). When you are group together as block farms, you can have a unified purchase of inputs and save at least 20%. That saving will translate into additional income for the family," she said.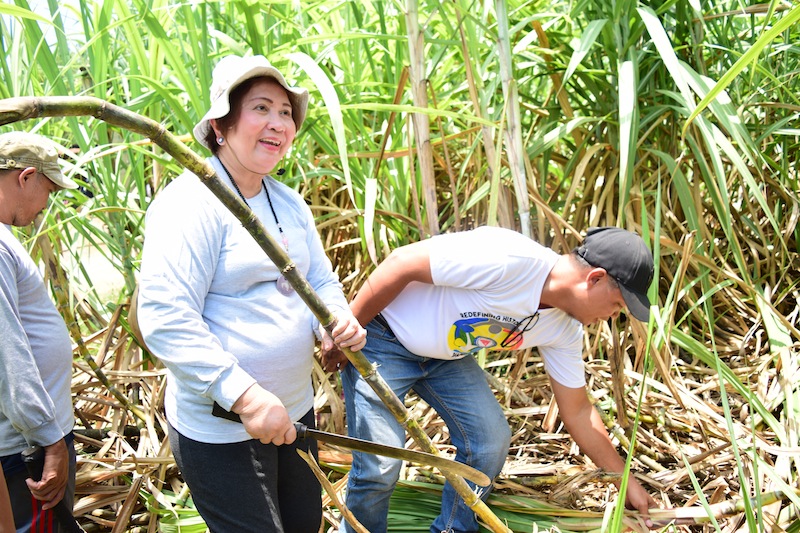 Bistoyong also lauded the group of women who are actively involved in sugarcane farming and committed to provide equipment such as cane juicers for muscovado sugar processing as a value-adding intervention.

"Muscovado sugar processing can be an additional livelihood and income generation opportunity for women. The production of muscovado sugar is very feasible in the backyard or at the village level for these group of women if they will work together. I hope you will manage it well and gain more income out of it," she said.

She emphasized that there is hope for the farmers because the government is giving opportunities not only by giving lands but by exerting efforts in extending assistance on how to make the lands productive.

"Please prove to us that we can make it happen because this is our mission in DAR and the mission of our brethren who are in public service," she said.

Meanwhile, Rey Benedicto of New Bugasong ARB Farmers Association thanked DAR for giving them the opportunity to learn new farming technologies through the established demonstration and nursery farms in their respective areas.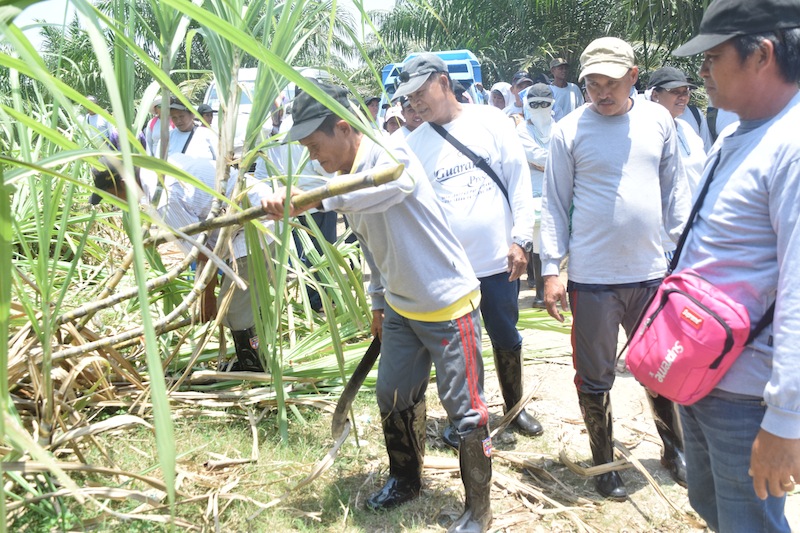 "We now believe that there is hope because we already experienced how the government is taking good care of us through the different interventions that our association received. We would like to thank DAR for helping us address the need to have farm machinery in our place by giving us 1-unit brand new tractor. We have been praying for it for a long time and now it is already in our hands," Benedicto said.

He also assured DAR to continually sustain the SBF project and see to it that more farmers will be benefiting from the interventions given to them.

Strengthening of ARBs not only by providing them the land titles but also by supporting them through comprehensive support services is also the priority of the administration of President Rodrigo Roa Duterte.

This was emphasized by the President when he led the distribution of certificates of land ownership awards (CLOAs) to 1,680 ARBs in the province of Sultan Kudarat on Monday, April 2.

The FFS graduation ceremony was followed by a harvest festival which was opened through the symbolic harvesting led by Usec. Bistoyong.
Joining her in the activity were Director III Marion Abella, ARDO Fidel Morales, PARPO II Cenon Original, PARPO I Rodolfo Vinluan, PARPO II Rodolfo Alboro, CARPO Ludenia Juanday, CARPO Emelita Mayol, CARPO Rhea Betque, Regional SBF Pointperson Ma. Cecilia Machan, and the representatives from the Sugar Regulatory Administration and Cotabato Sugar Central Corporation.

The Sugarcane Block Farming Project was implemented by DAR in partnership with the Institute of Socio-Economic Development Initiatives of the Ateneo de Davao University and participated by five ARB organization in the four municipalities of North Cotabato.

These towns include Carmen, Matalam, Kidapawan City, and M'lang. [Rodel D. Orejudos/ARPO I, PIO Designate]

#AgrarianReform #DAR4Farmers #Land4Farmers #ComfortableLifeForAll #PartnerForChange #CARP@30:DARe2Change