Pres. Duterte distributes land titles to 1,680 farmers in Sultan Kudarat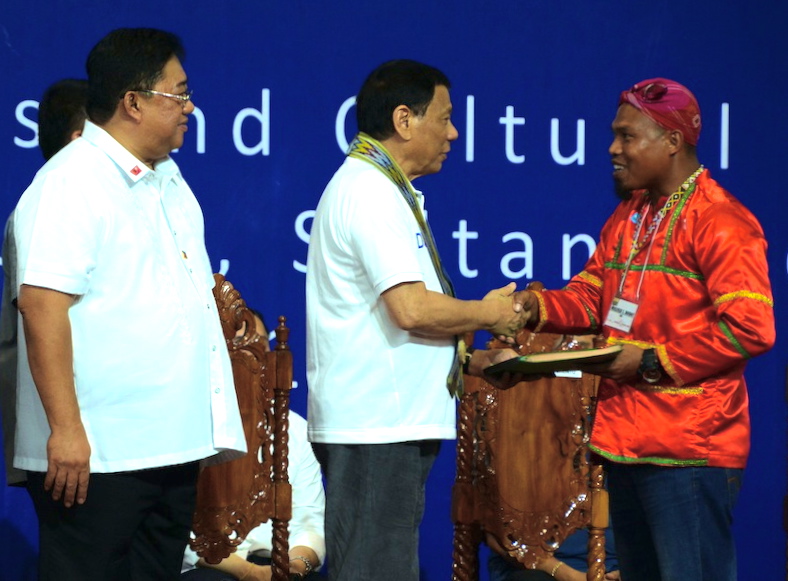 ISULAN, Sultan Kudarat – "Kayo ang idol ko!," said President Rodrigo Duterte after distributing certificates of land ownership award (CLOAs) to 1,680 jubilant agrarian reform beneficiaries (ARBs) in a ceremony held at the Sultan Kudarat Sports Complex in this town on Monday, April 2.

"The Philippines is nothing without you, our farmers. You feed the nation kaya idol ko kayo," added Duterte who encouraged the farmers to be more productive now that the land is theirs.

The President also emphasized to the local government officials present during the ceremony the importance of credit assistance and provision of support services to farmers.
"Importante na may access to credit at mga makinarya sa pagsasaka ang mga magsasaka natin," Duterte said.

He also urged government agencies to know what the needs of the farmers and to provide it to them.
To the farmers, President Duterte pointed out: "Huwag kayong mag-alala… I will work on giving farm tractors to your cooperatives."

Together with Agrarian Secretary John Castriciones, Duterte led the distribution of CLOAs covering 4,266 hectares of agricultural land located in Laguilayan, Isulan.

Castriciones said that of the 1,680 ARBs, 1,396 are Maguindanaons, 227 are from the Manobo tribe and 57 are Ilocanos and Ilonggos.
"We are overflowing with happiness. We thank President Duterte for this land. Sa tagal ng paghinintay napa-saamin din ang lupa," said Mohamad Dondoy, a Manobo tribal chieftain.

Another Manobo farmer, Tosida Ibal, turned emotional after receiving his CLOA from the President.

He described his life situation is filled with difficulties, more so when his father died. He said, his mother raised them through farming. Growing up illiterate, he does not know any kind of work but farming.
"Growing up, there were days when there was no food for us to eat. Until the DAR told us to apply for land. The DAR's assistance is a blessing from the Almighty. Now the land I till is mine," Ibal said happily.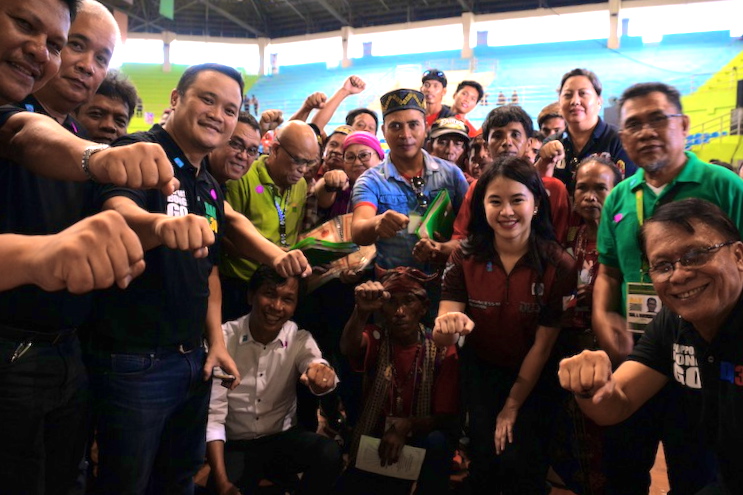 A 75-year-old Maguindanaon woman farmer Linang Lagasi was also teary-eyed when she received her CLOA.

"I now have something to leave my children with when I die. I hope the government will also provide us with support services to cope with farming our land," she said.

Secretary Castriciones said the department will not stop after land distribution. "We will put into action a convergence strategy to provide support services to our farmers."

According to Castriciones, among those lined up for implementation are TESDA scholarships for children of ARBs, the Pantawid Pamilyang Pilipino Program or 4Ps program of the Dept. of Social Welfare, provision of crop insurance from the Phil. Crop Insurance Corp., credit assistance from the Land Bank of the Phils. and from other financial institutions.

Other top DAR officials present during the CLOA distribution and turn-over of projects include DAR Undersecretaries Luis Pangulayan of legal affairs office, Karlo Bello of field operations office, Rosalina Bistoyong of Support Services, David Erro of policy & planning office, Bernie Cruz of Special Concerns Office, Emily Padilla of finance management office and Public Assistance & Media Relations Service Director Leomides R. Villareal.

Other officials present during the event include Special Assistant to the President Christopher "Bong" Go, Land Registration Authority Administrator Renato Bermejo, Sultan Kudarat Governor Pax Mangudadatu, Vice Governor Raden Sakaluran, Congressman Datu Suharto Mangudadatu, Isulan Mayor Marites Pallasigue and Isulan Vice Mayor Lord Dean Castillo.
#AgrarianReform #DAR4Farmers #Land4Farmers #ComfortableLifeForAll #PartnerForChange #CARP@30:DARe2Change