54-year-old farmer receives land title after 15 years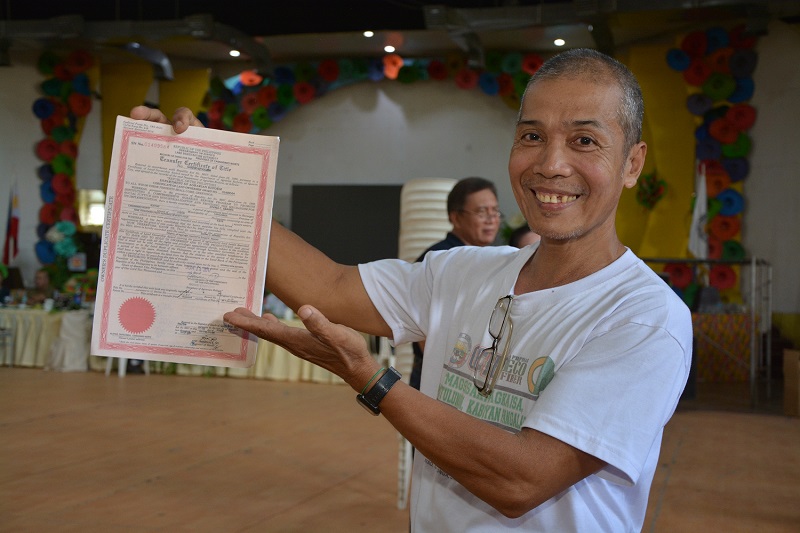 Fifty-four-year-old farmer Elicer Lauce from Capalongga, Camarines Norte, was overwhelmed with joy after receiving his long-awaited certificate of land ownership award (CLOA) from the Department of Agrarian Reform (DAR) in a distribution ceremony held here.
"I am overflowing with happiness. We thank President Duterte for this land. Sa tagal ng paghinintay napa-saamin din ang lupa. We also thank Secretary Castriciones for speeding up the process," said Lauce who, together with his wife has been farming the land for more than 30 years.
"Now that I own the land I till, there's no more fear of getting ejected from my source of income," said Lauce.
Lauce is one of the 1,633 jubilant agrarian reform beneficiaries (ARBs) who received their CLOAs in a ceremony held at the Provincial Sports Center in Daet, Camarines Norte on Tuesday, September 25.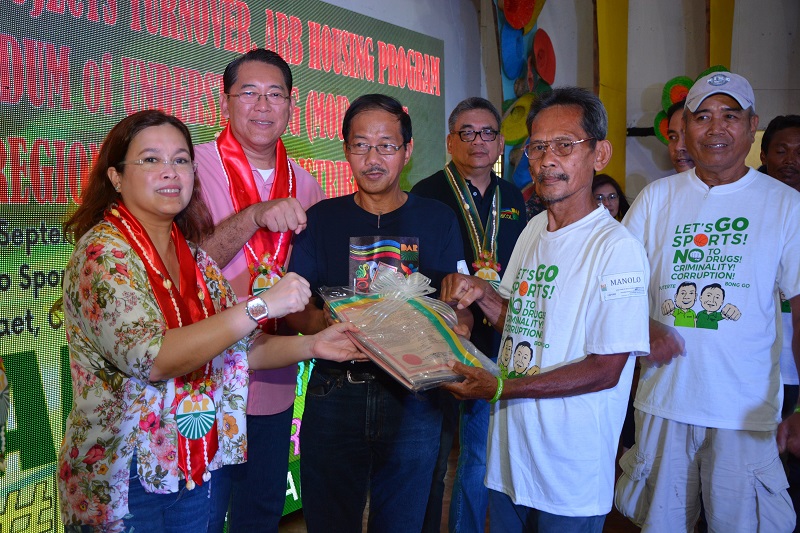 "I can't contain my happiness. I waited 15 years for this… now I can finally earn more for my family," said Lauce who was a farmer tenant for land owner Jose Fermo.
DAR Regional Director Arnel Dizon said back in 2003, DAR encountered difficulties such as various technicalities in land acquisition and distribution processes.
"For one, originally the landholding was declared alienable and disposable. The DAR conducted a series of tedious activities just to determine the classification of the CARP-covered land. Further verification on the ground by the DENR revealed that portion of the property are classified as timberland," explains Dizon.
"We have encountered problems but with diligence and perseverance, we have fulfilled our mandate and were able to finally award the CLOAs to deserving agrarian reform beneficiaries," Dizon said.
"The good news is, under the leadership of Secretary Castriciones, we are now streamlining and fasttracking the processes in acquiring agricultural lands, so that farmers will not wait 15 years to be awarded with CLOAs," Dizon added.
Back in the 1980s until 2008, Lauce who used to earn from farming coconut trees for Fermo explained that profit sharing with his former employer was pegged at 35/65 where the 65 percent goes to the landowner and the 35 percent belongs to him.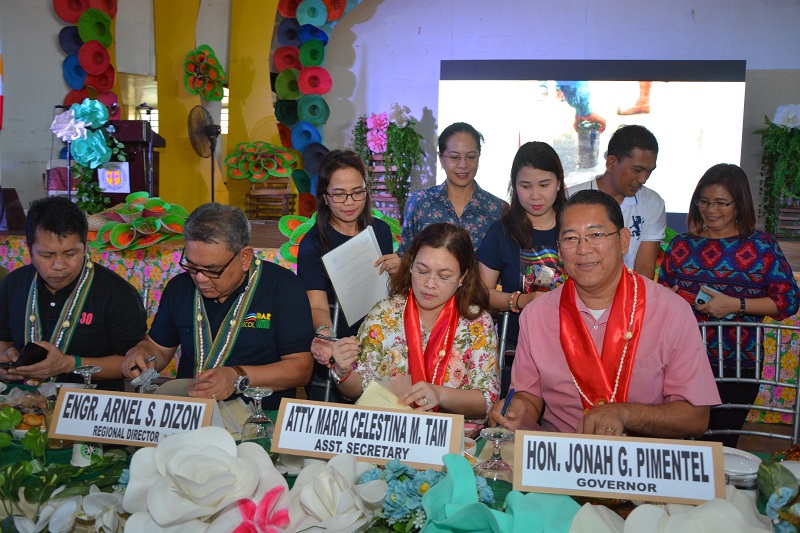 "With six children to feed, my 35 percent profit share from coconut was not enough for us to survive. We often resort to loan sharks so we can buy our daily needs," said Lauce.
In 2009, the DAR intervened and helped Lauce acquire a leasehold contract with the landowner. With the leasehold contract, profit sharing was bigger with 75 percent going to Lauce and 25 percent with the landowner. But it still wasn't enough because he was sending all his six children to school in the neighboring town.
"By this time, wala pa rin akong CLOA… nawawalan na ako ng pag-asa," said Lauce.
He said he is lucky that his landowner is very kind to him and his family, he allowed Lauce to inter-crop while tending to the coconut farm.
"I was able to augment my income with intercropping. In between the coconut trees, I planted sweet potatoes, corn and string beans," said Lauce.
The biggest help came when the DAR finally awarded him his CLOA ending his 15 years of waiting.
"Now that I'm a landowner, no more profit-sharing. Plus, I can now plant any crops I want on my own land," added Lauce.
At present, the DAR has encouraged Lauce to become a member of the Capalonga Agrarian Reform Beneficiaries Organization.
"Becoming a member of an agrarian reform cooperative would be a big help to agrarian reform beneficiaries because this is where DAR, pours its support services like access to credit, farm machines and various farmers' trainings," said Dizon.
The CLOA distribution was led by DAR Assistant Secretary for Legal Affairs Celestina Tam who represented DAR Secretary John R. Castriciones together with Regional Director Arnel Dizon and Camarines Norte Governor Jonah Pimentel.
The CLOAS awarded covered a total land area of 780 hectares in various municipalities of 2,645 hectares in Camarines Norte, Camarines Sur 1, Camarines Sur 2, catanduanes, Masbate and Sorsogon.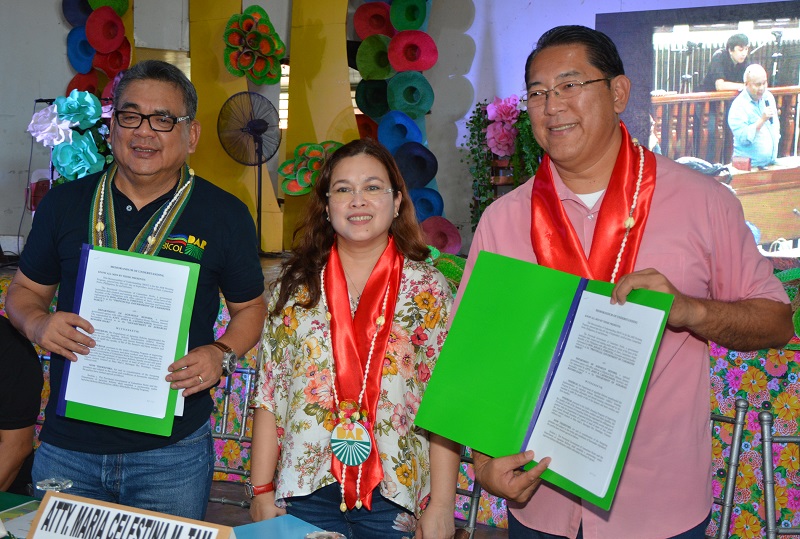 At the CLOA distribution, the DAR also turned over infrastructure projects worth 140 million in the municipalities of Basud, Jose Panganiban, Labo, Paracale and San Lorenzo Ruiz in Camarines Norte. The infrastructure projects include: farm-to-market roads and potable water systems implemented under the Agrarian Reform Community Projects (ARCP).
A memorandum of understanding between DAR the provincial local government unit of Camarines Norte was signed for the DAR's ARB Housing program. The said program is a flagship project of DAR that aims to give farmers a house of their own at a very low cost.
#AgrarianReform #DAR4Farmers #Land4Farmers #ComfortableLifeForAll #PartnerForChange #CARP@30:DARe2Change