AgSur coop to supply rice to Bislig hospital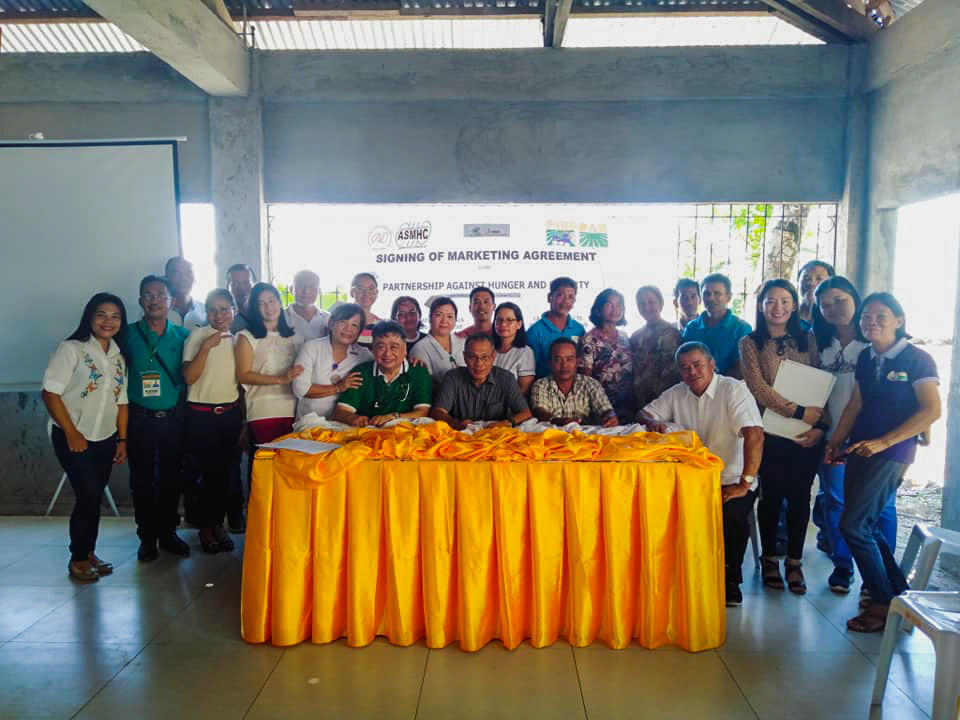 San Francisco, Agusan del Sur- The Department of Agrarian Reform in Agusan del Sur together with the officials of Medical Mission Group of Hospitals and Health Services Cooperative of the Philippines (MMGHHSCP) Federation, Board of Directors of the Andres Soriano Memorial Hospital Cooperative (ASMHS) and of the La Fortuna Multi-Purpose Cooperative (LAMUPCO) in Veruela, Agusan del Sur came together for a signing of marketing agreement under the bundling project of the Partnership Against Hunger and Poverty (PAHP) and the Convergence on Value Chain Enhancement for Rural Development (Project ConVERGE) on June 17, 2019 at Andres Soriano Memorial Hospital Cooperative in Cumawas, Bislig City, Surigao del Sur.
This initiative of DAR Agusan del Sur was realized after the federation, in its aim to promote the economic empowerment of the farmers through sustainable partnership go down to the grassroots and help capacitate the farmers and urge them to supply with their products and services at a price higher than their traders were buying.
"We consider helping our farmers by assuring them of a ready market of their products and services," said Dr. Jose Tiongco, CEO of MMGHHSCP during his message.
"For me, it is somewhat a symbiotic relationship wherein we come to benefit from each other. Through this strategic partnership with DAR, the ARBs shall get better returns of their investments while consumers have access to quality food products," said Dr. Dionisio De Castro, Board Chair of ASMHC.
Part of the agreement is the commitment of LAMUPCO to supply the rice requirements of the hospital which is 2 sacks of 50 kilos per day or 60 sacks in a month at a price way higher than the usual. This way, LAMUPCO will no longer settle in selling their produce to the traders.
LAMUPCO Chairperson Reynaldo Maido is thankful for this initiative of DAR in linking them to the hospital.
"Dako among pasalamat sa DAR sa kanunay nga pagtabang kanamo nga mga mag-uuma aron kami makaangkon ug dugang pang income para sa among mga pamilya."[We are very grateful for always helping us farmers icrease our income for our families],he said.
PARPO II Leoncio C. Bautista expressed high hopes for the farmers of LAMUPCO and the federation.
"I am hoping that the partnership will last long enough to help other farmers who are in dire need of the same help. For years, the department had continuously find avenues to help our people. I hope that the farmers of LAMUPCO will also help us by taking the government's assistance seriously." He said in his message.