Duterte distributes lands to Bangsamoro farmers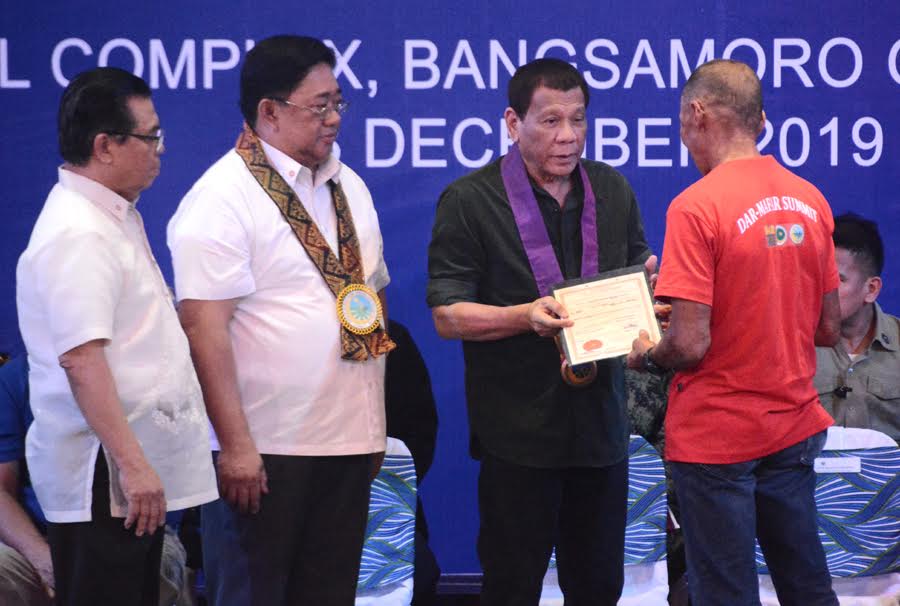 COTABATO CITY (December 24, 2019)—President Rodrigo Roa Duterte yesterday led the distribution of certificates of landownership awards (CLOAs) to 793 agrarian reform beneficiaries (ARBs) here.
The agricultural land distributed to farmer-beneficiaries covered 1,742 hectares in the municipalities of Basilan, Maguindanao, and Tawi-Tawi.
Department of Agrarian Reform (DAR) Secretary John R. Castriciones and Ministry of Agriculture, Fisheries and Agrarian Reform (MAFAR) Minister Mohammad Yacob welcomed the President in Sharif Kabunsuran Cultural Complex where more than 1,000 farmers attended the event.
Speaking before the beneficiaries, the President said, "Ang lupang 'yan, sa inyo na 'yan. Take care of your land. Huwag ninyo ipagbili."
He urged the Bangsamoro government officials to be diligent in fighting the forces of communism to spread in the region. The President also asked the officials to develop the countryside.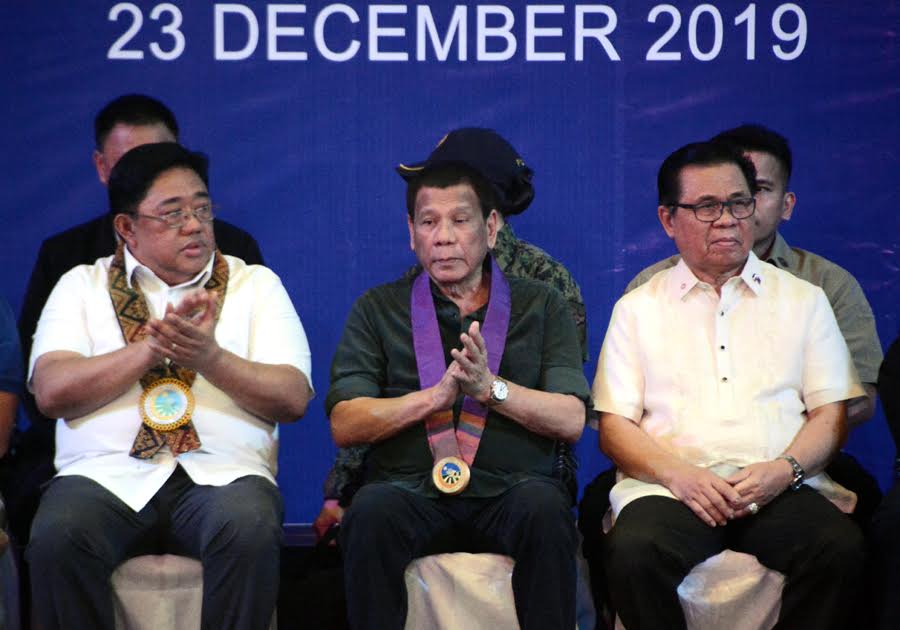 "For the last two years na nakaupo pa ako, gawin na ninyo ang lahat para umunlad ang bayan ninyo. Tutulungan ko kayo," the President said.
Duterte also reiterated his commitment to continue his efforts in making the communist rebels irrelevant. He said that armed conflict and rebellion would not end if the government fails to distribute land to poor farmers.
The land distribution in the Bangsamoro Autonomous Region in Muslim Mindanao (BARMM) is the first CLOA distribution under the newly established MAFAR.
Also distributed were 93 individual CLOAs covering 238.9 hectares under DAR's post land distribution program.
In the same event, four BARMM agrarian cooperatives were provided with farm machineries and crop seedlings under the Climate Resilient Farm Productivity Support program of DAR.
"More than 500 ARBs and non-ARBs will benefit from these farm machines and seedlings," Yacob said.
The farm machines provided were transplanters, cultivation machineries, incubator, spindle machine and heavy duty farm tractors.
#AgrarianReformPH #LandTenureSecurity #SupportServicesDelivery