Turnover of Farm Machineries and Equipment to various ARBOs of Nueva Vizcaya
BAYOMBONG - The DAR Provincial Office, Nueva Vizcaya conducted a turnover of machineries and farm equipment to the Agrarian Reform Beneficiaries Organizations (ARBOs) at the Dumlao Farmers Training Center, Nueva Vizcaya State University, Bayombong, Nueva Vizcaya led by DAR Regional Director Luis B. Bueno Jr. and OIC-PARPO II Cherry N. Magno.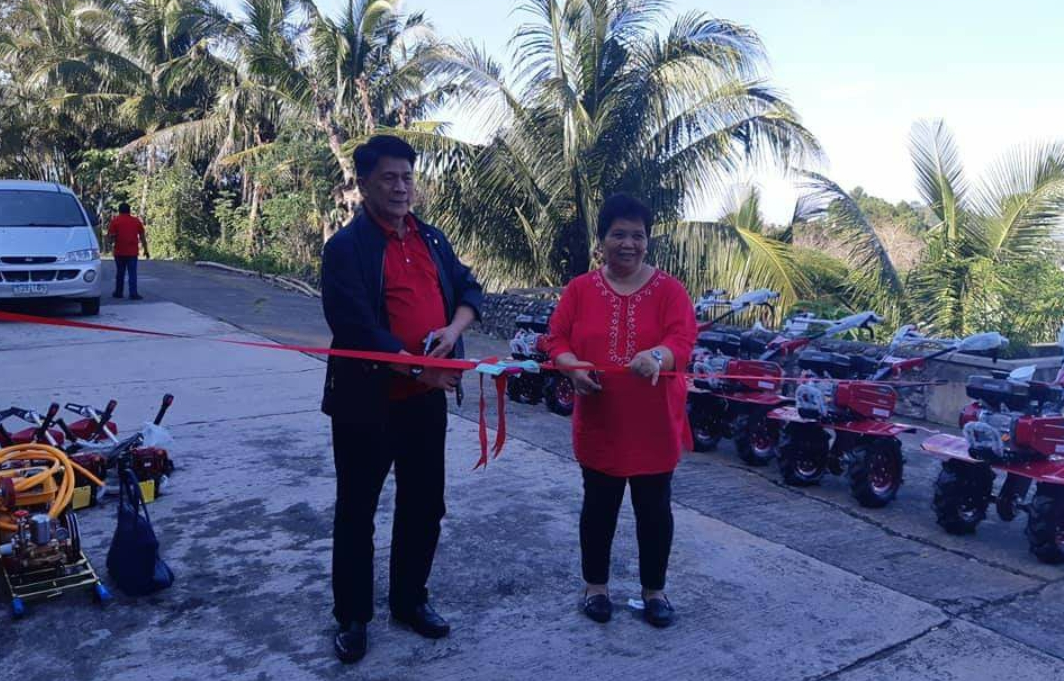 Cutting of ribbons before farm machineries distribution 

by RD Luis Bueno Jr. and PARPO II Cherry N. Magno

The following ARBOs of the various municipalities of Nueva Vizcaya were given the corresponding machineries: (a) the Magapuy Multi Purpose Cooperative of Bayombong, Nueva Vizcaya was given a Biomass Shredder worth Php140,000.00; (b) Tiblac Langak Farmers Association of Ambaguio, Nueva Vizcaya received two units of power tiller and rotavator worth Php26,000 each, two units power sprayer worth Php24,000 each and two units Brass Cutter which cost Php15,000 each. (c) Greeners Multi Purpose Cooperative of Bambang, Nueva VIzcaya received one unit of tractor which costs Php150,000. (d) Galintuja Consumers Cooperative of Alfonso Castaneda received four units of power tiller with rotavator amounting to Php104,000. (e) Balangon growers Association in Curifang, Solano, Nueva Vizcaya got one unit of Biomass Shredder worth Php140,000. (f) Aritao Irrigators Multi Purpose Cooperative received one unit hand tractor which costs Php150,000 and (g) Conwap Valley Multi Purpose Cooperative of Dupax del Norte received one unit Rice Huller worth Php68,000 and two units Brass Cutter worth Php15,000 each.

Farm Equipment distributed to various ARBOs

After the turnover, OIC-PARPO II Magno said that the recipients are bound to make use of the machineries wisely and to make certain that they are handled, managed and maintained well. RD Bueno gave his closing speech by challenging the ARBO recipients to make good the produce of the lands awarded to them by DAR, using the given machineries.