DAR Davao del Norte turns over marketing assistance projects to 2 ARB Organizations
Davao del Norte - In its continuing commitment to serve the ARB organizations of the province despite the ongoing pandemic crisis, DAR Davao del Norte through OIC PARPO II Jocelyn Seno together with DTI Provincial Director Romeo Castanaga, Panabo City Mayor Jose Relampagos and CFARBEMCO Chairperson Eleuteria Chacon signed the memorandum of agreement and finally launched and turned over the P1 Million worth of Meat Processing Plant to Checkered Farm Agrarian Reform Beneficiaries Multi-Purpose Cooperative (CFARBEMPCO) on August 7, 2020. The said joint project is under the Village Level Farm Focused Enterprise Development (VLFED) Project of the Department of Agrarian Reform and Department of Trade and Industry's Shared Service Facility (SSF) Project. The local government of Panabo City also assisted the construction of the project by sending their engineering and plumbing personnel.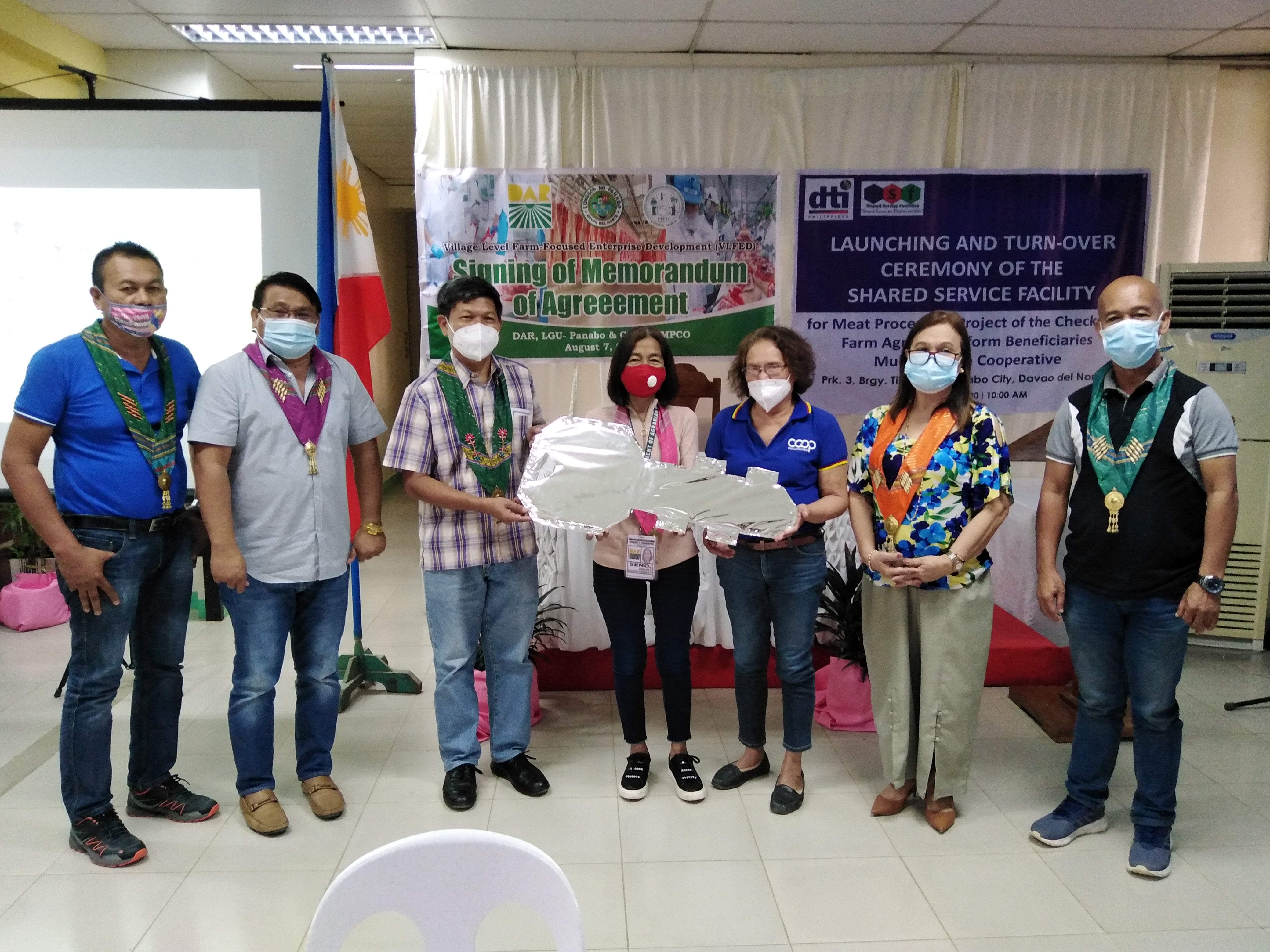 (The ceremonial turn-over of key of responsibility of the P 1 Million worth of Meat Processing Plant in CFARBEMPCO, Panabo City. From left Tibungol, Panabo City Brgy. Captain Fernando Candol, Panabo City Mayor Jose Relampagos, DTI Provincial Director Romeo Castanaga, PARPO Jocelyn Seno, CFARBEMCO Chairperson Eleuteria Chacon, DTI Asst. Regional Director Marie Ann How and City Councilor Emeterio Blase)
CFARBEMPCO is one of the leading cooperatives in the Philippines which ranked No. 8 in the Information Technology Enabled Maturity Assessment (ITeMA) of the Department of Agrarian Reform and is considered one of the leading Cavendish Banana Producers in the province. Eleuteria Chacon, chairperson of CFARBEMPCO extended her heartfelt gratitude to DAR for the project given to them. "I am deeply grateful to the Department of Agrarian Reform for always giving us such assistance in many ways. This is not the biggest support that DAR has given us but by giving us our land that we fought ever since we started this cooperative was the biggest and enormous gift that DAR extended to us and through this, our indebtedness to DAR will always remain in our hearts forever".
During her privilege speech, PARPO Seno gave a short briefer about what is VLFED all about. She also told the men and women of CFARBEMCO to take care of the projects that the government is given to them. "All the projects given by the government are culled out from the taxes you have paid to the government. The main reason why government is giving you out this project is to make ARBs entrepreneurs, increase their productivity not just on farm income which is from your Cavendish Bananas but Off-Farm income as well where this Meat Processing is one of the typical examples".
Meanwhile, DARPO Davao del Norte also turned over the Hand Farm Tractor with Trailer to Ernesto Nobleza, Board of Director Chairperson of Dujali Free Farmers Multi-Purpose Cooperative (DUFFAMCO) in the Municipality Braulio E. Dujali and Edgar Cocoy, also chairperson of San Vicente Multi-Purpose Cooperative in Sto. Tomas, Davao del Norte. Each tractor costs P 150,000.00 and under the department's Partnership Against Hunger and Poverty (PAPH) Project which aims to eliminate hunger, ensure food security and reduce poverty among agrarian reform beneficiaries.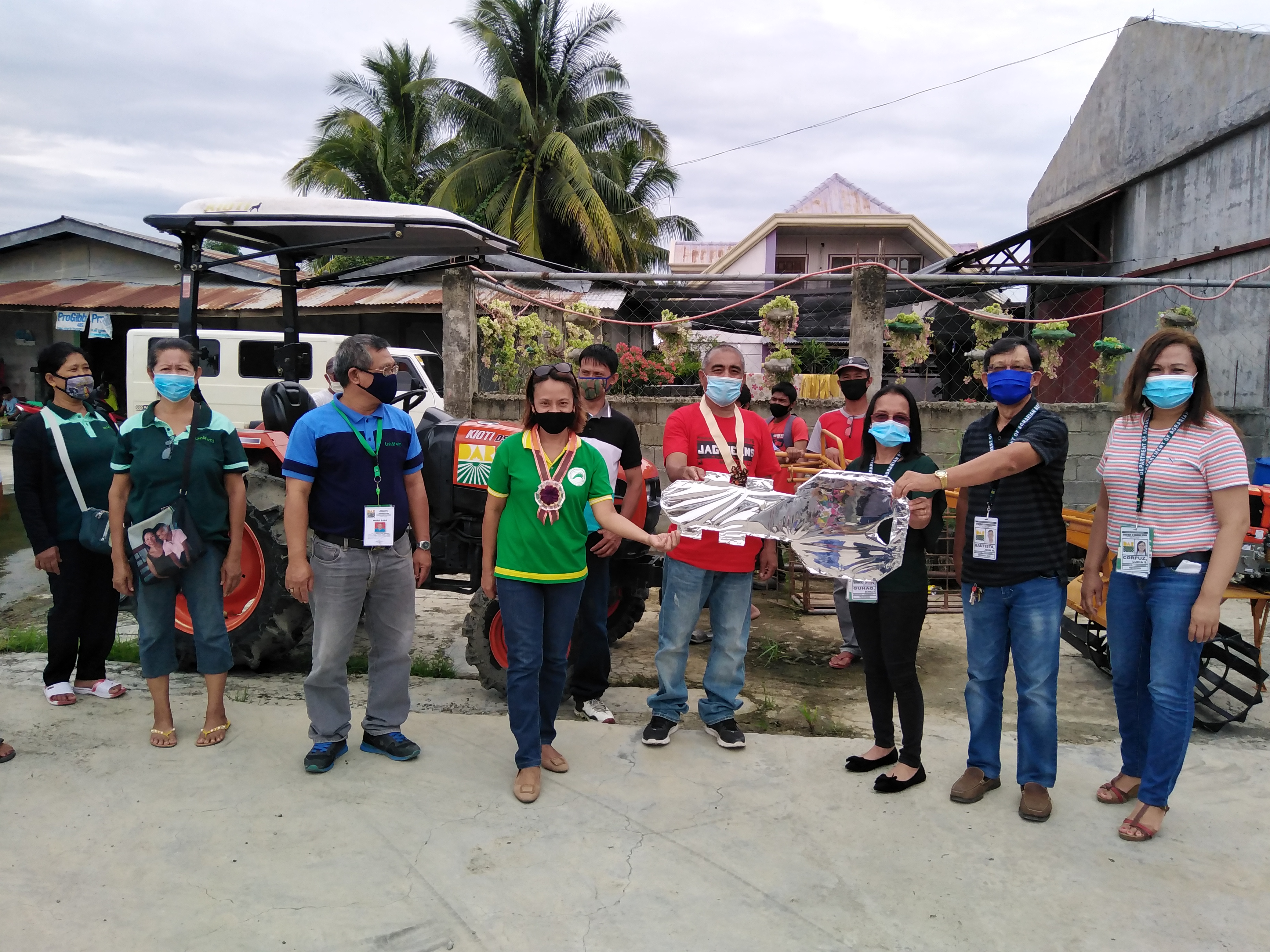 (The key of responsibility on Hand Farm Tractor with Trailer was handed-over to the Chairperson of Dujali Free Farmers Multi-Purpose Cooperative (DUFFAMCO), Ernesto Nobleza, center in red shirt, together with the coop's Manager Gemma Bacurayo in green shirt. Also in the picture are from right, Luz Corpuz, PBDD ARPO 1, B.E. Dujali MARPO John Bautista, PBDD-EDES Section Chief Elvira Guhao, B.E. Dujali SARPT Bernardo Lavilla and some of the members of the cooperative.)