2 DAR ARB organizations in Davao Region forge a commercial partnership agreement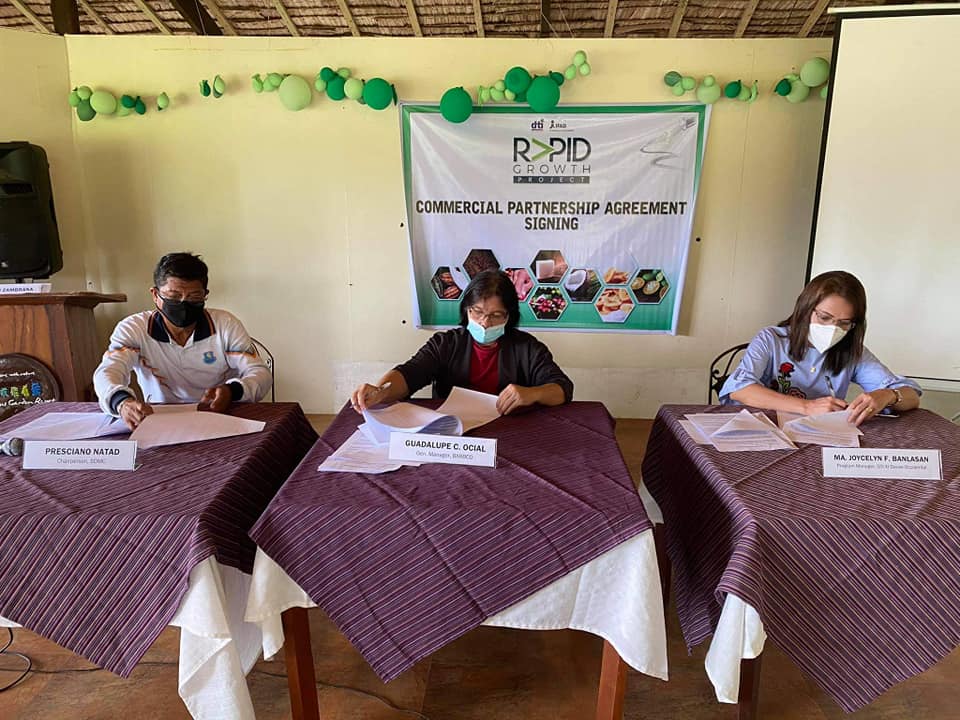 Southern Mindanao Multi-Purpose Cooperative (SDMC), a DAR-assisted cooperative in Basiawan, Sta. Maria, Davao Occidental, recently inked a Commercial Partnership Agreement with Biao Agrarian Reform Cooperative (BARBCO), also a DAR-assisted cooperative in Davao City, and the Department of Trade & Industry (DTI). SDMC will supply quality cacao beans to BARBCO, the latter as the anchor organization in the partnership, will provide technical and marketing assistance in cacao production and DTI for the business development services, processing equipment/facilities, among others. BARBCO is a Davao City-based cooperative which is primarily engaged in cocoa production, marketing, cocoa liquor & chocolate production.
A Key Informant Interview was conducted last November12, 2020 at the SDMC in order to gather information for the formulation of a Detailed Investment Plan to identify interventions for the cooperative. It was conducted by the DTI & BARBCO.
"Daghang salamat sa mga kaayohan nga miabot sa among kooperatiba" (Thank you for all the great help to our cooperative) said a beaming Preciano "Bebot" Natad, chairman of Southern Mindanao Multi-Purpose Cooperative (SDMC), a Department of Agrarian Reform (DAR) assisted cooperative in Basiawan, Sta. Maria, province of Davao Occidental. He was excited of the influx of interventions that the organization is reaping these last few months.
The working relationship between SDMC and BARBCO began in 2019 during a market chain study conducted by the cooperative thru the DAR-Linking Small Farmers to Market with Microfinance (LinkSFARMM) project to find better market for their cacao beans. BARBCO then offered the most competitive price that sealed the partnership and as the anchor organization of the Rural Agro-Enterprise Partnership for Inclusive Development and Growth (RAPID Growth), a market-driven value chain development program of the DTI, recommended SDMC as among its major partner in its supply chain. Hence the Commercial Partnership Agreement.
SDMC also started initial talks with BARBCO for the E-PAHP Supplementary Feeding Program of the DSWD. The partnership aims to provide packed champorado utilizing SDMC-produced tablea to the 52 Day Care students of the municipality.
And just recently, SDMC was among the first ARB organization to avail of a loan production package from LBP's AFFORD & E-ARISE program which launching was held last October 30, 2020 in Davao City. Indeed when it rains, it pours. (yadz geyrozaga-pio)