DAR provides livelihood support and farm inputs to 2k Surigao del Sur farmers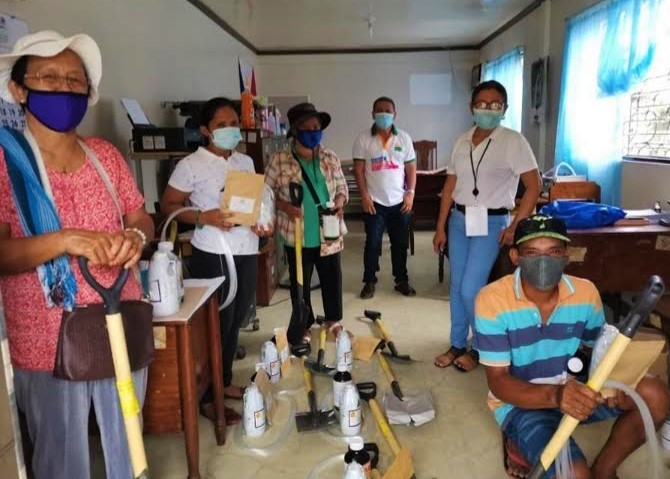 The Department of Agrarian Reform (DAR) has distributed farm inputs to 2,103 agrarian reform beneficiaries (ARBs) in Surigao del Sur as part of its productivity assistance to farmers amid the Covid-19 pandemic.
"We are extending these support services to help lessen the difficulty of the ARBs in this time of crisis," said DAR Regional Director Leomides R. Villareal.
Of the 2,103 ARBs, 1,487 received a bag of relief goods containing canned goods, rice, noodles, instant coffee, bath soap, and rubbing alcohol.
A total of 816 ARBs received crop production kits consisting of two packs of assorted vegetable seeds, one-liter fertilizer, one-liter pesticide, a flat spade, a shovel and two rolls of nylon.
"This will help farmers generate income and at the same time meet the nutritional requirements of their household during this time of the pandemic," Villareal said.
ARB Namoc Jesfano member of Bayan Free Farmers Multi-Purpose Cooperative said, "Ako mapasalamaton sa buhatan sa DAR nga isa ako sa napili nga modawat niining farm productivity. Daku kini nga tabang labi na sa panahon karon sa pandemya diin lisod ang pagpangita ug panginabuhian". (I am thankful to DAR for choosing me as one of the recipients of this farm productivity assistance. It is really a big help on our part especially so that livelihood opportunity is quite difficult to find in this time of crisis.)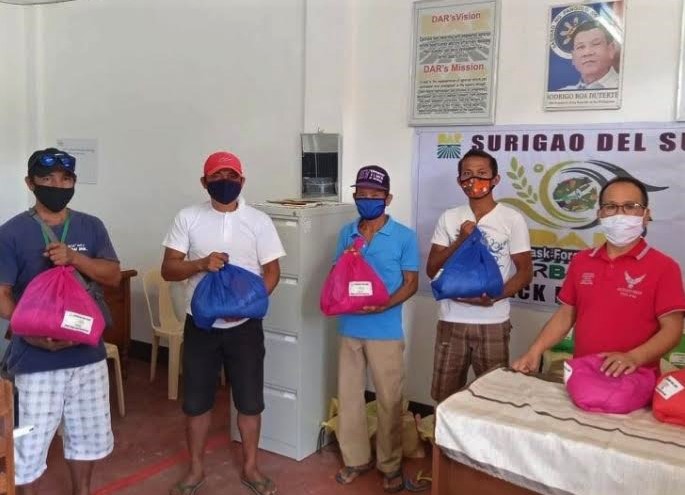 San Roque Farmers Producers Cooperative (SRFPC) of San Miguel Chairperson Eddie Minguito thanked DAR for the assistance and facilitation during the Enhance Community Quarantine (ECQ) period that they were able to continue their marketing activities and delivery of rice products to institutional buyers.
Provincial Agrarian Reform Program Officer Leoncio C. Bautista said the DAR also extended livelihood assistance to 15 women ARBs of the province.
The livelihood packages given were starter kits on hog-raising, root crop, and vegetable production. The starter kits for hog-raising include piglets and sacks of animal feeds, while the crop and vegetable production has sacks of fertilizers, packs of seedlings, and farm implements like spades, hoes, and pickaxes.
"These livelihood packages are easy to manage and will allow farmers to sustain their livelihood with a quick return on investment. Thus, would greatly help augment their family income in these difficult times," Bautista said.
The support services were implemented under the "The PaSSOver: ARBOld Move to Heal as One Deliverance of our ARBs from the Covid-19 Pandemic." This endeavor of the Department aims to help lessen the adversity of the ARBs and a means of augmentation in the farming activities to ensure food security in this time of crisis.