DAR Chief hands rice complex to AgSur farmers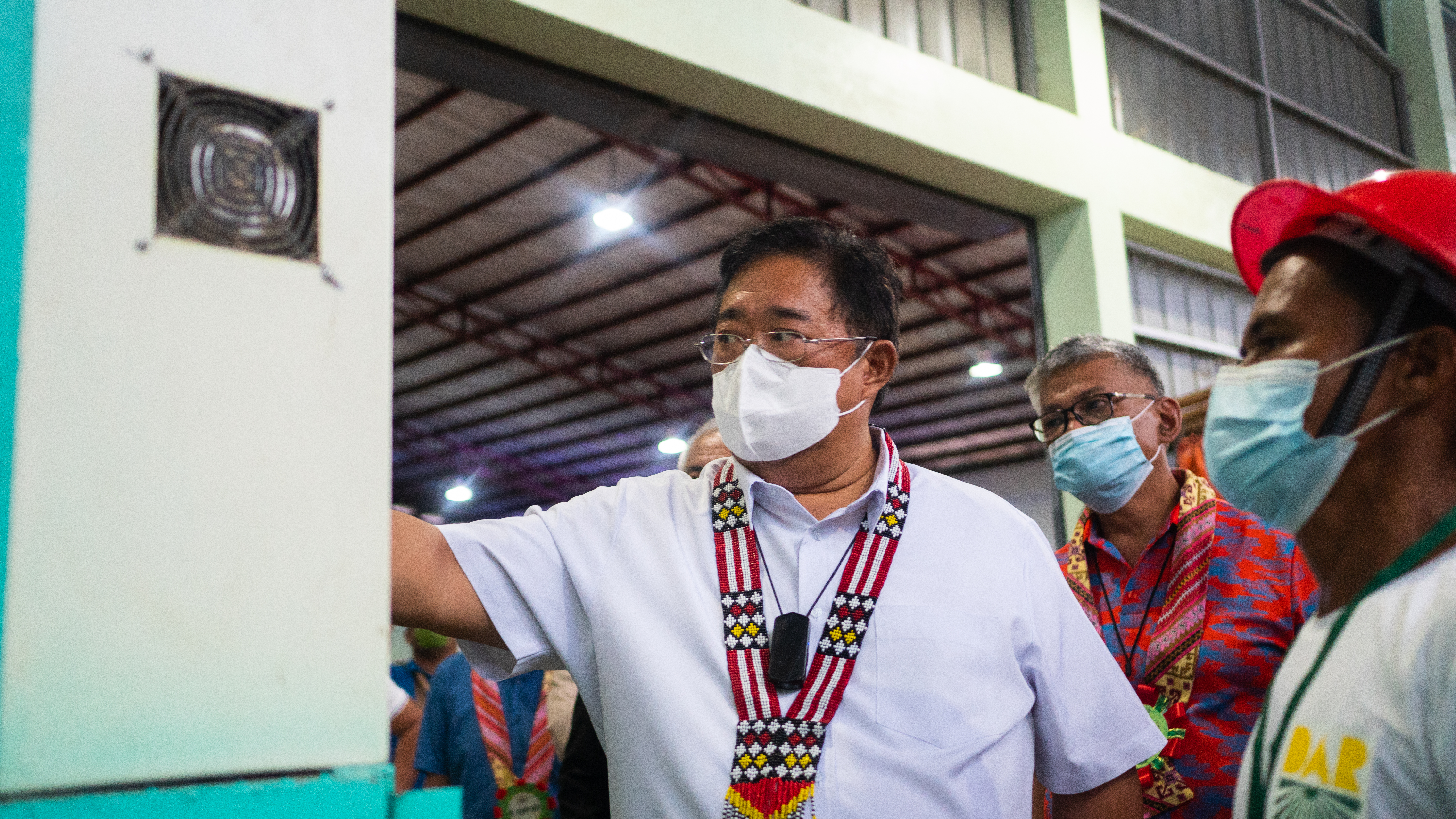 Trento, Agusan del Sur -Department of Agrarian Reform (DAR) Secretary Castriciones led the turn-over of the rice processing complex worth 21.2 Million pesos comprising of a multi-purpose warehouse, solar and mechanical dryers and rice mill along with various farm machineries and equipment worth 16.1 Million pesos to the Agrarian Reform Beneficiary Organizations of the Veruela, Trento, Bunawan and Sta. Josefa (VETREBUNS) Agrarian Reform Community (ARC) Cluster, last March 9, 2021 in Trento, Agusan del Sur.

The facilities turned-over to the beneficiary ARBOs are expected to benefit a total of 2,444 direct beneficiaries from the enterprise's rice production, processing and marketing component, through which 1,589 are Agrarian Reform Beneficiaries and 855 are smallholder farmers.

"Ang isa sa mga tunay na bayani ng ating bansa ang ating mga magsasaka" (One of the true heroes of our country are our farmers), said Atty. John C. Castriciones.

The project is under the Convergence on Value Chain Enhancement for Rural Growth and Empowerment (Project ConVERGE).

Also present during the turn-over were DAR key officials, local government officials headed by officials by Governor Santiago Cane, Jr. of Agusan del Sur, Project ConVERGE executives led by Director Faisar Mambuay and DAR Caraga officials and personnel headed by Director Leomides Villareal.

On empowerment sustaining supports, maintaining successes

The VETREBUNS Rice Processing Complex was formally turned-over to the Southern Agusan Multi-Purpose cooperative, lead ARBO of the VERTERBUNS ARC cluster and will primarily take charge of the rice enterprise. The area was also selected as recipient of the project in the province as it is the largest-producing ARC in Agusal del Sur, covering 18.83% of the total land area of the province.

As our farmers continue to face challenges especially with regards to poverty, Agusan del Sur Governor Santiago Cane emphasized that the provisions of the government will play key roles in the improvement of the lives of the farmers.

"This is your chance to improve your lives. There are various government agencies that can help you in making use of what has been provided to you", said Governor Cane.

In addition, Trento Mayor William E. Calvez also stated his continued support and cooperation to the activities of DAR and Project ConVERGE, being the municipality that is home to the lead ARBO and the rice processing complex.

SAMPCO Chairperson Edwin B. Tabano expressed his gratitude to DAR and Project ConVERGE for entrusting the rice processing complex to their ARBO. "The only assurance that we can give you is that we will be taking care of these machineries in order to share (our skills) to our counterpart farmers and ARBO members. We will protect all of these privileges which we have received from the Project", he added.

The cluster's rice enterprise is already fully operating, and is now offering various services in the locality and other neighboring municipalities.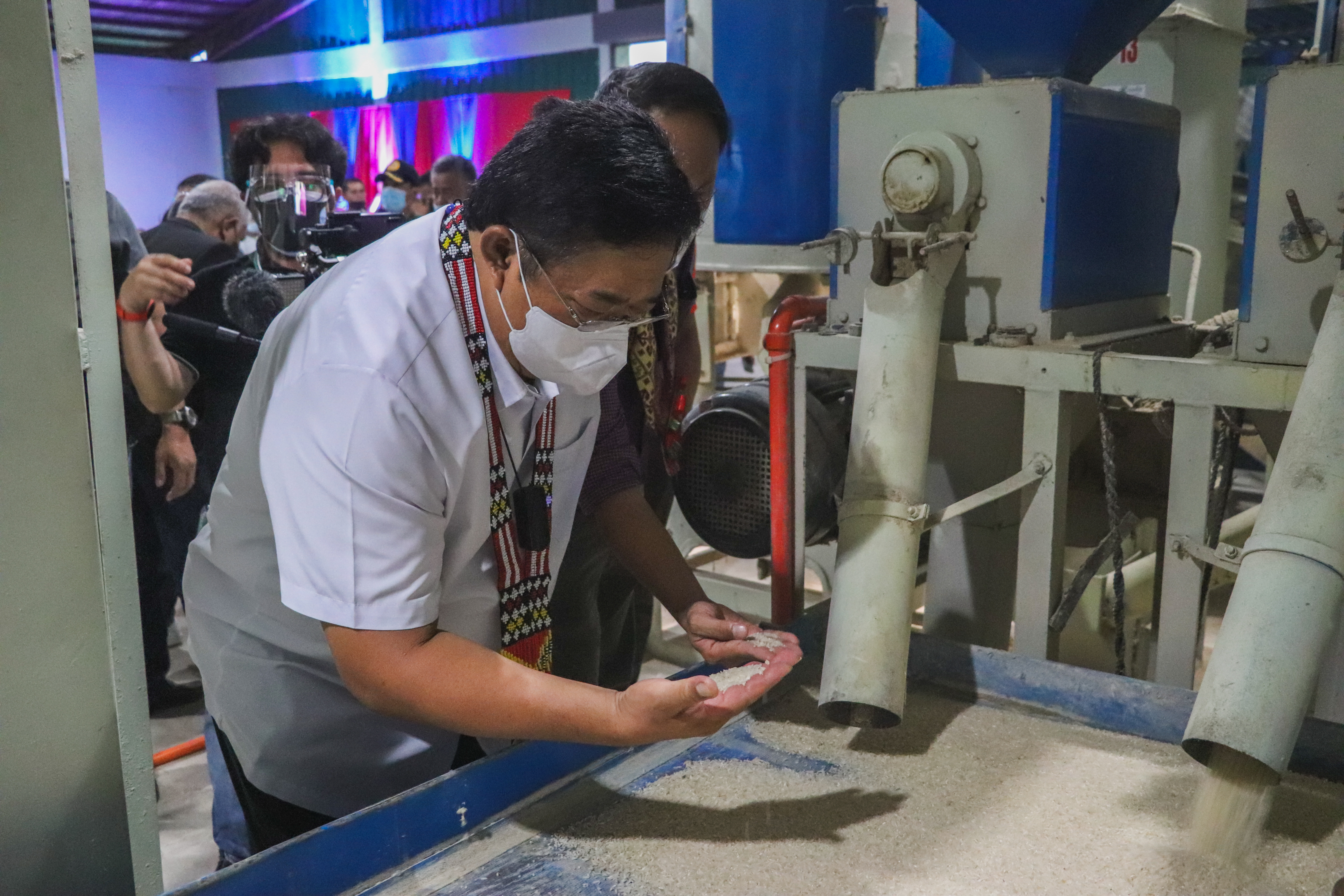 Honoring and empowering our country's true heroes:

During his keynote speech, Secretary Castriciones emphasized that the farmers have always played a key role in our country's sustainability, especially during the pandemic. "Isa kayo sa mga naging dahilan kung bakit nabawasan ang tag-gutom sa buong Pilipinas. Nakatulong po kayo at kayo nga po ay dapat kilalanin sapagkat kayo po ang tumulong para hindi mahirapan ang ating kababayan" (You are one of the reasons why the problem of hunger in the Philippines was resolved. You were indeed helpful and you need to be acknowledged because your efforts helped our fellowmen out of hunger), Castriciones emphasized.

He also underscored the hardwork of the Agusan del Sur ARBOs, being one of the provinces with the highest gross income obtained during the pandemic.

Provincial Agrarian Reform Program Officer Jamil Amatonding also thanked the rice farmers for their efforts, and pledged that the Department of Agrarian Reform will continue to render support services to the ARBOs, "kami lang po ay inyong maglilingkod. Rest assured na katuwang niyo kami na magbibigay (sa inyo) ng serbisyo" (We are just your public servants. Rest assured that we are your partners who will give you our services).

Accordingly, the rice processing complex along with the farm machineries and equipment turned-over to the VETREBUNS ARC cluster is part of the major deliverables of the project as major support to the Rice Production, Processing and Marketing enterprise of the ARC cluster. It is also notable that the rice processing complex was completed in the middle of the pandemic, where work and travel restrictions were heightened.



-Rechel Besonia, PIO Agusan del Sur and Charlemagne Kierra Rubillos, KM Specialist, Project ConVERGE-RPMO 13