DAR, DA, DENR conduct field revalidation for second batch of lands to be covered under CARP in Boracay island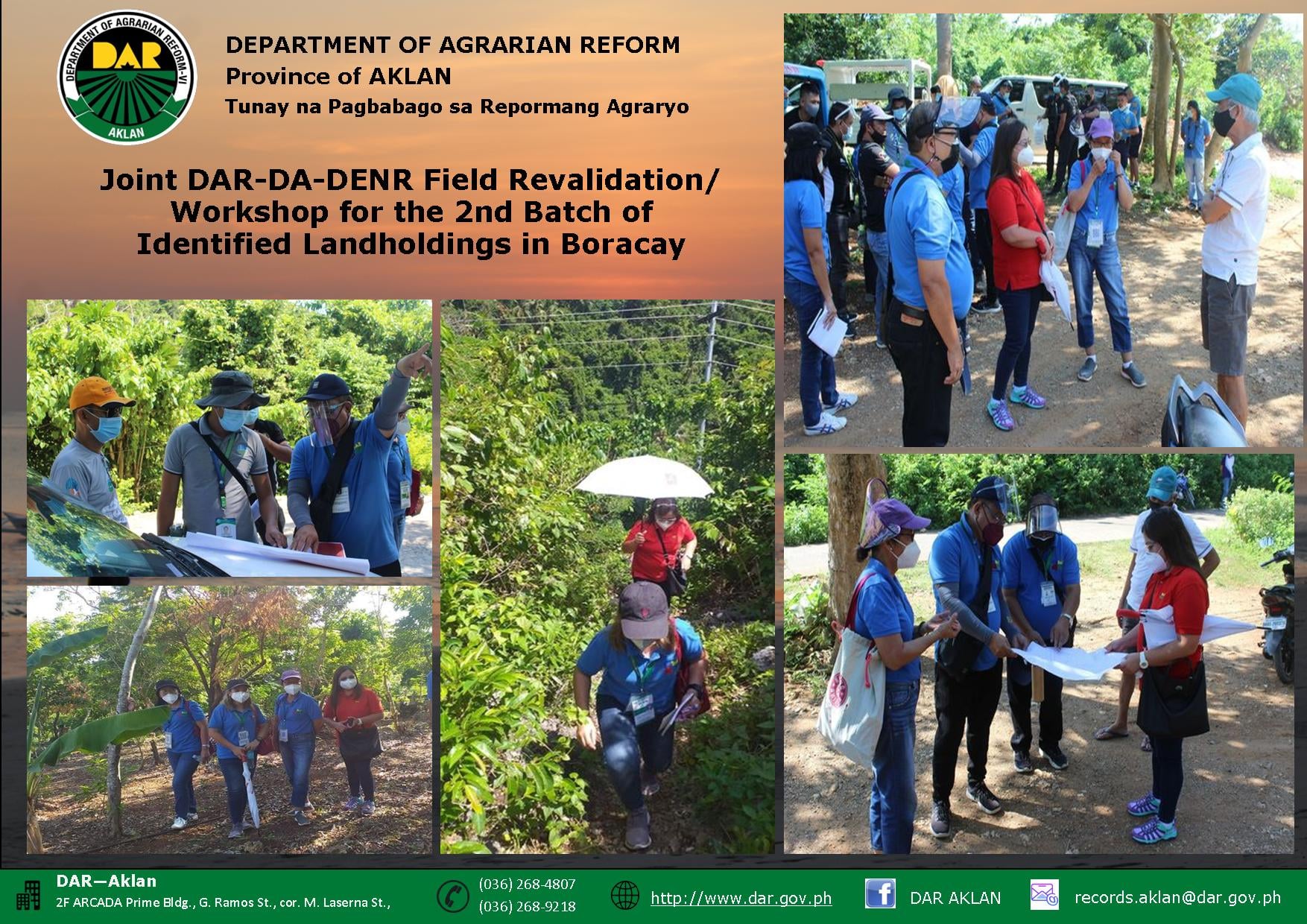 To identify possible landholdings that can be covered for the second batch under the Comprehensive Agrarian Reform Program (CARP) in Boracay Island, the Departments of Agrarian Reform (DAR), Agriculture (DA), and Environment and Natural Resources (DENR) recently conducted a revalidation, ocular inspection, and workshop held in Malay, Aklan.
DAR Western Visayas Regional Director Sheila B. Enciso said the activity is in line with the pronouncement of President Rodrigo Roa Duterte to place Boracay Island as a 'land reform area'.
DENR earlier turned over in 2018 to the DAR the first batch of eight (8) landholdings in Boracay island covering a total land area of 7.9640 hectares situated in Manoc-Manoc, Boracay. Portions of the said landholdings were distributed to 44 members of Ati and Tumandok tribe under collective ownership.
"After the successful implementation of the first batch of landholdings that was turned over by DENR to DAR, the second batch of agricultural lands were again identified comprising of twelve (12) lots for subsequent acquisition and distribution to identified agrarian reform beneficiaries (ARBs). The said parcels of lands require revalidation pursuant to DENR-LMB Technical Bulletin No. 2019-001 entitled: "Procedures on the Validation, Segregation Survey and Turn-over of Identified Lots in the Island of Boracay Under Land Reform," Enciso said.
Aklan provincial agrarian reform program officer Ma. Teresa C. Valencia said that after the tactical brainstorming, workshop, and field revalidation, the participants identified the dominant land use based on previous reports and actual land utilization.
"We will establish baseline data of specific landholdings for CARP coverage and generate information and recommendations for turn-over of agricultural lands by DENR to DAR," Valencia said.
Earlier in 2019, President Duterte also signed Executive Order 75, which mandates the distribution of government-owned lands under the second phase of the agrarian reform program.
DAR Secretary John R. Castriciones said the order will pave the way for the distribution of government-owned agricultural lands that will be distributed under the CARP.
Participants in the said workshop include representatives from DAR, DENR, DA, Task Force Agrarian Boracay Island, Barangay Agrarian Reform Committee, and other stakeholders involved in the project.