DAR-Iloilo, LGU and ARBOs in San Dionisio, Forged Memorandum of Agreement (MOA) on LinkSFarMM Project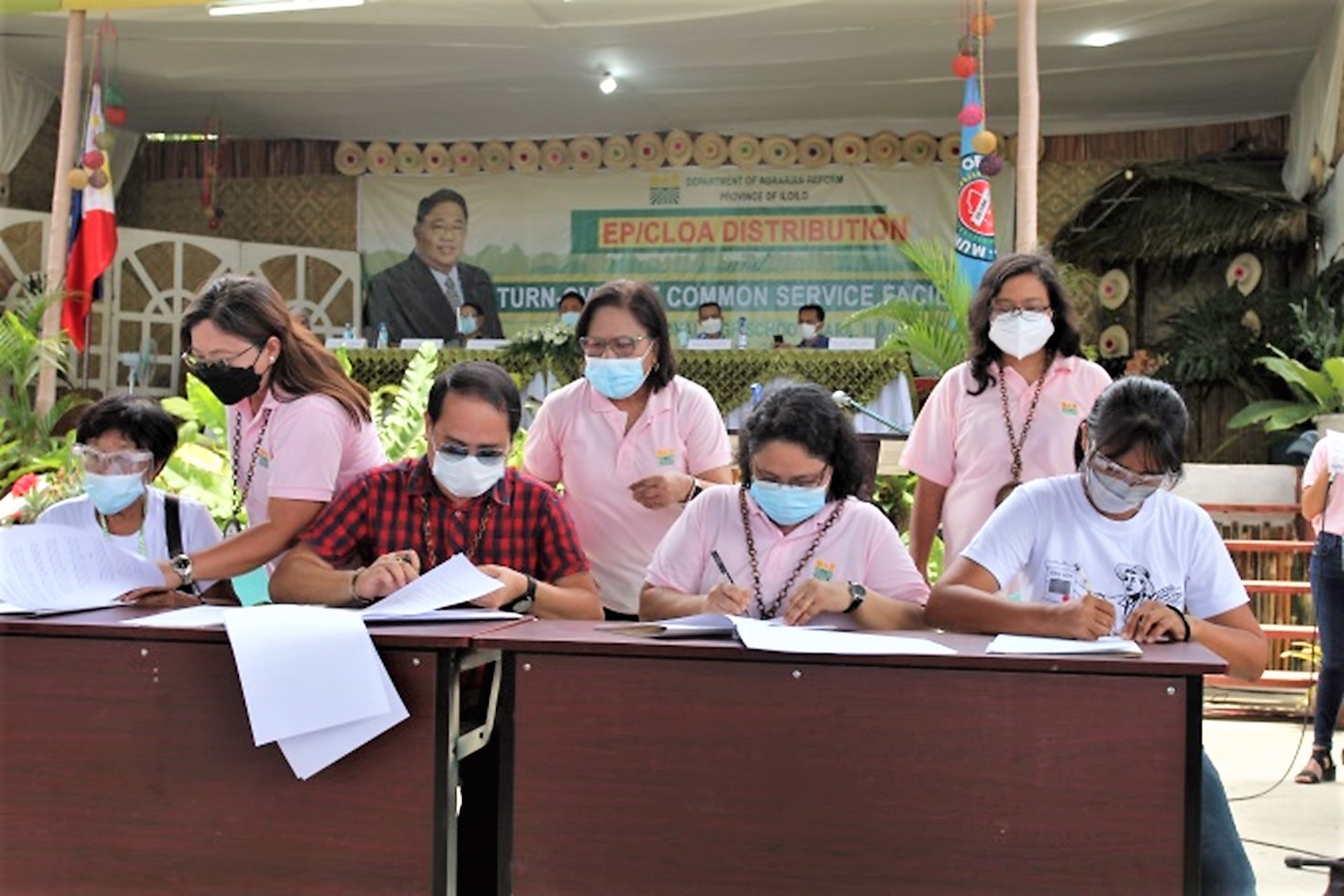 One of the significant activities conducted on May 15, 2021 in Sara, Iloilo along with the EP/CLOA distribution with Secretary Bro. John R. Castriciones is the MOA signing on Linking Smallholder Farmers to Market with Microfinance (LinkSFarMM) project.
The forging of MOA happened between DAR Province of Iloilo represented by OIC-PARPO II Harriet A. Loot, LGU San Dionisio, Iloilo represented by Hon. Mayor Darwin E. Bajada, and two Agrarian Reform Beneficiary Organizations (ARBOs) namely: Northern San Dionisio Multi-purpose Cooperative (NSDMPC) and Manduawak Agrarian Reform Beneficiaries Cooperative (MARBC) represented by their respective chairpersons.
Linking Smallholder Farmers to Market with Microfinance (LinkSFarMM) project aims to help improve and sustain the livelihood of Agrarian Reform Beneficiaries or smallholder farmers through agroenterprise development. Partner/anchor ARB organizations (cooperative) are provided with technical assistance or strengthened to provide financial and non-financial services for production and post-production activities and undertake collective marketing of ARBs/farmers produce to appropriate market.
NSDMPC has total membership of 225 where 210 are ARBs while MARBC have 93 with 77 total ARB members. Being identified as partner ARBOs, LinkSFarMM project proposes intervention like networking/contracting with institutional buyers where the cooperative serve as consolidator of the produce of its members. Other services for the members may include pre and postharvest facilities, credit accessing of members under AFFORD-ARBs lending program with LandBank of the Philippines, outsourcing of technical assistance to members like trading capital and likewise, accessing of production capital to members.
DAR Regional Director Atty. Sheila B. Enciso and Assistant Regional Director Lucrecia S. Taberna served as witnesses during the MOA signing.