DAR AND SARA LOCAL GOVERNMENT FORGED PARTNERSHIP FOR AGRARIAN REFORM BENEFICIARIES (ARBs) DEVELOPMENT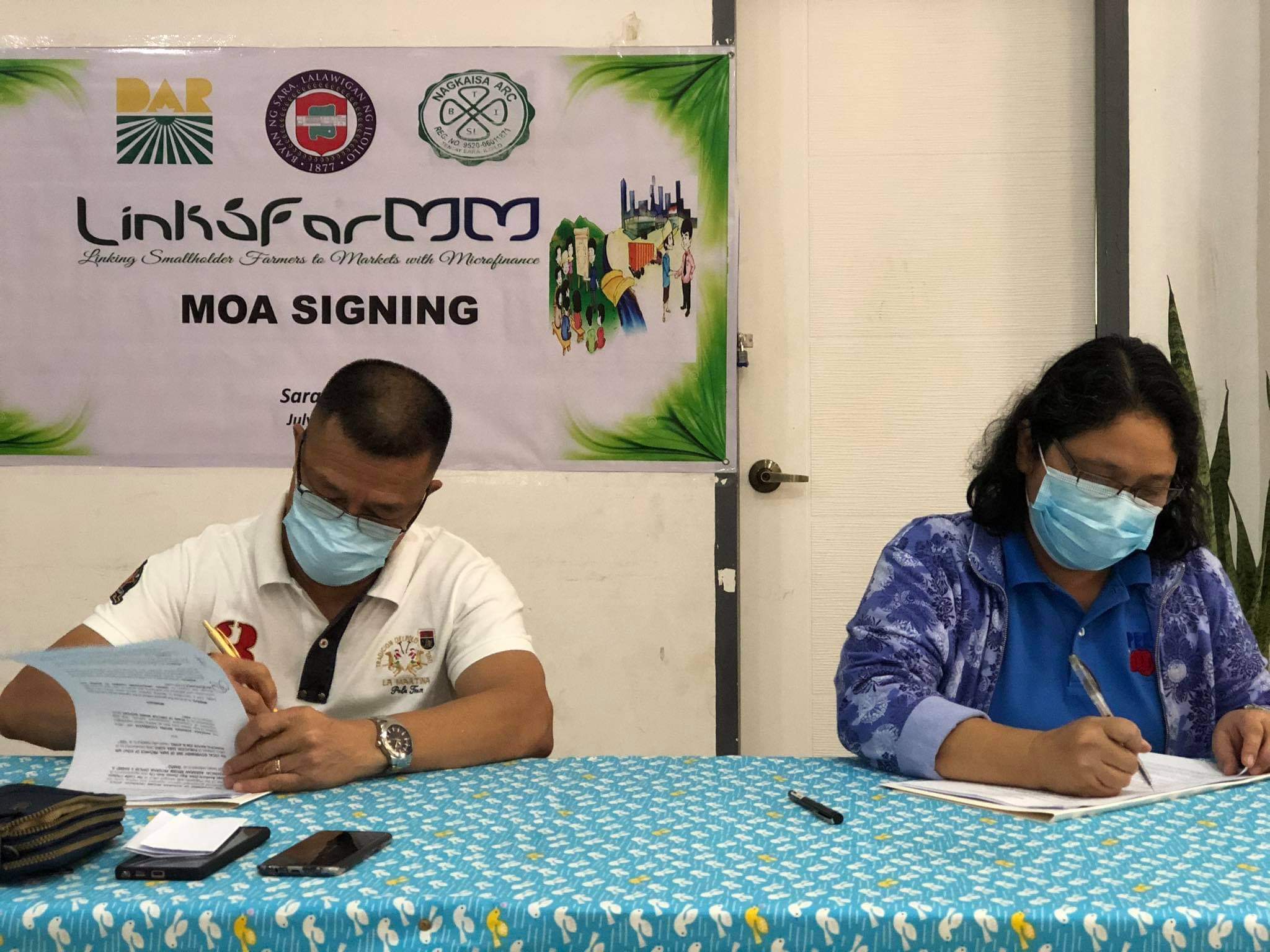 The Department of Agrarian Reform and the Local Government of Sara, Iloilo is now again partners for the improvement of lives of ARBs of the said municipality, after the forging of a Memorandum of Agreement (MOA) under the Linking Smallholder Farmers to Market with Microfinance (LinkSFarMM) Project was conducted this July 2021 at Sara Municipal Evacuation Center, Sara, Iloilo.
With the forging of the MOA and likewise their partnership , the Agrarian Reform Beneficiaries (ARBs) in the said municipality particularly those who engage in rice, corn and vegetable productions, are expected to increase their agricultural productivity and create extensive marketing engagement with institutional buyers among others, as a response to cope on their grave necessity.
The DAR, represented by its Provincial Agrarian Reform Program Officer, Harriet A. Loot and Lourdes F. Causing, Assistant Provincial Agrarian Reform Program Officer, together with Hon. Jon N. Aying, Local Chief Executive of Sara, Iloilo signed the MOA along with the leaders of Nagkaisa Agrarian Reform Cooperative in Brgy. Tentay, Sara, Wenny Binggan and Rosemarie Layda, Chairperson and Manager, respectively.
On his welcome message, Mayor Aying said, "All government initiated projects that are beneficial for the development of Sara are always welcome." He also added that he is grateful with this partnership, for this means additional income and interventions not only for the ARBs but also to smallholder farmers in Sara.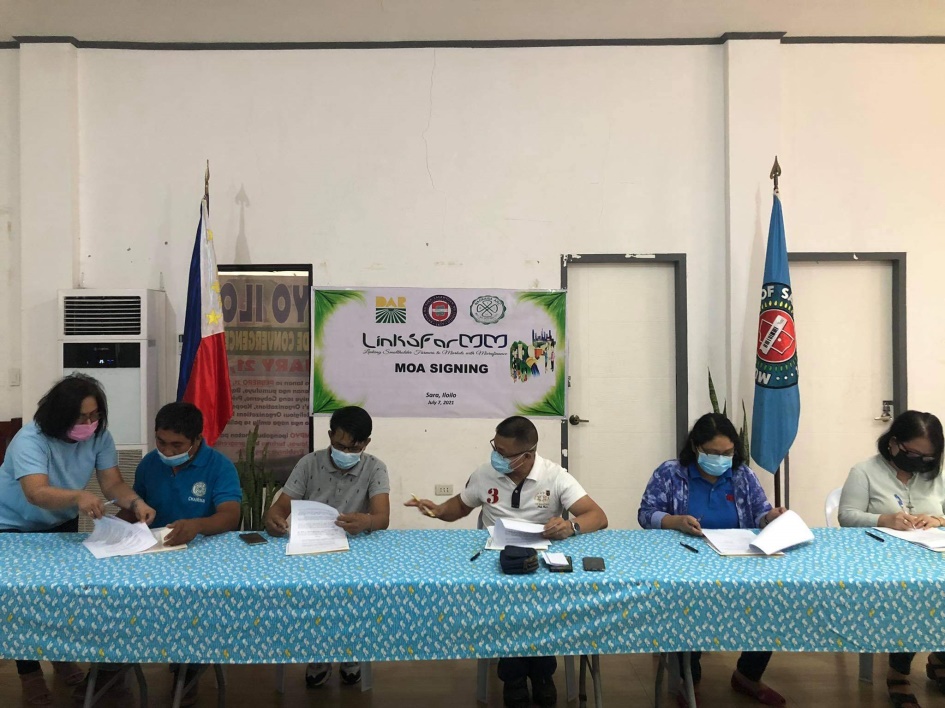 During the previously conducted LinkSFarMM orientation at Regatta Hotel, Iloilo on June 23, 2021, Mayor Aying expressed his belief that the project might help re-educate and change the mindset of the people in his municipality by making them understand that it is not just ownership of the land that will help improve their lives. Further, he committed that the said project will be integrated to their municipal structure as part of their assistance.
With full support and trust on the partnership between DAR and the Local Government of Sara, Iloilo, Provincial Agrarian Reform Program Officer Harriet A. Loot is certain that through this project, one of the visions of the department to help improve the quality of lives of the ARBs and other smallholder farmers within the municipality will be achieved. Likewise, with strong coordination and partnership between DAR and LGU Sara, the dream of realizing an industrialized society in the near future will always be possible.
Witnessing the MOA signing in observance of the proper protocol against COVID-19 spread are the selected Sangguniang Bayan members from the Local Government of Sara, a number of staff from the Program Beneficiaries Development Division (PBDD) of DARPO-Iloilo and its Chief Celina Candoleta who are on top of facilitating the event, Municipal Agrarian Reform Program Officer assigned in Sara, Iloilo Mr. Virgilio Lumbo and his subordinates, as well as Mrs. Criselda Deaño and Mr. Arnulito Dalen, chairpersons LADAP and Masa Agrarian Reform Cooperative in Brgy Devera and Aposaga Sara, Iloilo, respectively .
Through LinkSFarMM project, farming business of organized farmers particularly the ARBs will become more profitable. Better and stable market access will be created, and the social and economically challenged lives of ARBs be uplifted. Having all of these aims achieved in Sara, Iloilo with significant number of ARBs along with the struggles on COVID-19 issues will be this year's one great achievement of DAR Province of Iloilo.