DAR CHIEF INSTALLS 51 ARBs AS NEW LANDOWNERS OF 48-HECTARE LAND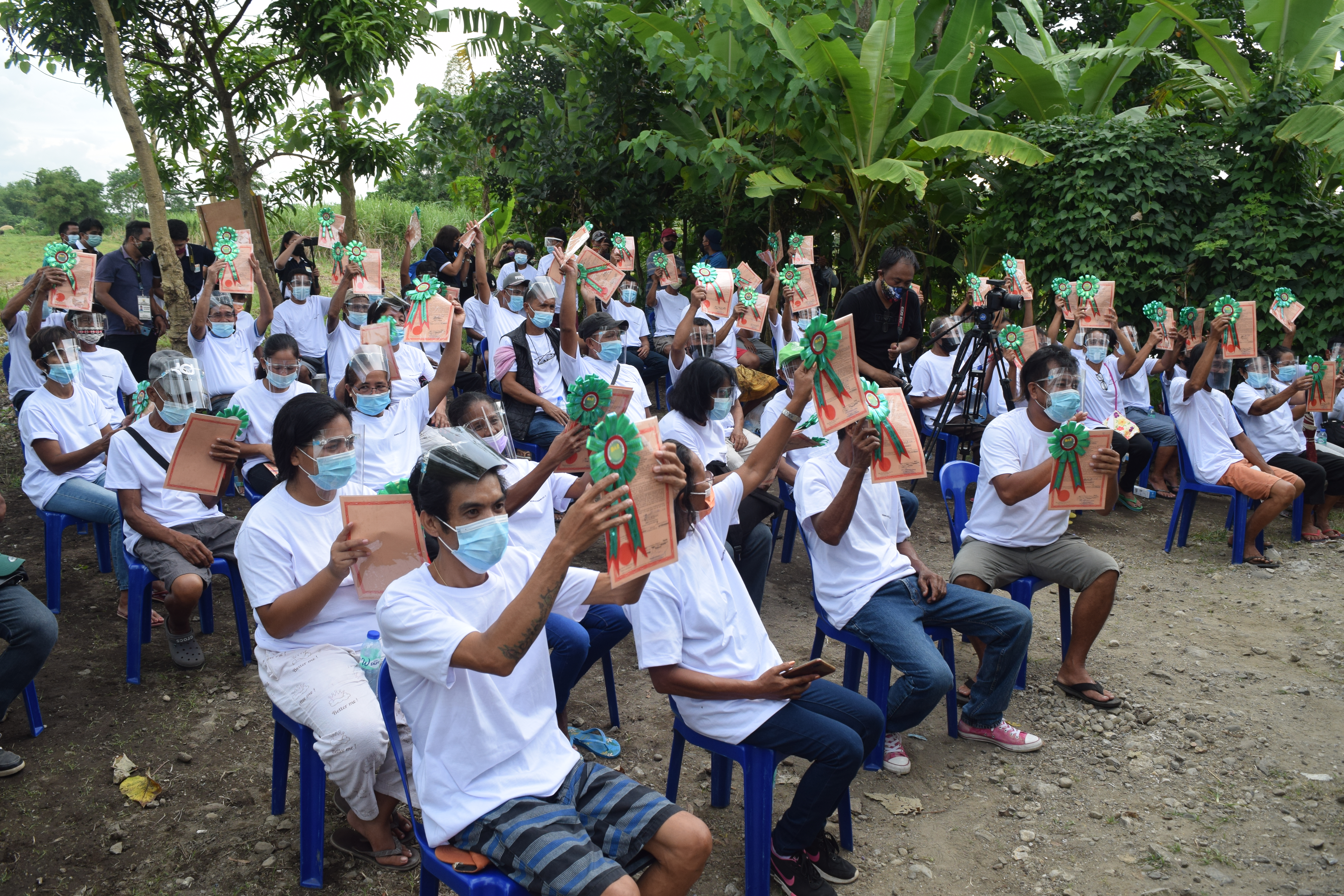 Fifty-one (51) agrarian reform beneficiaries were installed as new landowners by Department of Agrarian Reform (DAR) Secretary Atty. Bro. John R. Castriciones in Murcia Town on September 30, 2021.
Sec. Castriciones also personally distributed the individual Certificates of Land Ownership Award (CLOAs) to the farmer-beneficiaries of the landholding identified as OCT/TCT Numbers T-276410, T-34572, and T-34574, covered by Lot Numbers 153-A, 153-B, and 153-D, with an area of 28.1372 hectares, 12.6184 hectares, and 7.7580 hectares, respectively.
The property was formerly owned by Ma. Therese, Teresita, and Baldomero Rio, Jr., located in Barangay Abo-Abo, Murcia, Negros Occidental.
In the ceremony, Bro. John said: "This is the day we should be happy because finally our farmer-beneficiaries will receive their long-awaited CLOAs and this signifies your freedom from the bondage of tenancy. Today is proof that you now own this land, blessed by our Lord God, through our government, by President Rodrigo Duterte and the farmer servants, the DAR staff with the help of our partners, and of the local government unit."
Mayor Gerry M. Roxas, Municipal Mayor of Murcia also graced the ceremony and highlighted that 90% of the town is agriculturally inclined and productive.
"Even amid the pandemic, you, our farmers, continue to grow and harvest crops to bring food to everyone's table. Without our farmers, there will be no food on everyone's table. You are the heroes of this nation", Mayor Roxas added.
Regional Director Atty. Sheila Sheila B. Enciso of DAR-Western Visayas organized the activity and stated: "We are grateful to have served you and played a role in improving the quality of your lives as agrarian reform beneficiaries (ARBs). We worked hard and put in a lot of effort to give you the title to your land. We only asked one thing of you: be a good steward of the land that has been given to you so that our efforts to improve your lives will not be in vain.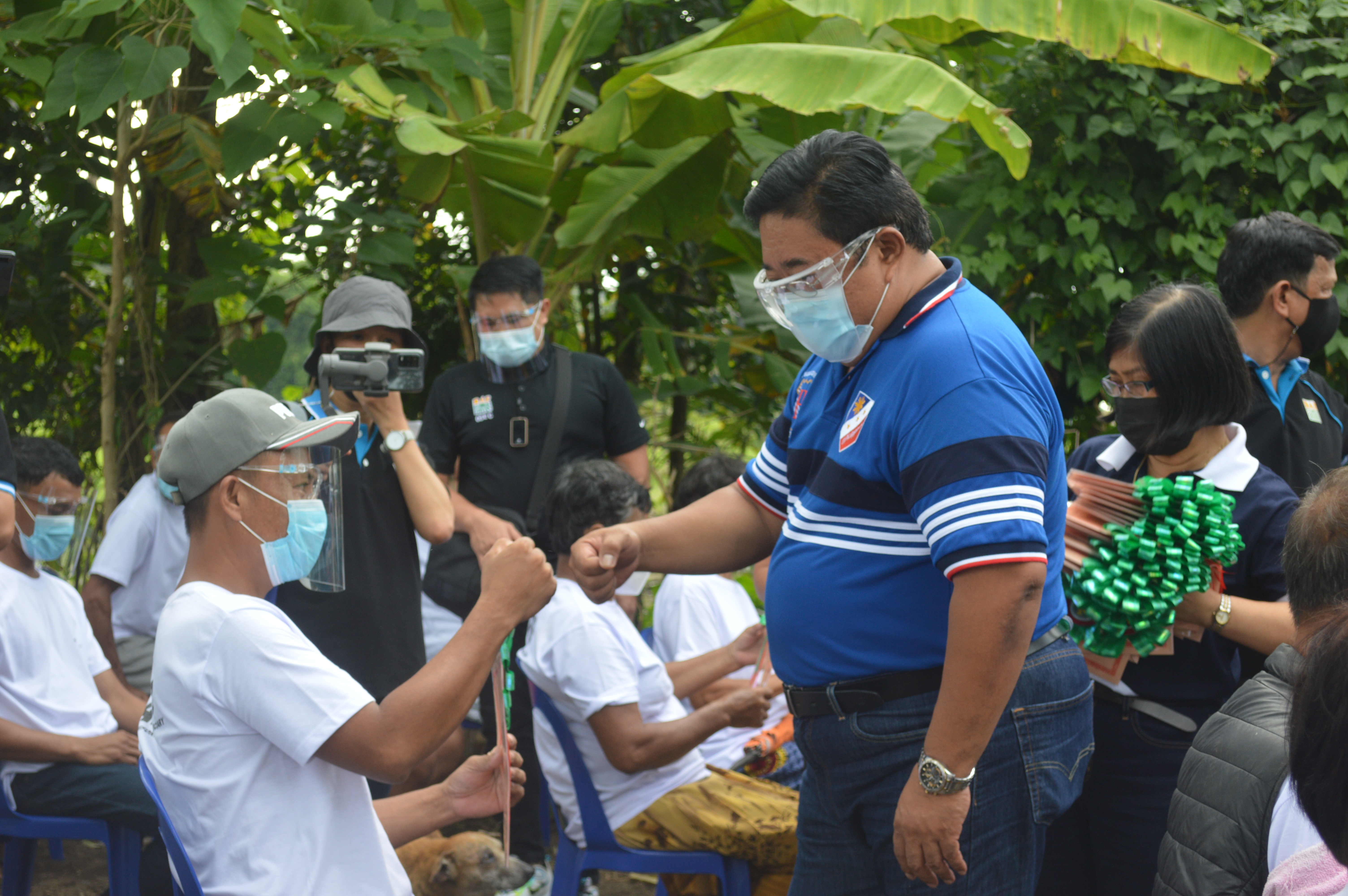 Also present in the activity were Atty. Raibai D. Dilanagalen-Undersecretary for Mindanao Affairs and Rural Development (MARD), Assistant Secretary for Foreign Assisted and Special Projects Office (FASPO) Ubaldo R. Sadiarin. Jr., Field Operations Office (FOO) Director Romeo L. Reyes, Assistant Regional Director (ARD) for DAR Region 6 Lucrecia S. Taberna, ARD Gideon A. Umadhay, Jr.,Provincial Agrarian Reform Program Officer (PARPO) II Teresita R. Mabunay, and PARPO I Milagros C. Flores.
With Negros Occidental under the General Community Quarantine with Heightened Restrictions (GCQ-HR) on the said date, the conducted ceremony included the observance of minimum health protocols set by the Inter-Agency Task Force on Emerging Infectious Diseases (IATF-EID) and the Department of Health (DOH).
This is anchored to the agency's aim to provide lands to landless farmers and farmworkers, guarantee the farmers' land security, deliver social equity, and provide them with the necessary productive resources needed to ensure their economic viability and productivity.
DAR is the lead government agency that holds and implements comprehensive and genuine agrarian reform which actualizes equitable land distribution, ownership, agricultural productivity, and tenurial security for, of, and with the tillers of the land towards the improvement of their quality of life.