DAR-Benguet turnover P1.5M worth of FMEs to Benguet ARBOs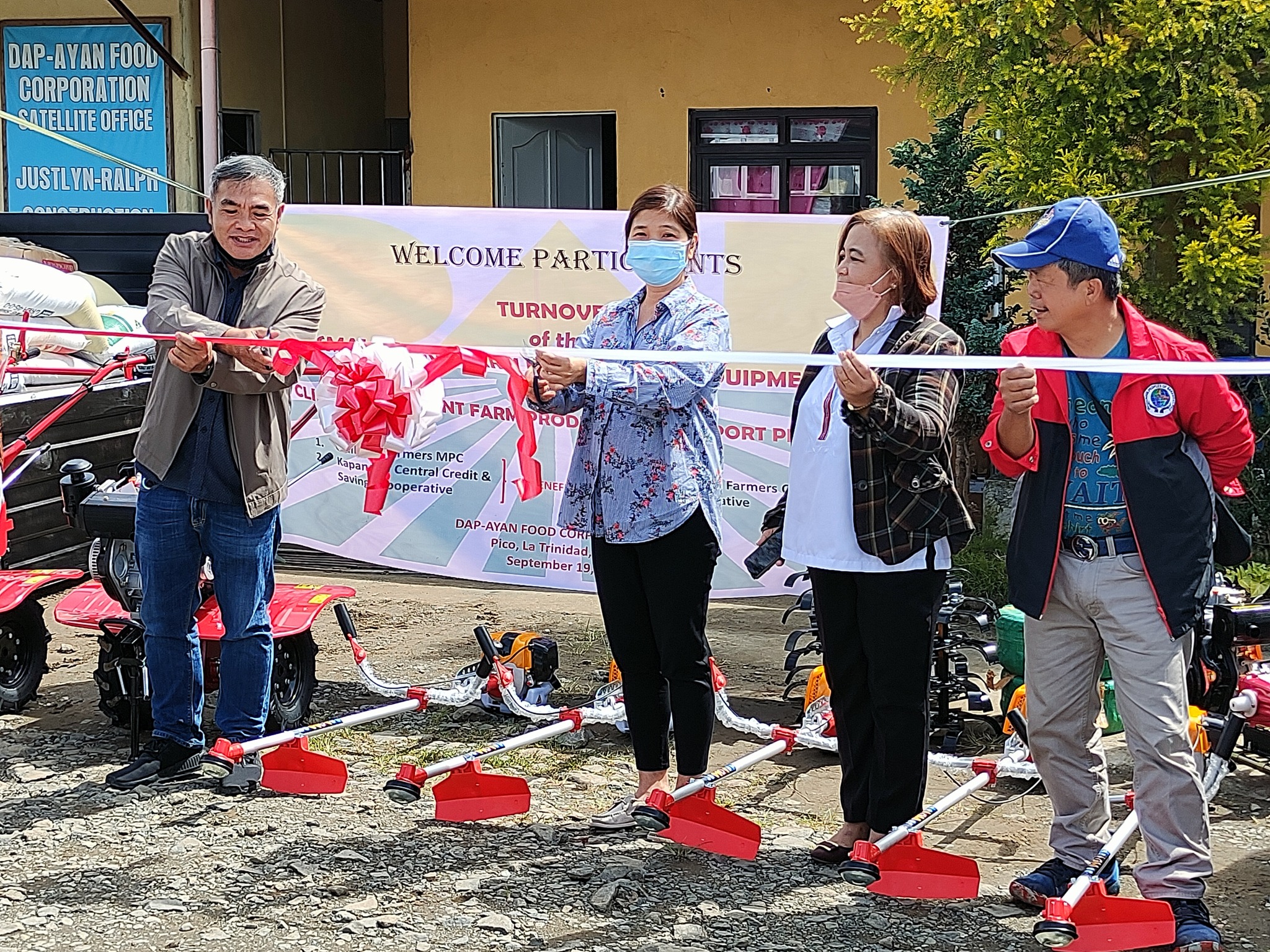 September 21, 2022, La Trinidad, Benguet – The Department of Agrarian Reform in Benguet (DAR-Benguet) headed by Virginia D. Aycud, Provincial Agrarian Reform Program Officer (PARPO) II, turned over farm machineries and equipments worth more than .
Said farm inputs, machineries and equipments are one (1) unit six wheeler truck which was turned-over to Caliking Farmers Mulitpurpose Cooperative (CFMPC) of Caliking, Atok, Benguet and received by its CFMPC Manager, Conrado O. Baldino; 1 unit utility tricycle, turned-over to Kapangan Central Credit & Savings Cooperative (KCCSC) of Kapangan Central, Kapangan, Benguet and received by its Chairperson, Victoria Bala-oy; and, assorted farm equipments (2 units power tiller, 5 units brush cutter and 2 units power sprayer) which were turned-over to Balayan Farmers Credit Cooperative (BFCC) of Camp 3, Tuba, Benguet and received by its Chairperson Romeo Sebey.
PARPO II Virginia D. Aycud in her welcome remarks said that having these farm machineries and equipments will help the ARB-farmers work their farms more easily and cover more areas of their farms which will mean more production.
Atty. Estrellita B. Briones, OIC Director of DAR Cordillera Administrative Region (CAR) in her speech, implored the recipients to take good care and use properly the trucks, utility tricycle and farm equipments given to them so that it will serve its purpose and contribute to the uplifting of their economic life. She also said that proper use and care of the farm machineries and equipments given to them means more to come.
For his part, Honorable Franklin Smith, Municipal Mayor of Atok, Benguet said that Local Government Units (LGUs) and National Government Agencies (NGAs), like DAR and DA, should foster and strengthen their partnership so that change or changes will take place. He further said that unity and oneness is necessary.
Cherry L. Sano, the Municipal Agriculture Officer of Atok, Benguet also said that since the Municipal Agriculture Offices (MAO) are devolved to the LGUs, it has limited funds to provide such machineries, equipments and farm inputs that other agencies may provide. Thus, partnering and collaborating with other agencies like DAR and DA is necessary in order that these kinds of farm machineries and equipments can be provided to the farmers.
Arthur M. Shontogan, Acting Chairman of the Provincial Coordinating Committee (PARCCOM) of DAR-Benguet, in his closing remarks also said that it is one of the functions of the PARCCOM to monitor these farm machineries and equipments given to the ARBOs in Benguet to see to it that said machineries and equipments are being used and maximized for its purpose.
The Officers of the ARBOs, in their respective acceptance speech, also thank the government through DAR-Benguet in providing the needed farm inputs, machineries and equipments.
The provision of said farm inputs, machineries and equipments were made possible through the collborative efforts of all DAR-Benguet personnel especially the Program Beneficiaries Development Division (PBDD) headed by its OIC Chief Agrarian Program Officer (CARPO) Hilda L. Tamiray.