DAR distributes agri lands in Rizal province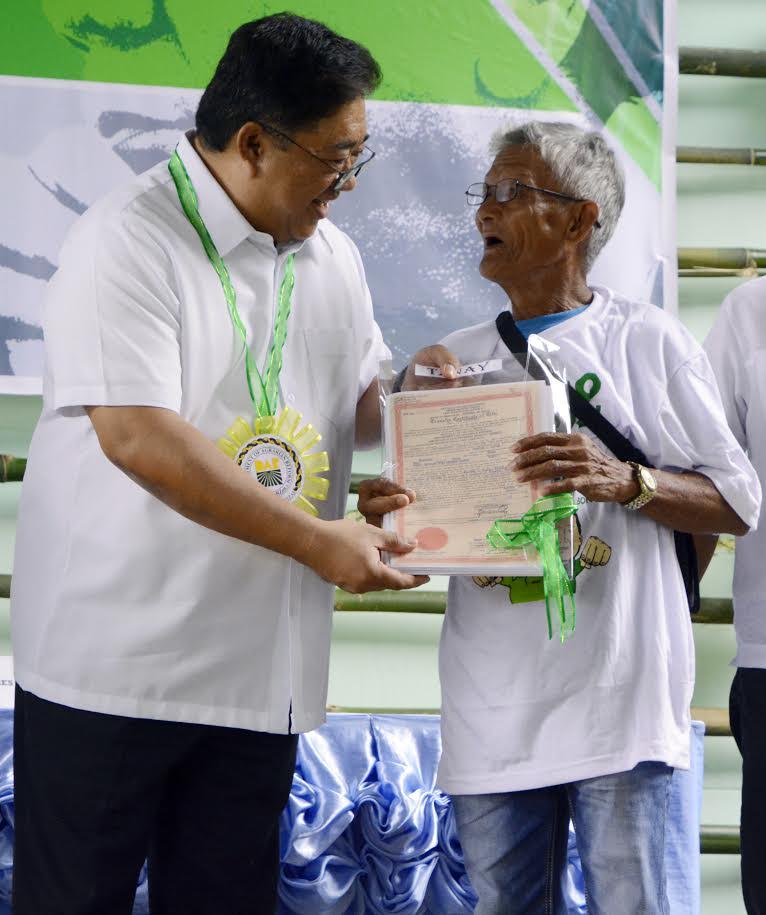 Sixty three-year old agrarian reform beneficiary Bernardo Macuroy was able to realize his dream of owning a piece of land through faith and perseverance.
This farmer, from Barangay Sampaloc in Tanay, Rizal, who received more than one-hectare of land, recalled that it was in the year 2000 when he and 10 of his fellow farmers cultivated an idle land in their barangay and planted it with various vegetables and fruit bearing trees.
When the land was already productive, the former landowner showed up and claimed that he was the owner of the land they were tilling.
"He was asking us to abandon the land after all the hard work and sacrifices we did to develop it. Thankfully, there were people who told us that we have rights over the land and we sought the assistance of the municipal offices of the Department of Agrarian Reform (DAR) in Tanay for help," he said.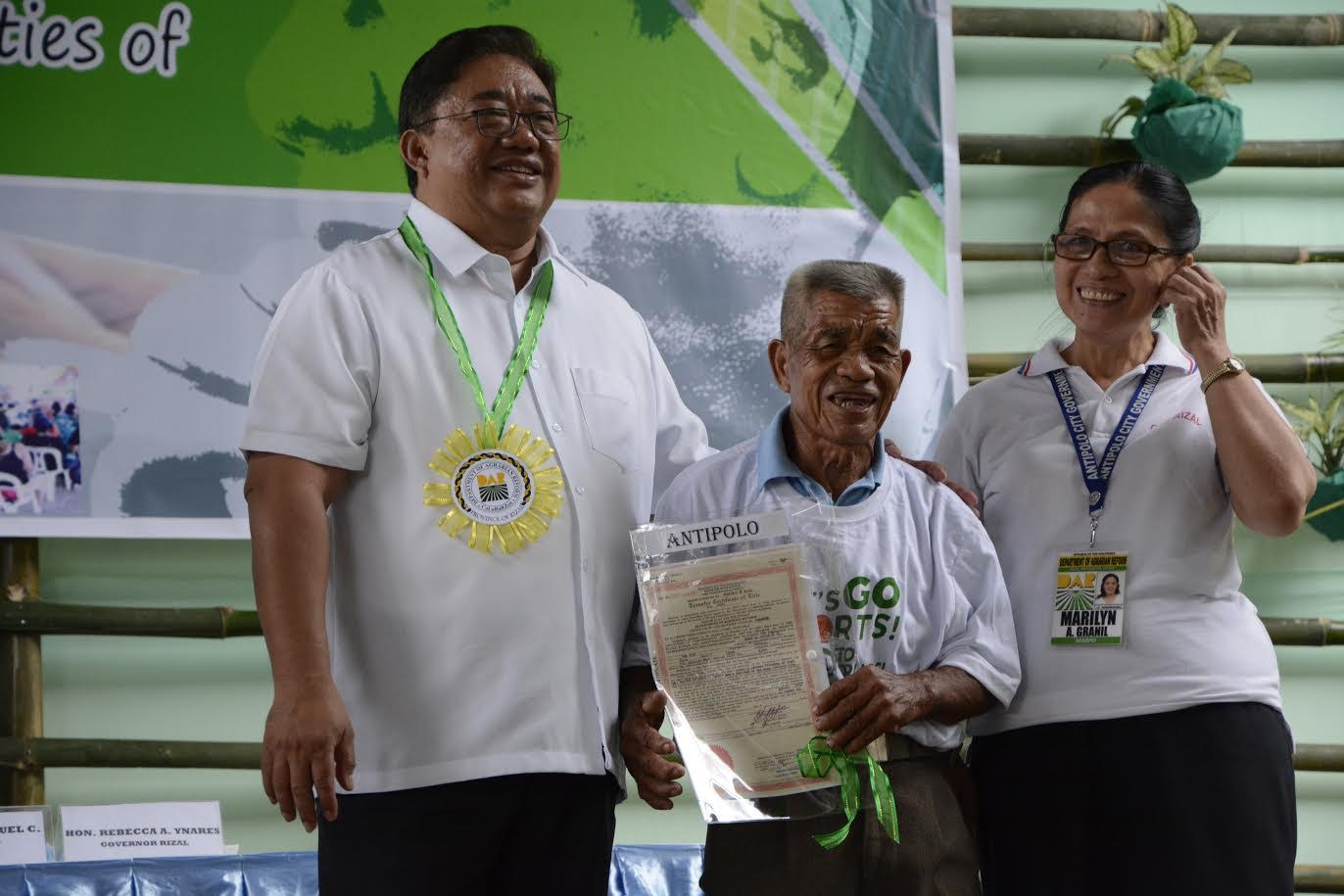 Macuroy added that it took years for them to acquire the land, because the former landowner strongly appealed his case to the DAR, which delayed the process of land acquisition. This, however, did not prevent Macuroy from continuing to make the land productive with the hope that the DAR would help them solve their problem.
After 18 years, Macuroy, together with 114 Agrarian Reform Beneficiaries (ARBs) from the towns of Tanay, Rodriguez, Baras and Antipolo City in Rizal Province gathered around in Barangay Sampaloc Covered Court to receive their Certificates of Land Ownership Award (CLOA) from DAR Secretary John R. Castriciones.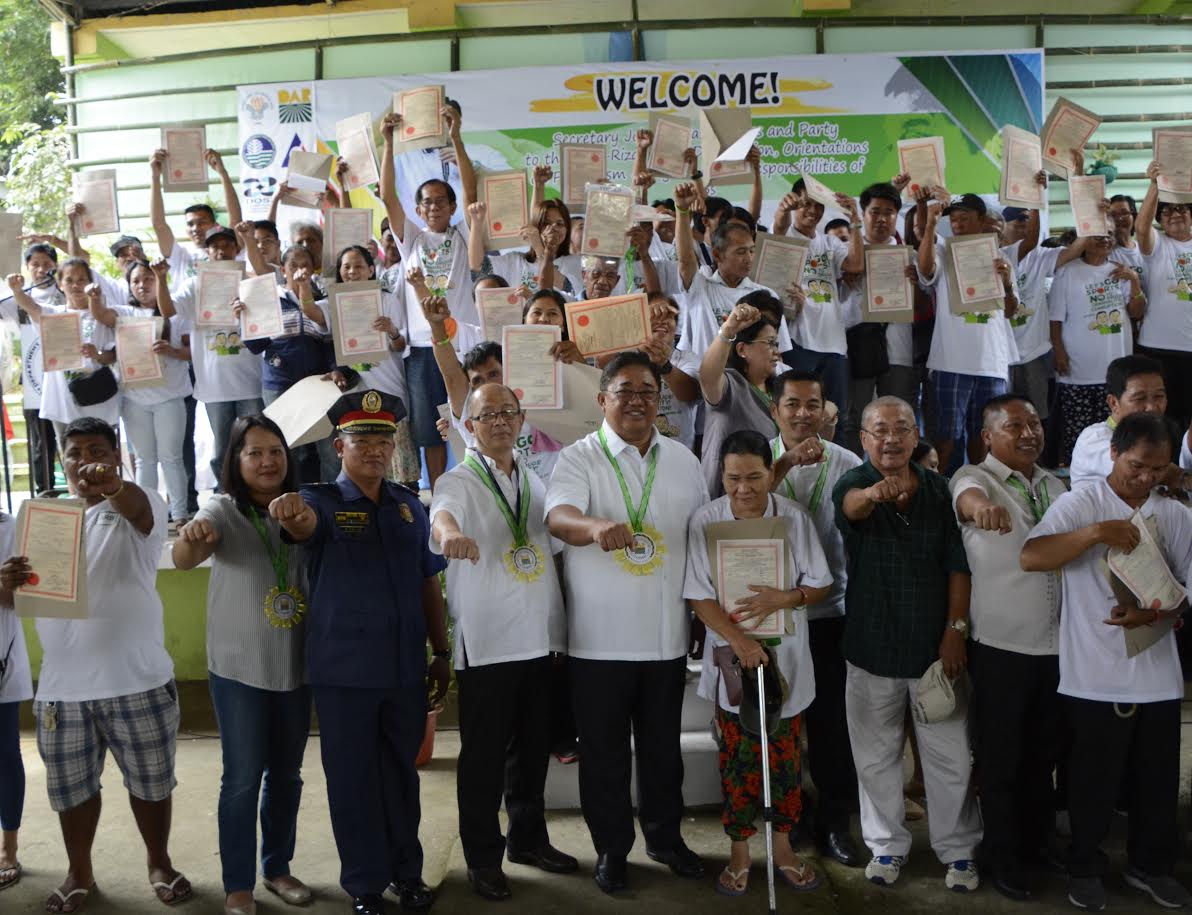 The distribution of CLOAs covers packets of landholdings from four towns of Rizal with combined area of 42.8308 hectares.
"I would like to thank the government for helping us. The DAR did not just help us not to get evicted from the farm but they also made us owners of the land we're tilling," Macuroy said.
Pedro Igisan, 74-year old ARB from San Jose, Antipolo City, also received his CLOA from the properties of Republic Planters Bank and said that the DAR keeps on helping them even while they were still waiting for their land titles.
"As a President of Sitio Singalong Farmers Association in our community, it would have been difficult for me to lead our members and improve our farms without the DAR's continuous guidance," said Pedro.
DAR Secretary Castriciones, in his message to the CLOA recipients, said that DAR's role does not end in land distribution, and will continue to provide assistance to the farmers even in the years to come.
"The DAR provides supports services like livelihood training, farm inputs, and technology to ensure the maximum benefits from the CLOA," Castriciones said.
#AgrarianReform #DAR4Farmers #Land4Farmers #ComfortableLifeForAll #PartnerForChange #CARP@30:DARe2Change