DAR turns over P15M-worth trucks and machineries to farmers in SK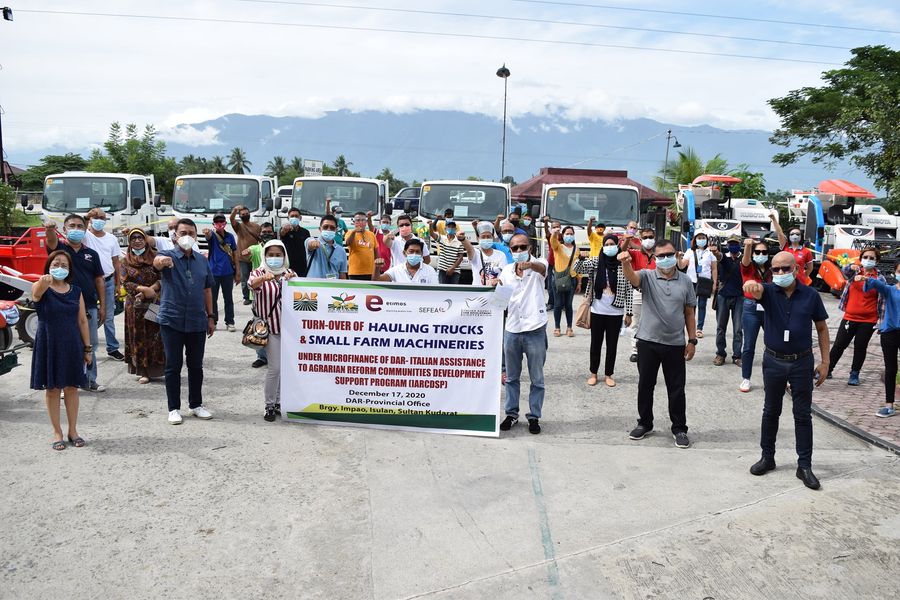 Isulan, December 17, 2020 – 5 agrarian reform beneficiaries' organizations of the Department of Agrarian Reform in the province of Sultan Kudarat were the beneficiaries of hauling trucks and machineries under the Italian Assistance to the Agrarian Reform Community Development Support Program (IARCDSP), also known as the Italian Project of the department, which aims to elevate and improve the quality of life of farmers in agrarian reform communities through the provision of interventions on agri-enterprise development such as microfinance support, and through capacity building and community infrastructure building.
According to DAR Sultan Kudarat provincial agrarian reform program officer II Rodolfo T. Alburo, the farmers' organizations namely, Taguisa Agrarian Reform Beneficiaries' Multi-Purpose Cooperative from the municipality of Lebak, Sigay Ka Tamontaka 4 Farmers' Association from Cotabato City, Marguez Irrigators' and Farmers' Association, Inc. from Esperanza, and Kalayaan Communal Irrigators' Association from Lutayan, and Naldan Creek Irrigators' Association from Lambayong, Sultan Kudarat, were provided with hauling trucks, harvesters, rice reapers, corn sheller, hand tractors with trailer and mobile rice mill.
He added that the trucks and farm machineries turned over to the said farmer groups were worth a total of about P15-million pesos, and is under the microfinance component- agri-enterprise development of the Italian Project.
"The DAR, through the leadership of Secretary John R. Castriciones, is making sure that in this time of pandemic, our agrarian reform beneficiaries and their families will have sufficient sources of income and support services that can make their land become productive," said Alburo.
"Undersecretary for foreign-assisted special projects Bernie F. Cruz, sent his congratulations to the recipients and challenged them to gain productively from the support provided to them by DAR," added Alburo.
During the turnover and ribbon-cutting ceremony for the said program, DAR Region 12 Director, Engr. Marion Y. Abella, likewise expressed compliments to the beneficiaries and hoped that they will properly maintain the said trucks and machineries and make it sustainable for many years.
He also left some tips for the farmers to first check the area to be harvested in order to get rid of any debris that may harm the said machineries like big rocks or metal parts.
"This project is not just for the officials of the various farmer-groups, but for all its members, families, as well as the community," said Abella.
Meanwhile, as representative of IARCDSP national project coordinator Engr. Anuar P. Acop, assistant project coordinator Dr. Nelson C. Faustino urged the farmers to become business-minded in order to maximize utilization of the machineries provided to them, thereby increasing their income and livelihood.
Onefre C. Travilla, president of Naldan Creek Irrigators' Association from Lambayong, Sultan Kudarat, conveyed his gratitude to DAR and the Italian government for providing them with stepping stones toward a brighter future for their organization and their families.
"Our association was barely hanging on when the DAR came to our rescue. Since then, our association is making leaps and bounds in terms of revenue, as well as membership. And now, with these machineries provided to us, our association will surely grow and develop more successfully. On behalf of our association, we humbly thank DAR and the Italian government for all the support given to us," said Travilla.
The Italian Project is a foreign-assisted project, funded under the loan agreement executed with the Government of Italy. It aims to address poverty, as well as to elevate income and livelihood of its beneficiaries particularly in agrarian reform communities in Mindanao.
Kathleen S. Pagayon
DARPO SK PIO