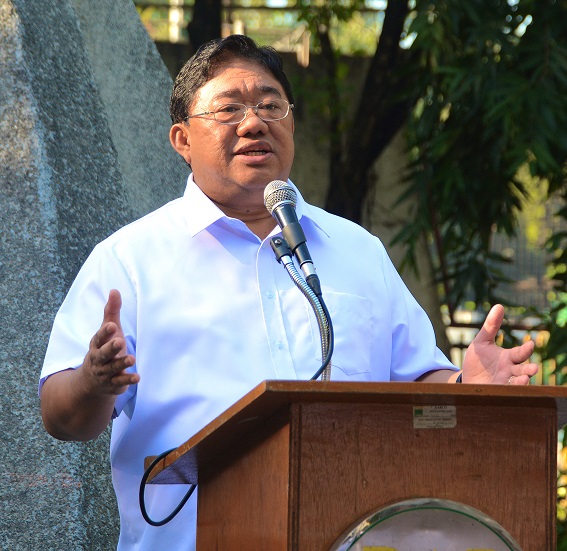 JOHN R. CASTRICIONES
SECRETARY John Rualo Castriciones graduated as Magna cum Laude with a bachelor's degree in political science at the then Trinity College of Quezon City, now Trinity University of Asia. He studied in the Philippine Military Academy and is a member of the PMA Maharlika Class 1984 before studying law at the San Beda College of Law and Arellano Law School where he was a consistent Dean's Lister. After passing the bar exams in 1993, he pursued further studies and obtained a master's degree in comparative government and international law from the prestigious Notre Dame University in London Law Centre, UK. His masteral thesis, "The Viability and Wisdom of Adopting the Jury System in the Philippines Legal System" earned him a Grade A, which was consequently published in the Arellano Policy Review.

Secretary John is also a tenured professor of law and the social sciences. Apart from teaching subjects at Xavier School Greenhills for five years, and lecturing to police officers in Philippine Public Safety College, he also taught several law subjects at the Arellano Law School for more than nine years, including Corporate Law, Obligations and Contracts, Sales, Investment Law, Practicum 1 and 2, Legal Ethics, Public and Private International Law and Criminal Procedure. He was also an MCLE lecturer for three years for subjects in International Law, Arbitration Law and Adoption Law, among others.

Moreover, Secretary John has authored several books such as: Internal Revolution: Political Vengeance and Societal Perdition, published in 2011, endorsed by Bishop Broderick Pabillo and Fr. Ted Gonzales; "A Risen Catholic Christian Soldier," endorsed by the late Archbishop Cardinal Sin, published in 1998; Philippine Military Academy Hazing Case: A General's Son Dies, published in 1990; and Sagutin Natin, published in 1984, endorsed by the late Msgr. Cesar F. Solomon and Bishop Pelayo of the military diocese.

For more than 23 years, Secretary John was a law practitioner who appeared in inferior and superior courts throughout the country. During this period, he also served as legal counsel for several corporations and top government officials in controversial and precedent-setting cases.

In 2009, He served as Director for Investigation, Security and Law Enforcement Services (ISLES) of the Department of Transportation and Communication, and as assistant spokesman and deputy chairman of the Task Force Gabay of the Tagapagligtas sa Karagatan. In the beginning of the current administration, he served as undersecretary for operations for the Department of the Interior and Local Government until his recent appointment.

At present, Department of Agrarian Reform Secretary Castriciones is the national president of Mayor Rodrigo Roa Duterte National Executive Coordinating Committee (MRRD-NECC); and founding senior partner of the Castriciones Legal Consultancy, where his children, who are also lawyers, practice their profession.