Gov't extends #GoodbyeGutom caravan to the Cordilleras – Nograles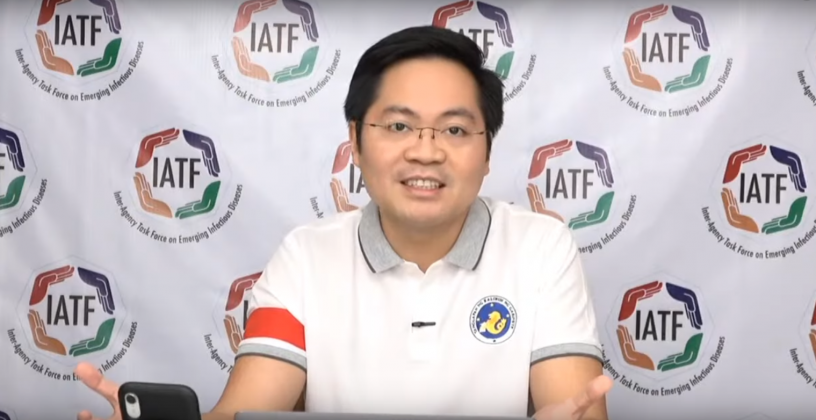 "We are very pleased to bring our anti-hunger, anti-poverty programs to the Cordillera Administrative Region. Food security and livelihood assistance are urgent needs during this challenging health crisis we are facing. Covid-19 has not slowed down our efforts."
Cabinet Secretary Karlo Nograles expressed this sentiment at the MOU and Marketing Agreement signing last July 28 at Baguio City between the Department of Agrarian Reform (DAR), the Bureau of Jail Management and Penology (BJMP), Department of Social Welfare and Development (DSWD), Department of Agriculture (DA) and representatives of Agrarian Reform Beneficiary Organizations (ARBOs), signaling the start of the implementation of the Enhanced Partnership Against Hunger and Poverty (EPAHP) program in various provinces in the CAR.
The signing ceremony was attended "virtually" by DAR Secretary John Castriciones, Undersecretary Atty. Emily Padilla, Undersecretary Virginia Orogo, Assistant Secretary Milabel Cristobal, BJMP National Head Quarters Jail Senior Superintendent Felly Cebuma, EPAHP National Program Management Office Head and DSWD Director Restituto Macuto, DAR CAR Regional Director Atty. Eugene P. Follante, DAR Assistant Regional Director Atty. Estrellita B. Briones, BJMP Regional Director Jail Senior Superintendent Roland Lee Ng Cael, DA Regional Director Dr. Cameron P. Odsey and DSWD Regional Director Leo Quintilla.
Nograles said that the government was determined to solve the twin issues of food security and hunger by helping farmers increase their incomes through heightened agricultural production and granting ready market access to their farm produce to government agencies such as penal institutions and public hospitals.
The Cabinet Secretary pointed out that CAR was an important center of food and agricultural production in the country.
"While we ensure that government programs continue to operate, we need to work even harder to maintain our level of success, to ensure availability, accessibility and capability in terms of nutritious food. One of the core programs related to this goal is the Enhanced Partnership Against Hunger and Poverty or EPAHP which aims to increase farm production, supplement farmers' incomes, ensure food security and reduce poverty in the countryside."
EPAHP is tied to the Sustainable Development Goals of the Philippine Development Plan 2017-2022 and similar directives of President Rodrigo Duterte, the main goal of which is to reduce poverty incidence to 14% during his term.
"Various organizations work under the EPAHP umbrella. From an initial three government agencies, we now count on the participation of the DILG, BJMP, DepEd, DOH, NNC, DOST, DTI, NAPC, NIA, TESDA, PopCom, and LANDBANK. Just last week, we formally welcomed DICT, PCA, and the Development Bank of the Philippines (DBP)," according to the Task Force on Zero Hunger Chair.
Among EPAHP's core features is market access for community-based organizations by linking local farmers organizations to institutional feeding programs of government.
"The Inter-Agency Task Force Zero Hunger was created under Executive Order 101, and the EPAHP Steering Committee meeting held on July 24 included concrete measures to ensure the program's continuity under the Task Force even during the Covid-19 pandemic," the CabSec emphasized.
The former Davao representative likewise pointed out that the MOU signing between the DAR, BJMP, DA, DSWD, and the various ARBOs is a testament to the effectiveness of EPAHP, referring to it as a milestone for the region.
ARBOs that joined the signing include the following from Abra: Upper Luba Farmers Irrigators Association, Poblacion San Isidro Farmers Irrigators Association, Baug Farmers MPC, San Ramon Farmers MPC, Gayaman MPC, Silet ARB Farmers gricultural Cooperative, Raniag-Pakiling Integrated Dev't Assn. Inc., Lusuac MPC, Quilliat MPC, Pamutic-Suyo Farmers Association; from Apayao: New Cabatatan MPC; from Baguio/Benguet: Northern Buguias Multi-Purpose Cooperative; from Ifugao: United Family MPC, Panubtuban MPC; from Kalinga: Pasil MPC, Mananig MPC; from Mountain Province: Anabel-Sadanga Multi-Purpose Cooperative, Heifer Partner Families Marketing Cooperative, Pide Aguid Fidelisan Primary Multipurpose Cooperative (PAFMPC) and Monamon Norte Federation of Irrigators Association.
Under the MOU and Marketing Agreements, the ARBOs will be supplying their agricultural produce to feed detainees at the Baguio City Jail, Bucay District Jail, Luna District Jail, La Trinidad District Jail, Baguias District Jail, La Trinidad Municipal Jail, Itogon Municipal Jail, Tuba Municipal Jail, Ifugao District Jail, Alfonso Lista District Jail, Tabuk District Jail and Mountain Province District Jail.
The CAR MOU signing is the ninth such event under the EPAHP. Similar programs were launched previously in the Bicol Region, Central Luzon, Palawan, Davao, CARAGA and Zamboanga.
"We strongly encourage everyone, both our government and private sector partners, to continue their active participation. This health pandemic is a crucial period in ensuring food security and proper nutrition for the people of the Cordilleras."
Source: https://ptvnews.ph/govt-extends-goodbyegutom-caravan-to-the-cordilleras-nograles/