P3.7-M irrigation project to benefit CamNorte farmers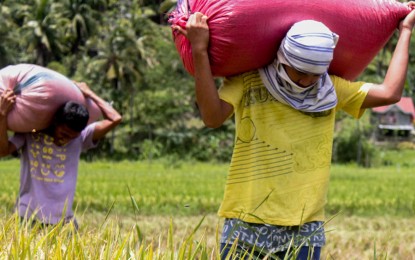 LEGAZPI CITY – The Department of Agrarian Reform in Bicol (DAR-5) will turn over a PHP3.7-million communal irrigation system (CIS) that is seen to boost rice productivity to a farmer-irrigators' association in Camarines Norte anytime this month.
Camarines Norte Agrarian Reform chief Camilo A. Del Monte, in a social media post on Wednesday, said the project that was funded under the Comprehensive Agrarian Reform Program (CARP) in partnership with National Irrigation Administration-Irrigation Management Office (NIA-IMO), will irrigate over 40 hectares of rice land.
It will benefit some 60 rice farmers including agrarian reform beneficiaries (ARBs) who are members of the Batobalani Paracale Farmers Irrigators Association, Inc., he noted.
Del Monte said the initial inspection of the diversion and canal lining works in Barangay Batobalani, Paracale town was conducted last February 22.
Meanwhile, Engr. Carol L. Rañola, acting provincial manager of the NIA-IMO, said the facility is meant to help rice farmers in the community to get more harvest and raise their farm income.
"The irrigation facility's construction began in May 2021 and was completed by the end of the year. The facility will be formally turned over to the farmers' association after NIA completes its final inspection anytime this month," the post read.
Elsa E. Quimson, president of the irrigator's association, said with the CIS, they intend to add another cropping season in order to raise their average yield from 60 cavans to 80 cavans per hectare.
On behalf of their association, Quimson also vowed to take care of the said facility which would benefit their community by providing timely and reliable irrigation service.
"We would benefit greatly from this project because one of our primary concerns is water irrigation. We had solely used rainwater to irrigate our rice fields, which resulted in a minimal yield. However, water from then Submakin River may now reach our farms because of this DAR initiative," she said.
The CIS is part of DAR's continued farm productivity support programs that aim to improve irrigation systems in key agrarian reform communities so that more palay (rice grains) can be cultivated. (With a report from Eliakim Neric/PNA-OJT)