DAR rolls out mobile debt condonation desk in Ilocos Norte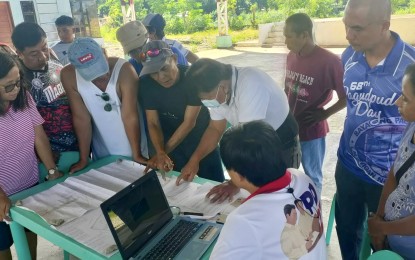 LAOAG CITY – A mobile condonation response desk is being rolled out in Ilocos Norte to reach out to around 149 agrarian reform beneficiaries (ARBs) and help in facilitating the condonation of their debts incurred decades ago.
On Tuesday, a team from the Department of Agrarian Reform-Ilocos Norte was in Badoc town to validate existing landholdings awarded to farmers that may qualify for the condonation of debts and amortization under Republic Act (RA) 11953 or the New Agrarian Emancipation Act (NAEA).
Vic Ines, provincial agrarian reform officer of DAR-Ilocos Norte, told the Philippine News Agency, that the same team was in Pagudpud town on Monday (Nov. 6) for the same purpose.
"We hope to finish the validation this week and be ready for the issuance of a certificate of condonation to farmer-beneficiaries as soon as possible," he said.
He said some of these debts, which include property taxes and surcharges, were incurred during the time of the former President Ferdinand Marcos Sr., thus members of the condonation response desk are cross checking the information with a team from the Land Bank of the Philippines.
There are 25,442 certificate of land ownership award holders in Ilocos Norte.
Burden eased
After qualifying for the NAEA, Herman Ramos, president of the Pasaleng Agrarian Reform Beneficiaries in Barangay Pasaleng, Pagudpud, Ilocos Norte, said the loan condonation eases the burden of going to and from the bank to pay their long overdue debts.
"We are so thankful to our President Bongbong Marcos (Jr.) for condoning our debts with Landbank," he said in the dialect.
He added that they can now focus more on improving their landholdings instead of thinking how they can afford to pay their debts and other surcharges in the bank.
NAEA, signed into law last July, condones all loans, including interests, penalties, and surcharges incurred by ARBs from land awarded to them under voluntary land transfer or direct payment schemes.
Under the law, about 610,054 ARBs are expected to benefit from the law and would help the government attain its bid for food security.
The condonation covers an estimated 1.173 million hectares of land, with an estimated PHP57.55 billion in unpaid amortizations. It also ordered the outright condonation of the principal loan amounting to PHP14.5 billion. (PNA)