DAR turns over P2.3 M climate resilient farm project in Bohol
BOHOL – The Department of Agrarian Reform (DAR) in Central Visayas turned over farm equipment under the Climate Resilient Farm Productivity Support Project (CRFPSP) worth more than P 2.3 million to benefit the agrarian reform beneficiaries (ARBs) in Talibon and Trinidad towns in Bohol.

An Agrarian Reform Beneficiaries Organization (ARBO) in Talibon town, Bohol Bayanihan Multi-Purpose Cooperative also received three units of hand tractors with complete accessories each worth P 145,000.

The other ARBOs, to include the Sto. Niño Free Farmers Association, Rizal Livelihood Association, Sikatuna Farmers' Association, Purok 5 Farmers' Association, and Tubod Farmers Association in Talibon also received one unit each of hand tractor with complete accessories which will be maintained and operated by the ARBOs.

The Kinan-oan Farmers Multi-Purpose Cooperative in Trinidad town also received farm-equipment amounting to more than P1.194 million consisting of two decorticating machines worth each P497,000 and one unit of bailing machine worth P200,000.00 under the specialized common service facilities.

DAR 7 Regional Director Luis B. Bueno, Jr led the turnover ceremony as he underscored the department's celebration of 30 years of CARP.

Bueno said the farm implements manifest the tangible existence of DAR's projects which ensure positive gains and contribute to the success of Comprehensive Agrarian Reform Program (CARP) implementation in the community.

He also emphasized that DAR project under CRFPSP is towards the goal of improving agricultural productivity and income of the agrarian reform beneficiaries, as well as, build resiliency in communities amidst the harmful impact of climate change. It involves the provision of capacity building for mitigation and adaptation practices and the other provision of farm machinery and equipment.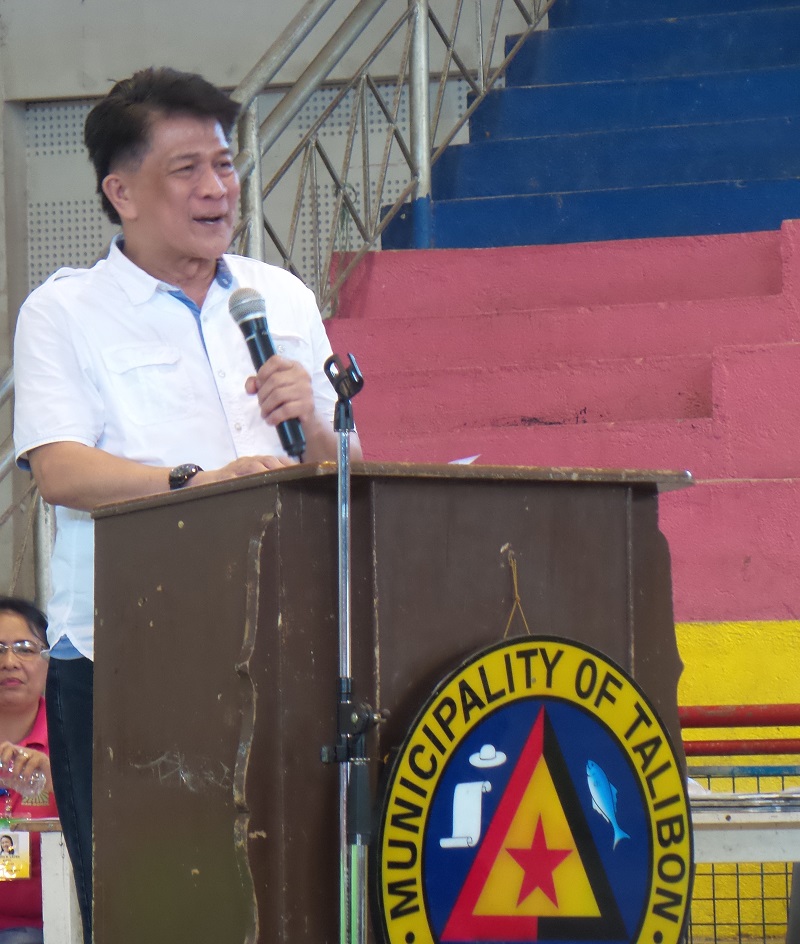 Talibon Mayor Restituto Auxtero was thankful for DAR's efforts in providing these farm implements that will increase farm productivity and will benefit farmer-members of these eight ARBOs.

Chairpersons of the respective ARBOs signed the Memorandum of Trust Agreement entered into by DAR Bohol Provincial Agrarian Reform Program Officer I Eddie Manginsay held at Talibon, Bohol on June 22, 2018.

The event was graced by the presence of Talibon Mayor Restituto B. Auxtero, Executive assistant to the governor Ariel Lungay in behalf of Governor Edgar M. Chatto, and Engr. Archie Lungay from the office of first district Congressman Rene Relampagos.

Other DAR officials who witnessed the turnover ceremony were DAR 7 Assistant Regional Directors Engr. Eliasem P. Castillo and Atty. Josephus Baterna, OIC Chief Agrarian Reform Program Officer (CARPO) for Regional Support Services Division Ferdinand Yu, Municipal Agrarian Reform Program Officer Ricardo Boncales, OIC CARPO, DARPO Bohol Program Beneficiaries Development Division Engr. Leonard Cagampang, and the officers of the different beneficiary organizations. (Rosanna Gay S. Visitacion)

#AgrarianReform #DAR4Farmers #Land4Farmers #ComfortableLifeForAll #PartnerForChange #CARP@30:DARe2Change