DAR distributes land titles to 97 Canlaon farmers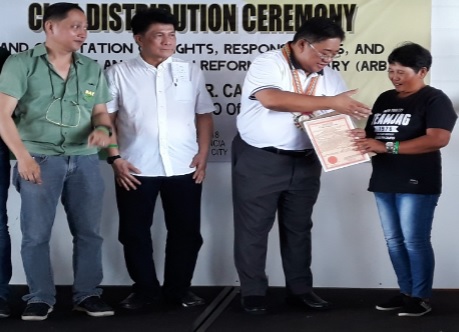 Department of Agrarian Reform (DAR) Secretary John R. Castriciones recentlly led the distribution of Certificates of Land Ownership Award (CLOAs) to 97 agrarian reform beneficiaries (ARBs) in a ceremony held in Hotel Essencia, Dumaguete City.
The distributed lands are private agricultural lands under the Compulsory Acquisition and government-owned lands comprising of 87.93 hectares and covering seven (7) landholdings in Canlaon, Dumaguete City.
Secretary Castriciones said that the true heroes in the country are the farmers who till the land as he also commended the efforts and sacrifices of the employees of the DAR for the successful implementation of the program in the area.
The distribution of CLOAs was attended by Region 7 Director Luis B. Bueno, Jr, Assistant Regional Directors Eliasem Castillo and Josephus Baterna and Provincial Agrarian Reform Program Officer II Louie L. Naranjo and officials from the Negros Oriental Provincial and Municipal offices.
A follow-up installation and CLOA distribution was also conducted last July 4, 2018 for 14 agrarian reform beneficiaries in Barangay Calasgaan, Bais City.
The 3.7832-hectare landholding previously owned by JLT Corporation was covered by Compulsory Acquisition through the Municipal Agrarian Reform Office of Bais City headed by OIC MARPO Lilany P.Dipaling in coordination with the DAR Provincial Office.
Representing the Provincial Agrarian Reform Office of Negros Oriental was OIC CARPO Manuel M. Galon, Jr. of the Land Tenure Improvement Division and his staff while Brgy. Capt.Norma Jumuad represented the Barangay Local Government Unit.
#AgrarianReform #DAR4Farmers #Land4Farmers #ComfortableLifeForAll #PartnerForChange #CARP@30:DARe2Change