79-year-old farmer receives land title after 14 years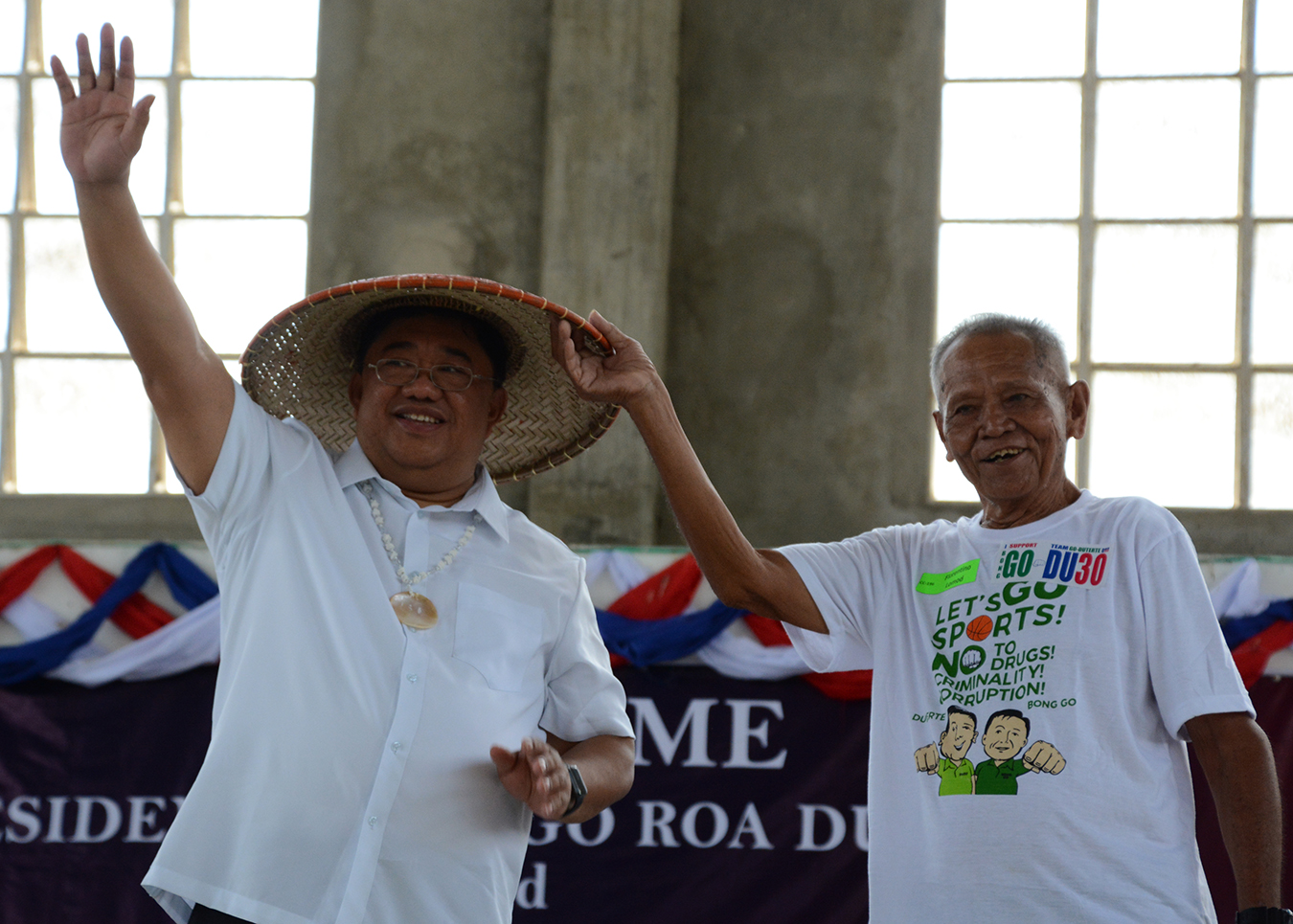 CARMEN, Bohol (August 23, 2018)—Seventy-nine-year-old farmer Florentino Lomod from Pilar, Bohol, was overwhelmed with joy after receiving his long-awaited certificate of land ownership award (CLOA) from Department of Agrarian Reform (DAR) Secretary John Castriciones in a distribution ceremony held here.
"I am overflowing with happiness. We thank President Duterte for this land. Sa tagal ng paghinintay napa-saamin din ang lupa. We also thank Secretary Castriciones for speeding up the process," said Lomod who, together with his wife has been farming the land for more than 40 years.
"Now that I own the land I till, there's no more fear of getting ejected from my source of income," said Lomod.
DAR Regional Director Luis Bueno said Lomod's CLOA belonged to a mother CLOA.
"Individualizing the mother CLOA into 419 farmer-beneficiaries was an arduous process. It was not an easy task. We have encountered problems but with diligence and perseverance, we have fulfilled our mandate and were able to finally award the CLOAs to deserving agrarian reform beneficiaries," Bueno said.
"The good news is, under the leadership of Secretary Castriciones, we are now streamlining and fast-tracking the processes in acquiring agricultural lands, so that farmers will not wait 14 years to be awarded with CLOAs," Bueno said.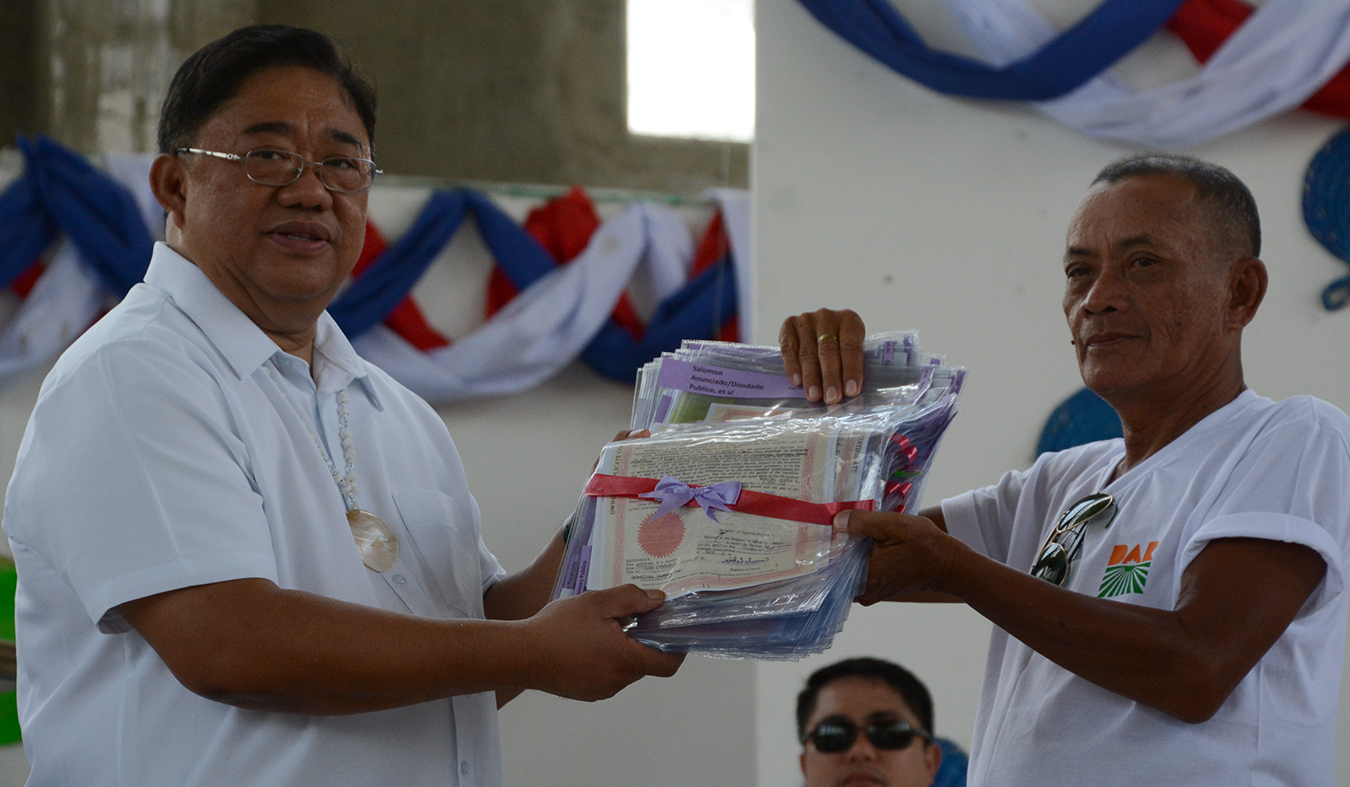 Lomod is one of the oldest CLOA recipients of the 419 jubilant agrarian reform beneficiaries (ARBs) who received their CLOAs in a ceremony held at the Carmen Gymnasium, in this town on Thursday, August 23.
Farmer Lomod described his life situation as filled with difficulties, especially during the time when his children, all 12 of them, goes to school. He said, he and his wife were able to raise their family and send their children to school through farming alone. They do not know any kind of work except farming.
"With 12 mouths to feed and schoolings to care of, our income from coconut and rice barely suffice. But I am very proud that my wife and I were able to send eight of our children to school through sheer hard work," said Lomod.
Out of the 12 kids, eight of Lomod's children graduated from college except for four who married very early.
"That time, because the land I tilled was not mine, I was always frightened of being ejected. If evicted, what will happen to my family?," Lomod lamented.
Today, he is very proud to say the advantages of owning the land. "Now, I am the boss, I am the landlord. There will be no more profit sharing! I can now plant what I want, not just coconut and palay," Lomod excitedly said.
"But it's not only land, DAR also provided us with farm implements and trainings to increase our yield and income," Lomod noted.

According to Lomod, DAR has helped augment his income though its various programs and support services like, credit assistance, provision of livelihood and various of trainings on modern farming and entrepreneurship.
"Looking back, it was with the grace of God and the government's assistance, especially DAR, that helped me raise my family," said Lomod.

"Through the years, the DAR has helped me get through life's various crises. It was through DAR that I learned to plant corn and cassava during off season of palay to augment my income. I also got 300 coconut seedlings from DAR in 2012. Those trees are now mature I am already profiting from it," Lomod said.
"Now that my wife and I are in our twilight years, two of my sons will likely take over to farm the land soon. I'm so happy, I know their future will be secured because I have something to leave them with," Lomod said.
CLOA distribution and provision of services
Secretary Castriciones together with Undersecretary for Support Services Emily Padilla led the distribution of CLOAs to 419 agrarian reform beneficiaries.

The distributed lands covered some 475 hectares of agricultural lands located in Tagbilaran, Carmen, Jagna, Talibon and Ubay in the province of Bohol.
Castriciones said the department will not stop after land distribution. "We will put into action a convergence strategy to provide support services to our farmers."

According to Castriciones, among those lined up for implementation are housing projects for farmers, TESDA scholarships for children of ARBs, the Pantawid Pamilyang Pilipino Program or 4Ps program of the Department of Social Welfare (DSWD), provision of crop insurance from the Phililippine Crop Insurance Corp., credit assistance from the Land Bank of the Philippines, and from other financial institutions.
At the CLOA distribution, DSWD Secretary Virgina Orogo and TESDA Dir. Gen. Guling Mamondiong led the distribution of unconditional cash transfers to senior citizens and TESDA scholarships to residents of Bohol.
Government officials present during the event were: Governor Edgar Chatto, Vice Gov. Dionisio Balite, Congressman Erico Aristotle Aumentado, Congressman Dakila Cua, Congressman Francisco Datol, DSWD Secretary Virginia Orogo, TESDA Director General Guiling Mamondiong, Carmen Mayor Ricardo Toribio, DAR Regional Director Luis Bueno, PAMRS Director Resty Osias, DAR Asst. Reg. Dir. Josephus Baterna and Provincial Agrarian Reform Program Officer Grace Fua.
#AgrarianReform #DAR4Farmers #Land4Farmers #ComfortableLifeForAll #PartnerForChange #CARP@30:DARe2Change