DAR distributes 36,824 land titles to 43,826 farmers in Boracay island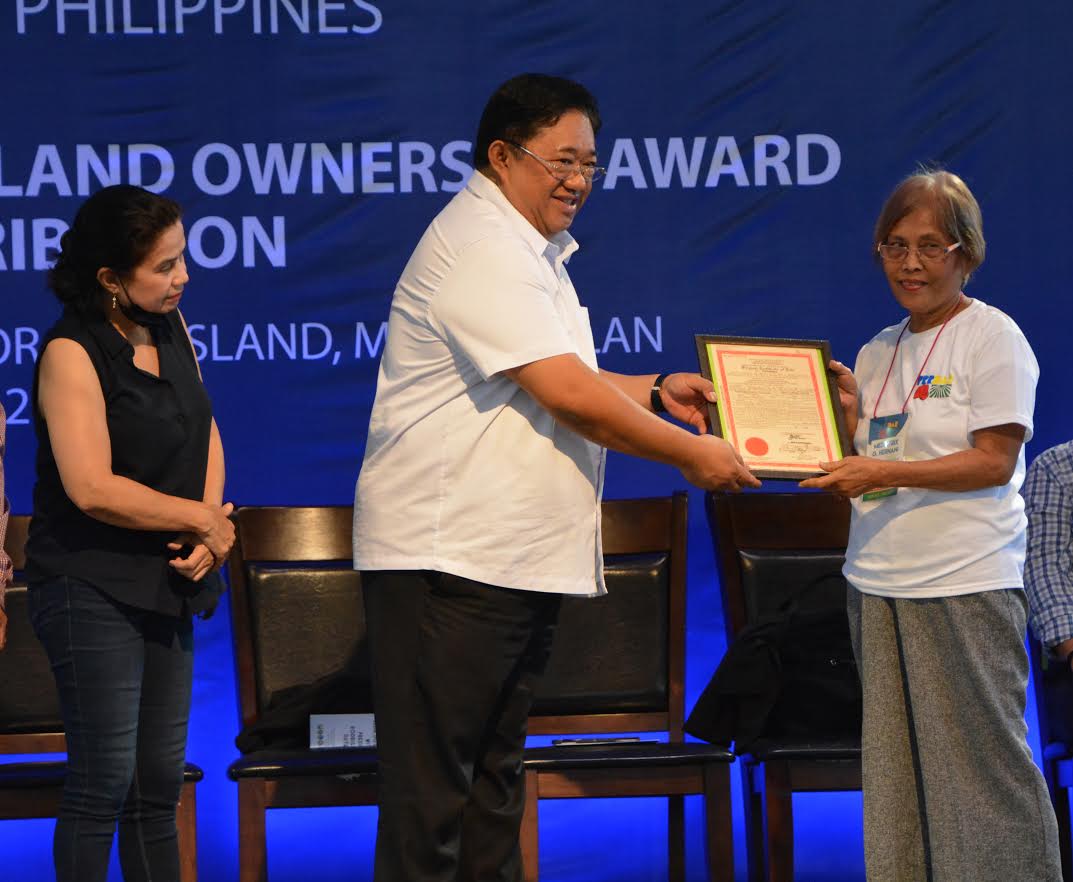 Boracay Island, Malay, Aklan – A total of 43,826 agrarian reform beneficiaries (ARBs) received their 36,824 certificates of land ownership award (CLOAs) from the Department of Agrarian Reform (DAR) in a ceremony held March 12, 2020 at Barangay Manocmanoc Covered Court here.
DAR Secretary John R. Castriciones said the CLOA comprises of a total of 51,385.75 hectares located in eight (8) provinces of Western Visayas which include Boracay Island, Aklan, Antique, Capiz, Guimaras, Iloilo, Negros Occidental 1 and 2.
Out of the 36,824 total CLOAS - 33,551 CLOAs with 41,828 identified agrarian reform beneficiaries (ARBs) covering a total of 45,589.91 hectares of lands, were turned-over by the Land Bank of the Philippines pursuant to Administrative Order No. 5, Series of 2019,
AO 5 commands that all owner's duplicate copies of registered CLOAs and emancipation patents (EPs) "shall not be pledged or placed in the custody of another entity, pending the full payment of the amortizations of the land"….. instead, these titles "shall be released immediately by the provincial agrarian reform office to the farmer-beneficiaries upon registration and receipt from the Register of Deeds."
New lands distributed by the DAR during the ceremony comprises a total of 3,273 CLOAs involving 1,998 ARBs with an area of 2,795.84 hectares. These new lands include 1,458 collective land ownership titles to 864 ARBs comprising 1,727.30-hectare of agricultural lands in Negros Occidental 1; a total of 1,353 CLOAs with 770 ARBs involving 691.07-hectare in Negros Occidental 2; eleven (11) CLOAs with 11 ARBs in 14.54-hectare property in Aklan; nineteen (19) CLOAs with 14 ARBs in 16.07-hectare in Antique; 315 CLOAs with 223 farmers in 269.85-hectare in Capiz; 46 CLOAs with 29 farmers in 42.05-hectare property in Guimaras; 68 CLOAs with 56 farmers in 32.98-hectare land in Iloilo; and 2 CLOAs with 31 ARBs in 1.9858 hectare of agricultural land in Boracay island comprising of indigenous people.
Castriciones said the DAR is closely implementing the mandate of President Duterte to uplift the lives of all farmers by distributing the lands and providing the necessary support services.
"Hangad po naming mapaunlad ang buhay ng mga magsasaka. Layunin ng DAR na magkaroon ng komportableng pamumuhay ang mga magsasaka," he said.
He warned them though not sell or lease their lands, otherwise, they would face penalties and be disqualified as beneficiaries of the Comprehensive Agrarian Reform Program (CARP).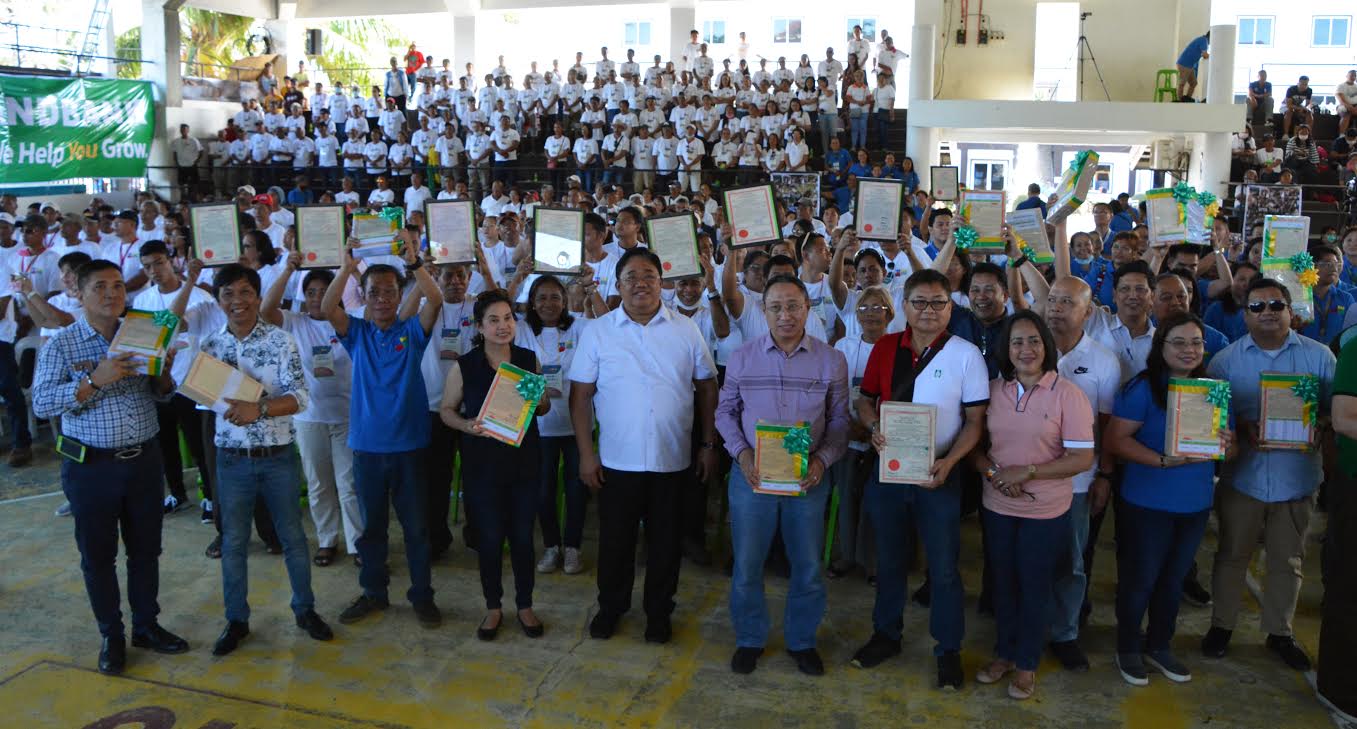 Castriciones said the department will not stop after land distribution. He said DAR has also lined-up housing projects for farmers and provision of support services, which include among others, crop insurance from the Philippine Crop Insurance Corp., Enhanced Partnership against Hunger and Poverty, AFFORD ARB credit assistance from the Land Bank of the Philippines, and from other local and international financial institutions.
Boracay Tumandok Agrarian Reform Beneficiaries Association President Mediatrix G. Hernani, for their part, have extended their appreciation and gratitude to President Duterte, the DAR and DENR for the support they have provided to the affected Boracaynons farmers in the wetland and forestland when the island was closed and rehabilitated early 2000."
She emphasized that the Tumandok tribe have done a great part in the protection and preservation of the whole island and maintained harmony and peace and order among its people.
Ati and Tumandok are the original inhabitants of Boracay island and were displaced in a 2.1-hectare walled community when the island was developed into a prime tourist destination early 2000.
Government officials present during the event include DAR Undersecretary for Field Operations Office Atty. David D. Erro, Undersecretary for Policy, Planning and Research Office (PPRO) Virginia Orogo, Undersecretary for Finance, Management and Administration Office Atty. Lucius Jun Jun G. Malsi, Undersecretary for Special Concerns Office Atty. Carim L. Panumpang, Assistant Secretary for Field Operations Office Atty. Elmer N. Distor, Assistant Secretary of Legal Affairs Office Atty. Jim G. Coleto, Landbank Agrarian Services Group Senior Vice- President Alex A. Lorayes and PCIC Senior Vice President Antonio Uy, TESDA OIC-Provincial Director Ma. Thedah Marie L. Tibulan, Malay Acting Municipal Mayor Frolibar S. Bautista and representatives of CARP Implementing Agencies, Provincial Agrarian Reform Program Officers, Municipal Agrarian Reform Program Officers and other DAR personnel.
#AgrarianReformPH #LandTenureSecurity #SupportServicesDelivery