Enhanced convergence successfully launched in Western Visayas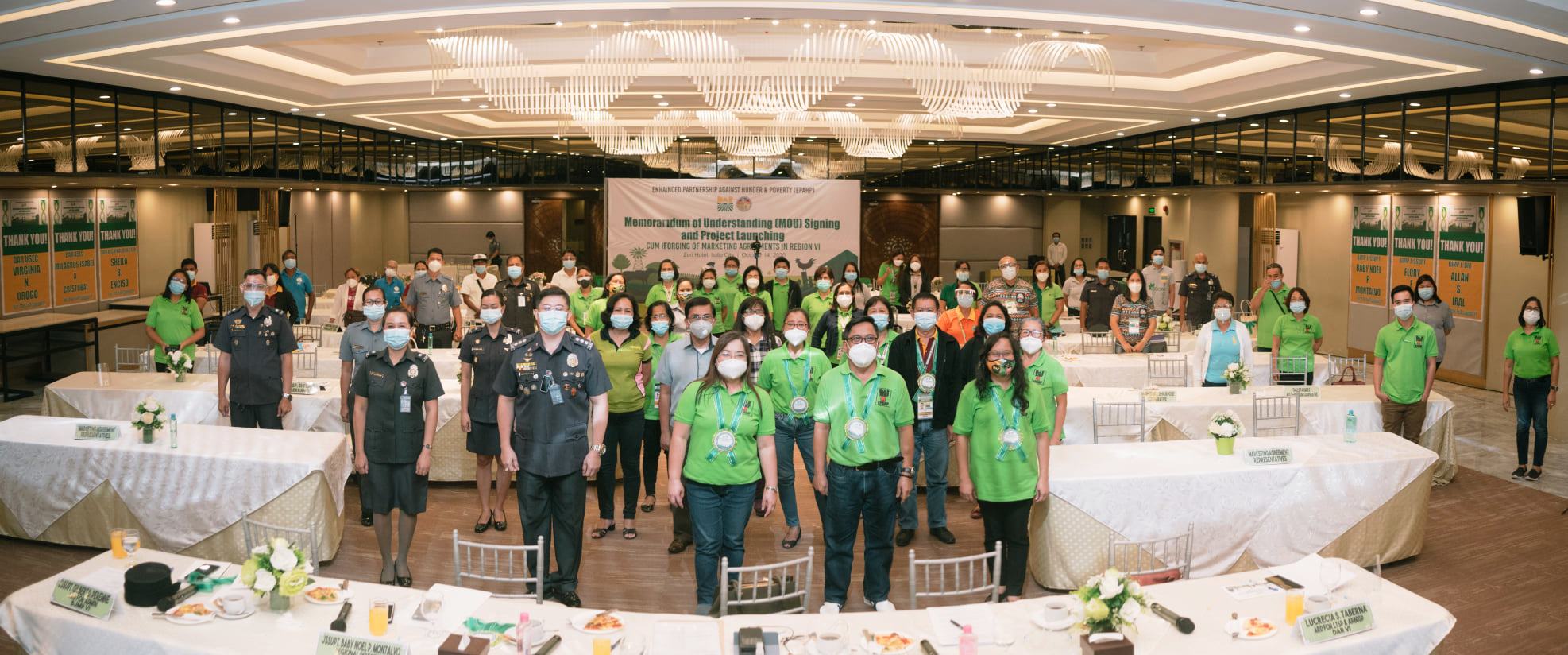 Fighting Poverty through Partnership the farmers in Western Visayas are sure winners as the Enhanced Partnership Against Hunger and Poverty (EPAHP) was launched on October 14, 2020 at Zuri Hotel, Iloilo City and the partnership was sealed by the signing of Memorandum of Understanding (MOU) between the Department of Agrarian Reform and the Bureau of Jail Management and Penology (BJMP) Western Visayas. Representing DAR is Regional Director Atty. Sheila B. Enciso and for BJMP Jail Senior Superintendent Baby Noel P. Montalvo. Marketing Agreement was likewise inked between the representatives of the twenty-six (26) Agrarian Reform Beneficiaries Organizations (ARBOs) and the BJMP Wardens.
This program is a strategy of the government in addressing concerns in hunger mitigation, food and nutrition insecurity and poverty reduction. With the signing of the MOU and Marketing Agreements, the farmers will be assured of the market of their products among others vegetables, livestock and poultry with BJMP as its direct customer.
Cabinet Secretary Atty. Karlo Alexei Nograles the keynote speaker emphasized that the client of the farmers is the government institution, in this case, the BJMP, hence they are assured of their market and profit. He inspired the farmers with the good news that Land Bank of the Philippines will provide credit facilities to ARBOs in the huge amount of Two Billion Pesos. He hoped that the program will be a big help to the farmers especially in this time of pandemic. Undersecretary Emily O. Padilla likewise congratulated Region VI for the job well done and proudly announced that nationwide DAR ARBOs reached 1 Billion pesos in sales of farmer products. BJMP Director Allan S. Iral committed his full support to the program and is happy to note that the BJMP is able to help our farmers especially in this time of crisis.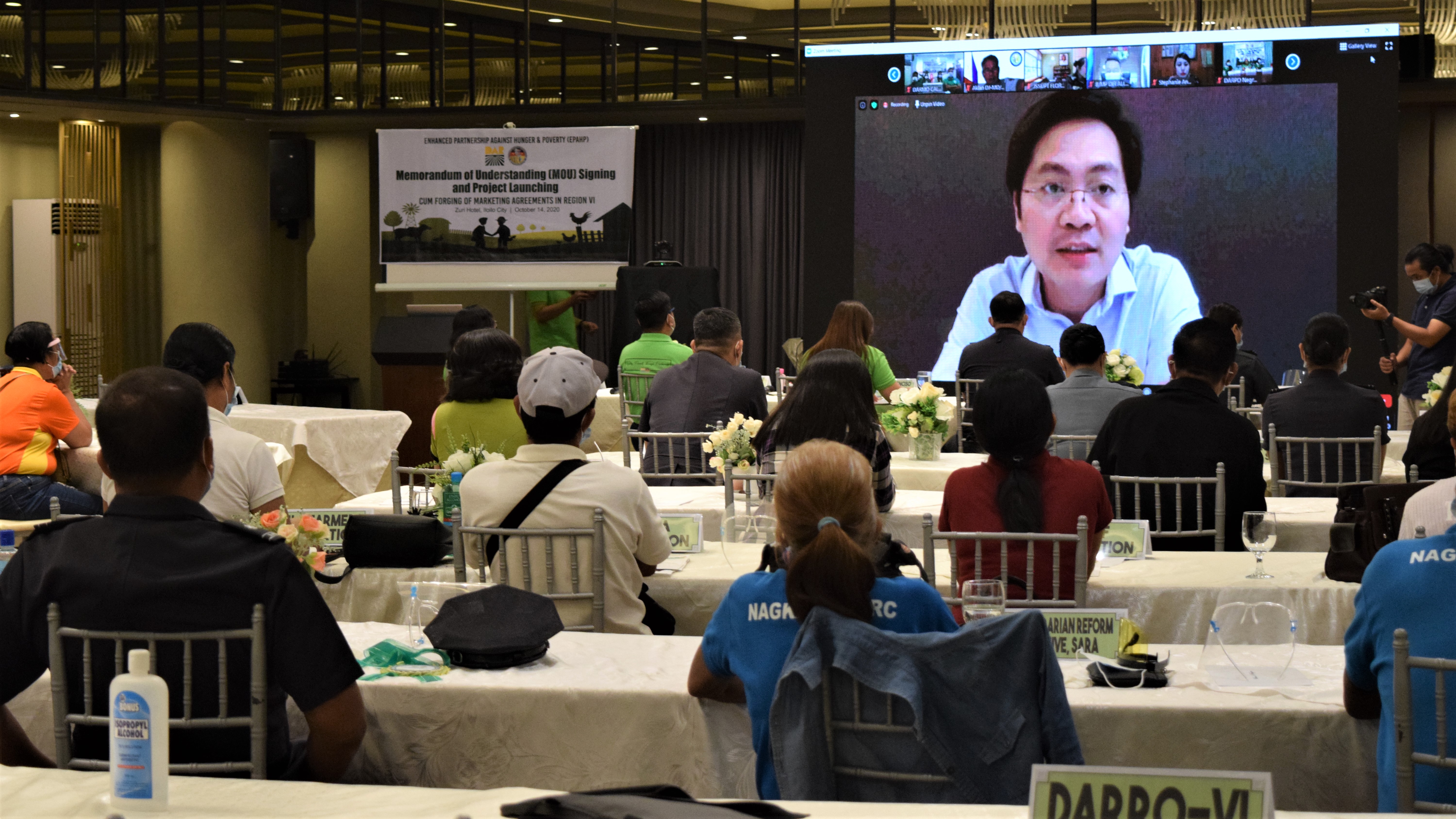 The fortunate ARBOs who are involved in this program are Avila Farmers Associaiton, RanQueVez ARC Association, Sebaste Tambadol, Malbag, Pin-as Fundasyon (TMPF) Association, Tamborong ARBs and Farmers Association, Agrarian Reform Beneficiaries Association, Sebaste Palhe Sebaste Farmers (PASFA) Association, SANDONA Development Cooperative, Badiangan Multi-Purpose Cooperative, Tagas Farmers Multi-Purpose Cooperative, Man-up Mul;ti-Purpose Cooperative, Catmon (Aklan) Multi-Purpose Cooperative , Barbaza Farmers Irrigators Association (BFIA), Inc., NICS MPC, Nagbangi I AR Cooperative, Tumalalud Farmers Multi-Purpose Cooperative, Nagkaisa Agrarian Reform Cooperative, Entorilan ARB Association, Inc., A and G Esteban Farmers Association, Nabinay AR Cooperative, Mulawin-Lanatan Multi Purpose Cooperative, Hagnaya AR Cooperative, Dolis AR Cooperative, Negros Occidental Farmers and Agrarian Reform Cooperative, General Malvar Agrarian Reform Cooperative, So Flora Agrarian Reform Cooperative, Bajay-Patol Agrarian Reform Cooperative
The ARBOs and DAR Region VI are in deep gratitude to the firm leadership of Cabinet Secretary Atty. Karlo Alexei Nograles, DAR Secretary Atty. John R. Castriciones, Undersecretary Emily O. Padilla, Undersecretary Virginia N. Orogo, Atty. Sheila B. Enciso, BJMP J/Director S. Allan S. Iral, BJMP J/SSUPT. Baby Noel P. Montalvo and BJMP J/SSUPT Flory F. Sanchez who are instrumental in making the project a huge success.
DAR Regional Director, Atty. Sheila B. Enciso is positive that with the Agreement signed, EPAHP will be a sustainable blessing for the farmer beneficiaries and persons deprived of liberty. Borrowing from the words of Hellen Keller, RD Enciso put emphasis on the successful formula which states that "Alone we can do so little; together we can do so much."