DAR Davao Occidental turns over P1.6M worth of farm machineries to 11 ARBOs
Sta. Maria, Davao Occidental. DAR Davao Occidental. through OIC-PARPO II Rameses S. Lomongo, recently turned over eleven (11) Power Tillers with accessories amounting to P1.6 million pesos in favor of eleven (11) agrarian reform beneficiaries organization (ARBOs) in the province.
Madilyn Sabidla, chairperson of Guiang CARP Beneficiaries Assocation (GCARBA), and one of the six ARBO recipients for Sta. Maria, Davao Occidental, profusely thanked the Department of Agrarian Reform (DAR) for the farm equipment. She said "dako kayo ni nga tabang sa among mga uma gikan sa pagdaro hangtod sa paghatod sa among mga produkto ngadto sa merkado" (the farm equipment is a big boost in our farms from land preparation up to delivery of our products to the market).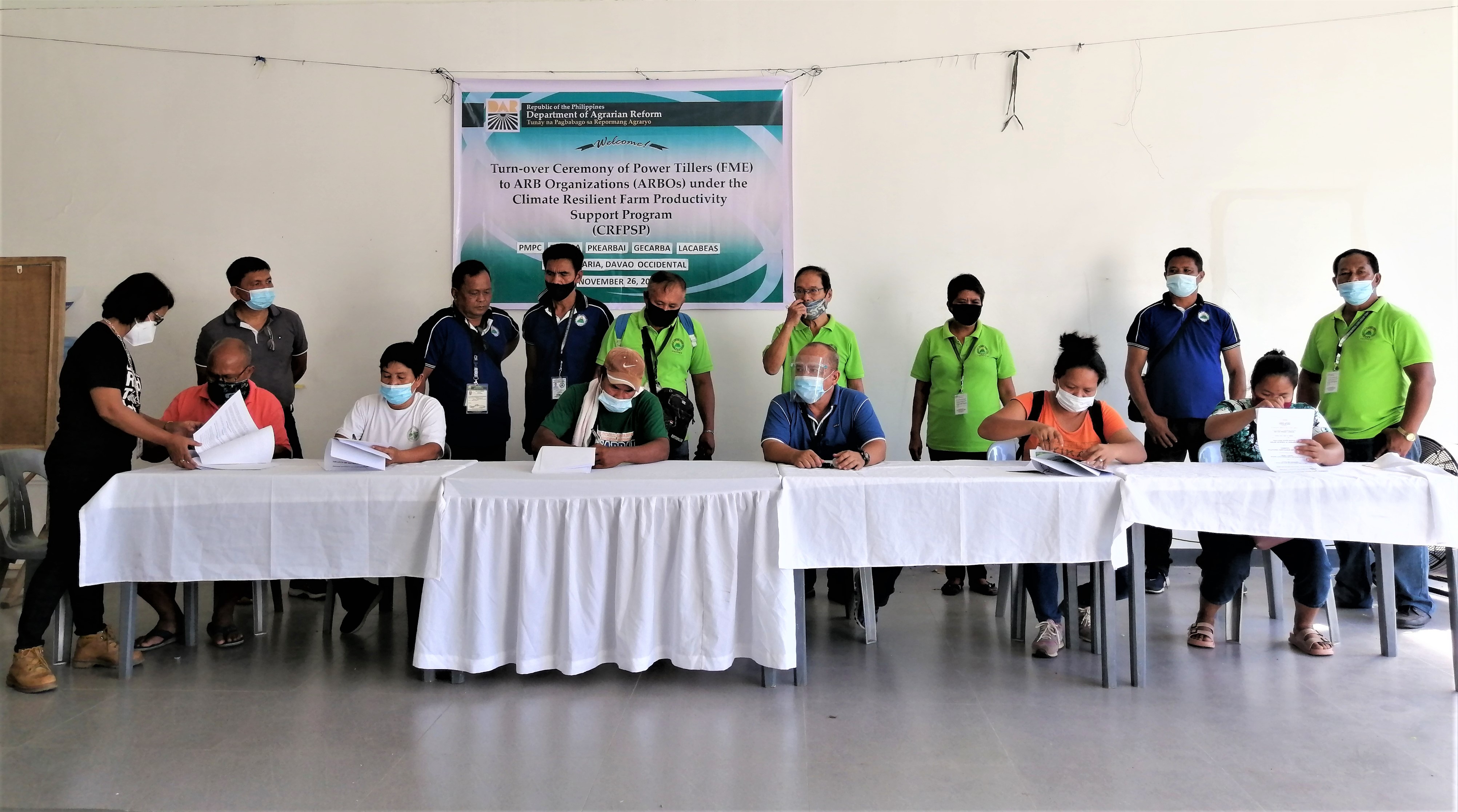 Each of the 11 ARBOs, comprising of six (6) ARBOs from Sta.Maria, three (3) from Malita and two (2) from Don Marcelino, received one unit of power tiller/hand tractor powered by a 12HP water-cooled diesel engine complete with cage wheel, brand new pneumatic tires, trailer, comb harrow, disc plow, riding type attachment, wood leveler & a moulboard plough.
According to PARPO Lomongo, the grant of farm machineries is part of the Climate Resilient Farm Productivity Support Program (CRFPSP) which intends to mechanize farm system to expedite farm operations and improve farmer's resiliency against climate change.
Prior to the simple turn-over ceremony, the appointed ARBO operators were subjected to a half-day orientation on operation & maintenance, and likewise participated in the assembly of the units and dry-run of operation. (yadz geyrozaga-pio)