DAR execs lead in the distribution of titles and machineries to farmer-beneficiaries in Nueva Vizcaya
BAGABAG, NUEVA VIZCAYA – 18 January 2021 | In the spirit of genuine service, Agrarian Reform Secretary John R. Castriciones and his deputies swiftly moved to the remote area of Bgry. Beretbet to grace the distribution of certificates of land ownership award (CLOAs) and turn-over of farm machineries and equipment (FMEs) to agrarian reform beneficiaries (ARBs).
Cagayan Valley Regional Director Samuel S. Solomero said, in his opening message, Region 02 is blessed particularly province of Nueva Vizcaya for considering as launching pad like ARB Summit in Solano sometime in March 2020 and "Kumustasaka" project which was launched yesterday January 17, 2021.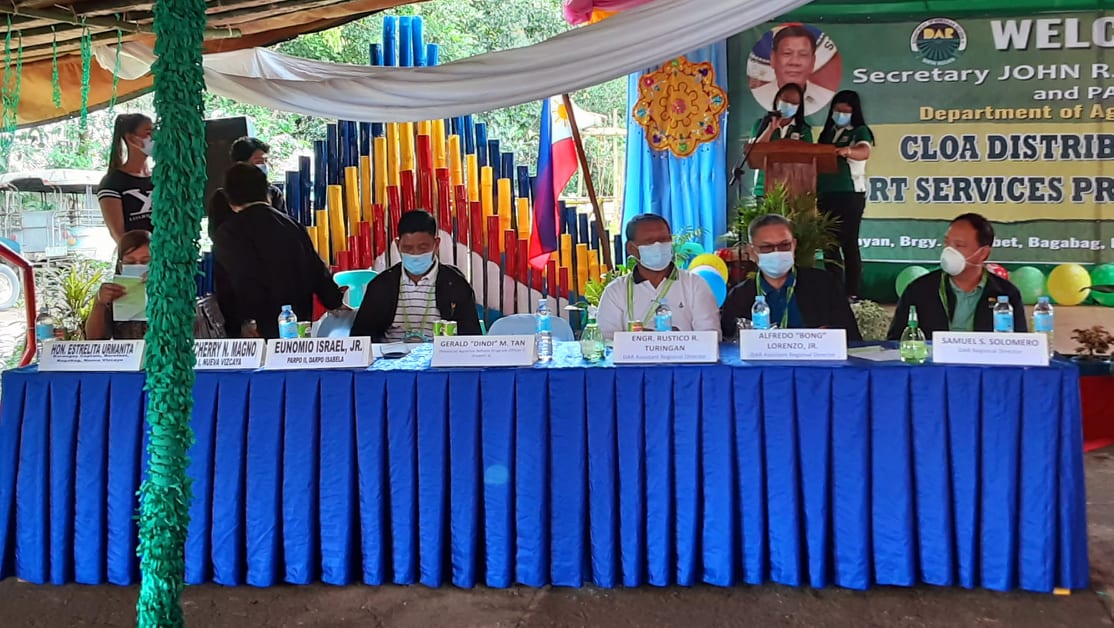 On the other hand, Undersecretary Virginia N. Orogo, Policy Planning and Research Office (PPRO), mentioned that land reform is now 33 years of existence and the Department wants to know the status of the land provided by the government to 2.9 million agrarian reform beneficiaries (ARBs). By way of the Kumustasaka" project, policies will be crafted for the sake of the ARBs..
Meanwhile, Undersecretary Emily O. Padilla, Support Service Office (SSO), said that even after the distribution of last parcel of agricultural land to farmer-beneficiaries, the provision of support services by the Department will carry on.
"Pakaingatan at pakamahalin ang bawat parsela ng lupa na ibibigay pati ang mga support services na ipinaabot ng Departamento sainyo" - Padilla added.
Agrarian Reform Secretary John R. Castriciones, said in his message, "the average age of our farmers is 57 years old and they keep on diminishing in number. I issued Administrative Order No. 03, s. 2020 to encourage students to take up agriculture courses to be able to receive a piece of land from DAR.
Our farmers are truly heroes in our country, without them we have no stable food on our table. Catriciones stressed.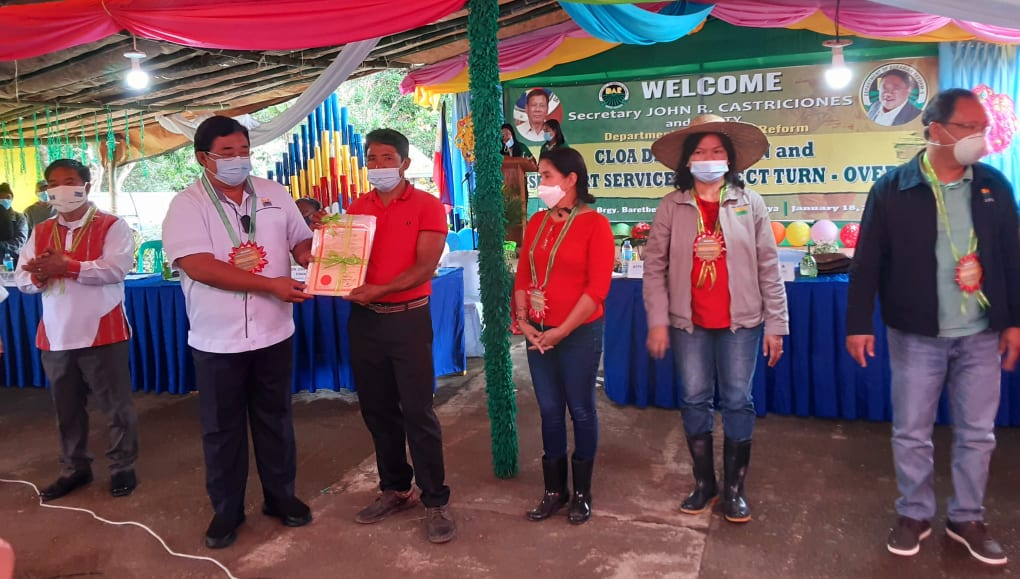 Secretary Castriciones joined by his Undersecretaries, Vice Governor Jose Tomas Sr., and other DAR key officials in handing over the 88 certificates of land ownership award (CLOAs) to 76 agrarian reform beneficaries (ARBs) with a total area of 112. 9793 hectares of agricultural lands. Six (6) ARBs were lucky to receive their individual CLOA through DAR to DOOR program.
Aside from land titles, farm machineries and equipment (FMEs) were turned-over to three (3) qualified agrarian reform beneficiaries organizations (ARBOs) namely: Kasibu Farmers Development Cooperative - 1 unit Suzuki Utility Van and 392 plastic crates under Linking Smallholder Farmers to Market and Microfinance (LinkSFarMM) worth P755,000.00, Kinalabasa CLAAP Cluster - 2 units of Multi Fiber Decorticating Machine worth P450,000.00 and the same FME to Kurasay CLAAP Cluster. A total of 1.655 Million worth of FME was given to them.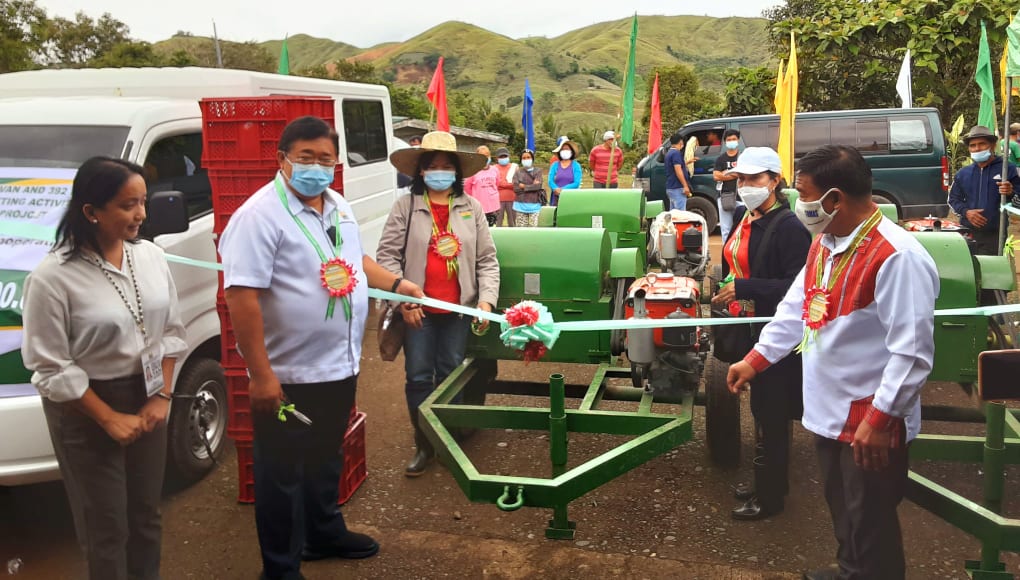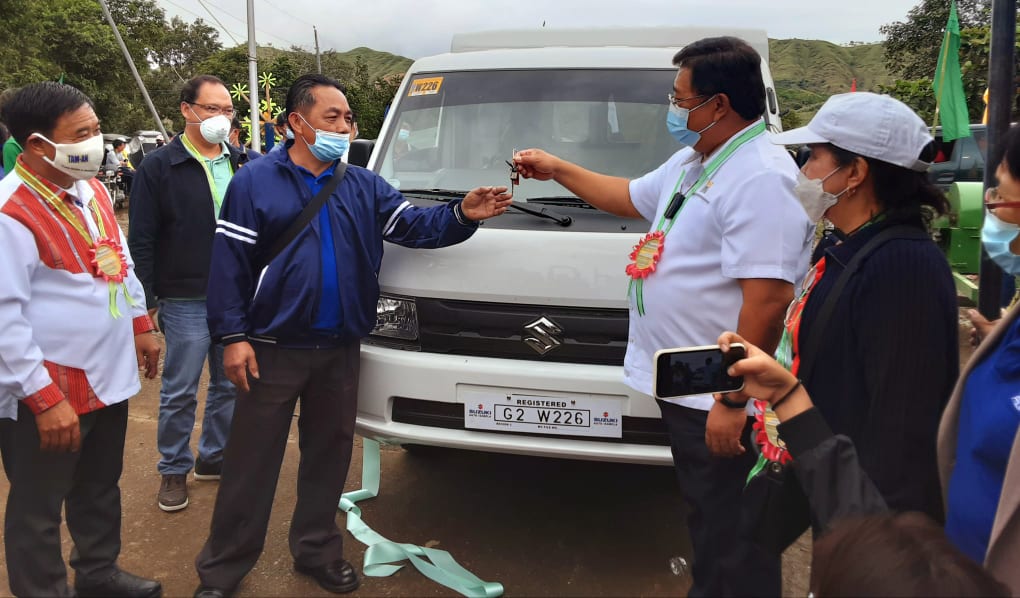 Provincial Agrarian Reform Program Officer II Gerald "Dindi M. Tan dedicted the success of the said activity to his strong support system - his men and women.
In attendance to grace the activity were Provincial Vice Governor Jose Tomas Sr., Assistant Secretary-Support Services Office Atty. Milagros Isabel A. Cristobal, Assistant Secretary-Foreign Assisted Projects Support Office Ubaldo R. Sadiarin Jr, Head Executive Assistant Atty. Juan Lorenzo Castriciones, Director-Public Assistance and Media Relations Office Cleon Lester G. Chavez, ARDA for Administration Alfredo B. Lorenzo Jr, ARD for Operations Engr. Rustico Turingan, PARPO II Engr. Eunomio P. Israel, PARPO II Val Cristobal, PARPO I Nida Agustin, Bgry. Captain Estrelita Urmanita, agrarian reform beneficiaries and other Central, Regional and Provincial staff.