LAUNCHING OF BUHAY SA GULAY PILOT SITE IN WESTERN VISAYAS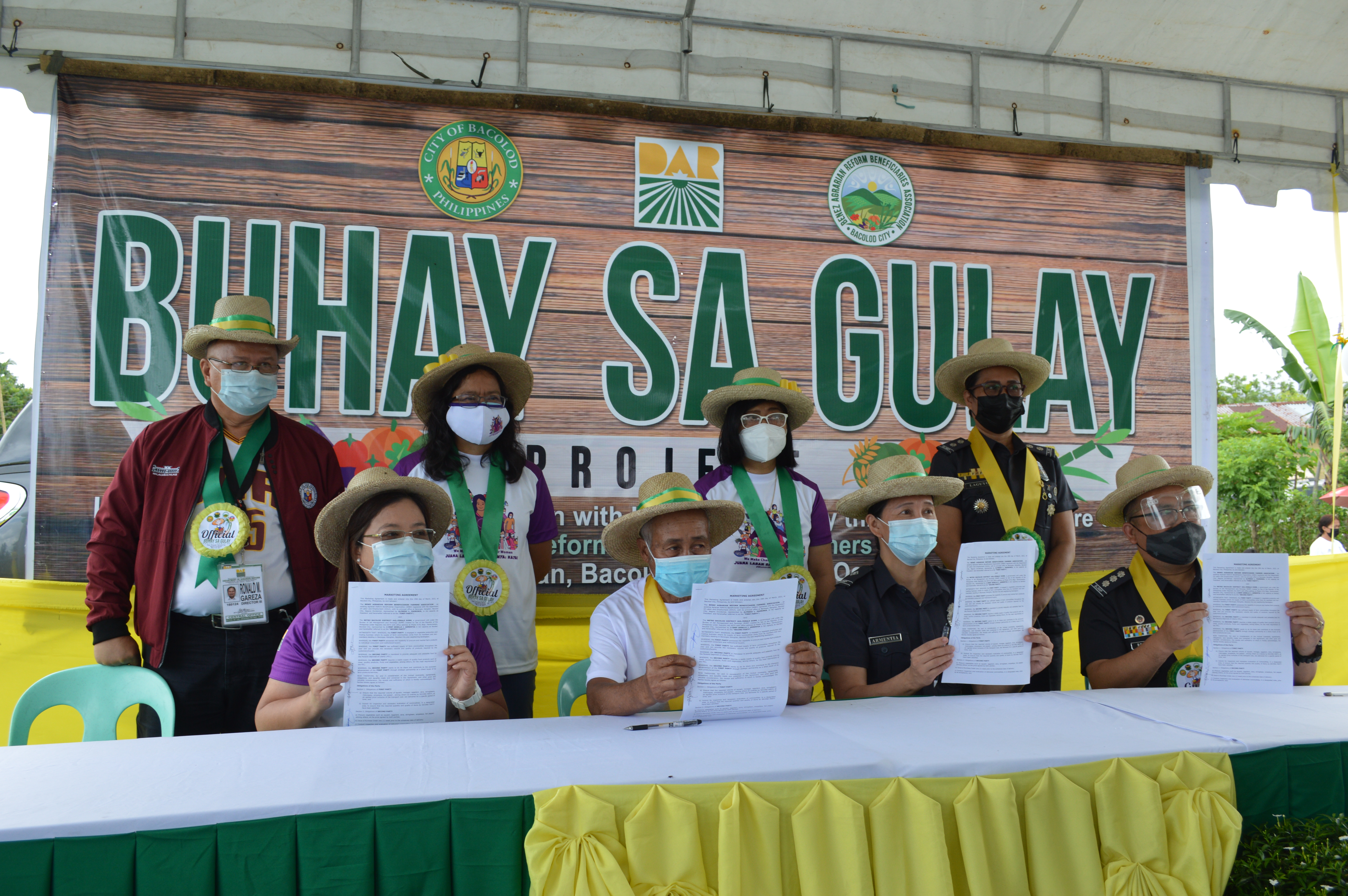 The Department of Agrarian Reform (DAR) Region VI launches its "Buhay sa Gulay" Project in Barangay Alangilan, Bacolod City on March 29, 2021.
DAR Region VI Regional Director Atty. Sheila B. Enciso made sure that the launching is successful as she led the activity. Director Enciso in her message, inspired the farmers to integrate their farming activities in a communal agribusiness venture to sustain greater production volume.
"We give them with lands to cultivate and we provide them with the necessary training and support services in accordance to the Agrarian Reform's objective of uplifting the lives of the farmer-beneficiaries", she added.
J/SSupt. Gilbert D. Peremne, Asst. Regional Director of Bureau of Jail Management and Penology – Negros Occidental showed support in the ceremony and assured that the market for the products to be harvested is secured as the Memorandum of Understanding (MOU) between the 2 agencies has been previously signed to provide direct farm-to-table marketing that will provide food security to the persons deprived of liberty.
In Western Visayas, the pilot site for the integration of the communal vegetable farm is station in Benez Agrarian Reform Beneficiaries (ARB) Farmers Association, an assisted AR cooperative of DAR Negros Occidental I (North).
The implementation of the project is geared towards the goal of building resiliency for agrarian communities. Specifically, the objective of this project is to enhance and sustain the agricultural productivity of agrarian communities as an adaptation measure towards resiliency.
DAR and BJMP are part of the Enhanced Partnership Against Hunger and Poverty (EPAHP) program, where government institutions work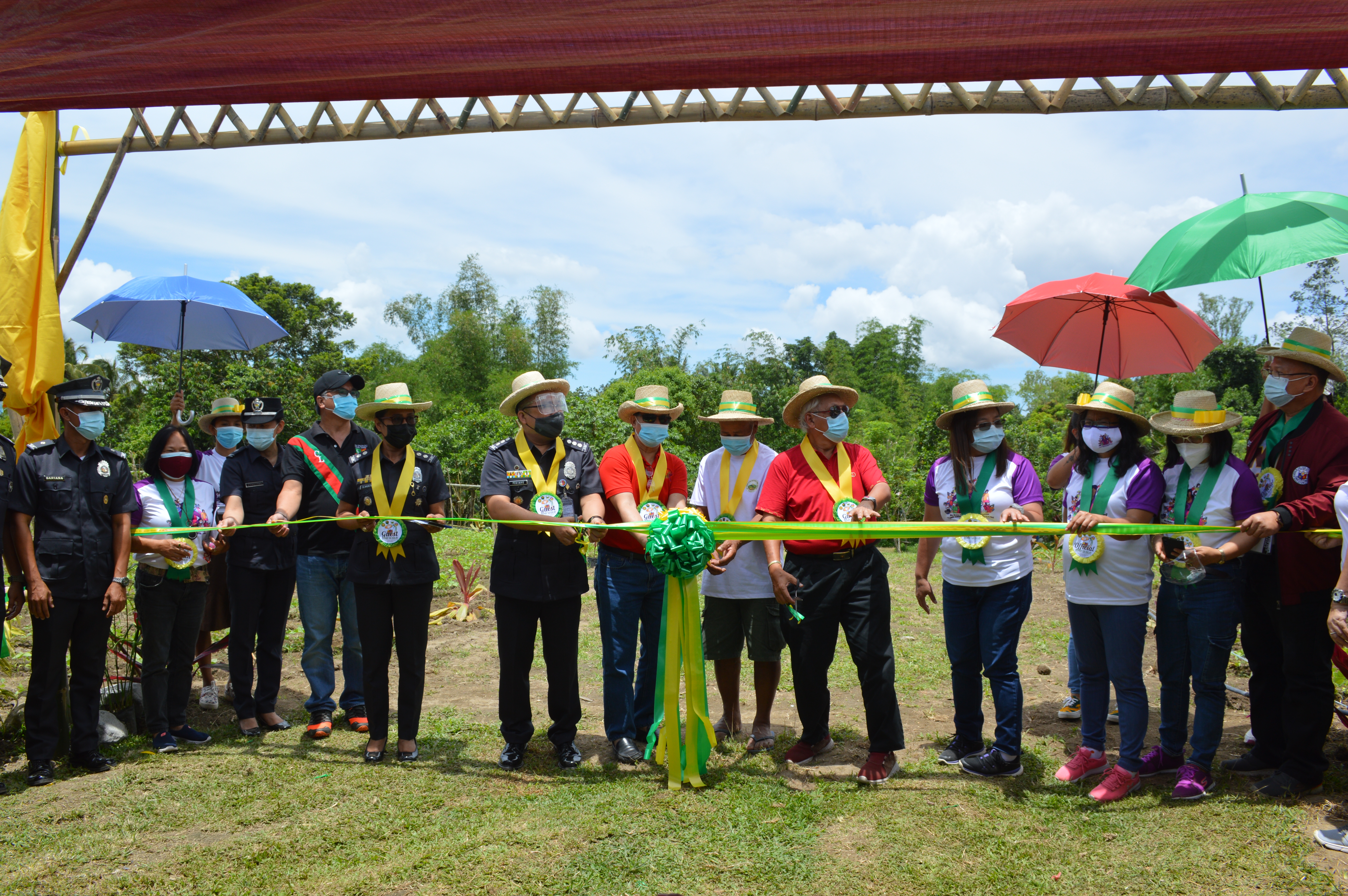 together to support feeding programs and the provision of community meals for workers and laborers.
Asst. Regional Dir. Lucrecia S. Taberna of DAR Region VI, OIC Director IV Ronald M. Gareza of DAR-Central Office's Project Management Service (PMS) and Policy Planning and Research Office (PPRO), OIC-Provincial Agrarian Reform Program Officer (PARPO) II Teresita R. Mabunay, and PARPO I Milagros C. Flores for DARPO-Negros Occidental 1 were present in the activity.
Benez ARBFA is composed of a total of 28 agrarian reform beneficiaries (ARBs) who are collectively managing the 1.4-hectare land vegetable garden which was acquired under the Comprehensive Agrarian Reform Program (CARP).
The ARBO is being assisted by the Program Beneficiaries Development Division (PBDD) of DAR Negros Occidental 1. Among the support services they received for the past eight (8) years were Capacity Development Trainings, Agri-Extension Services for Vegetable Production, Poultry and Livestock Feeds Supply worth Php 270,000.00 and Seed Capital Assistance worth Php 405,000.00.
DARPO Negros Occidental 1 organized development and support services interventions thru provision of training programs and construction and rehabilitation of infrastructure facilities. Access to ARB households to basic social services is also included in this sector to ensure holistic support for the farmer-beneficiaries.
Also present during the event were Chief Executive Assistant George Zulueta on behalf of Mayor Evelio "Bing" Leonardia, City Agriculturist Atty. Goldwyn Nifras, Station Commander PCapt. John Christopher Masangkay of Bacolod City; J/Supt. Marie Rose Laguyo, J/C Insp. Ian Karl Niaga, J/C Insp. Felix Sariana, Insp. Geselle Armentia of the BJMP; Brgy. Captain Degie Tanista, Sr. of Alangilan, and Federation of ARB Cooperatives in North Negros (FARBCONN) Chairman Alexander Canto.
With Negros Occidental still under the Modified General Community Quarantine (MGCQ) on the said dates, the conducted ceremony included the observance of minimum health protocols set by the Inter-Agency Task Force on Emerging Infectious Diseases (IATF-EID) and the Department of Health (DOH).