ARBs Overjoyed with the Land Titles Received from "DAR-to-DOOR" EP/CLOA Distribution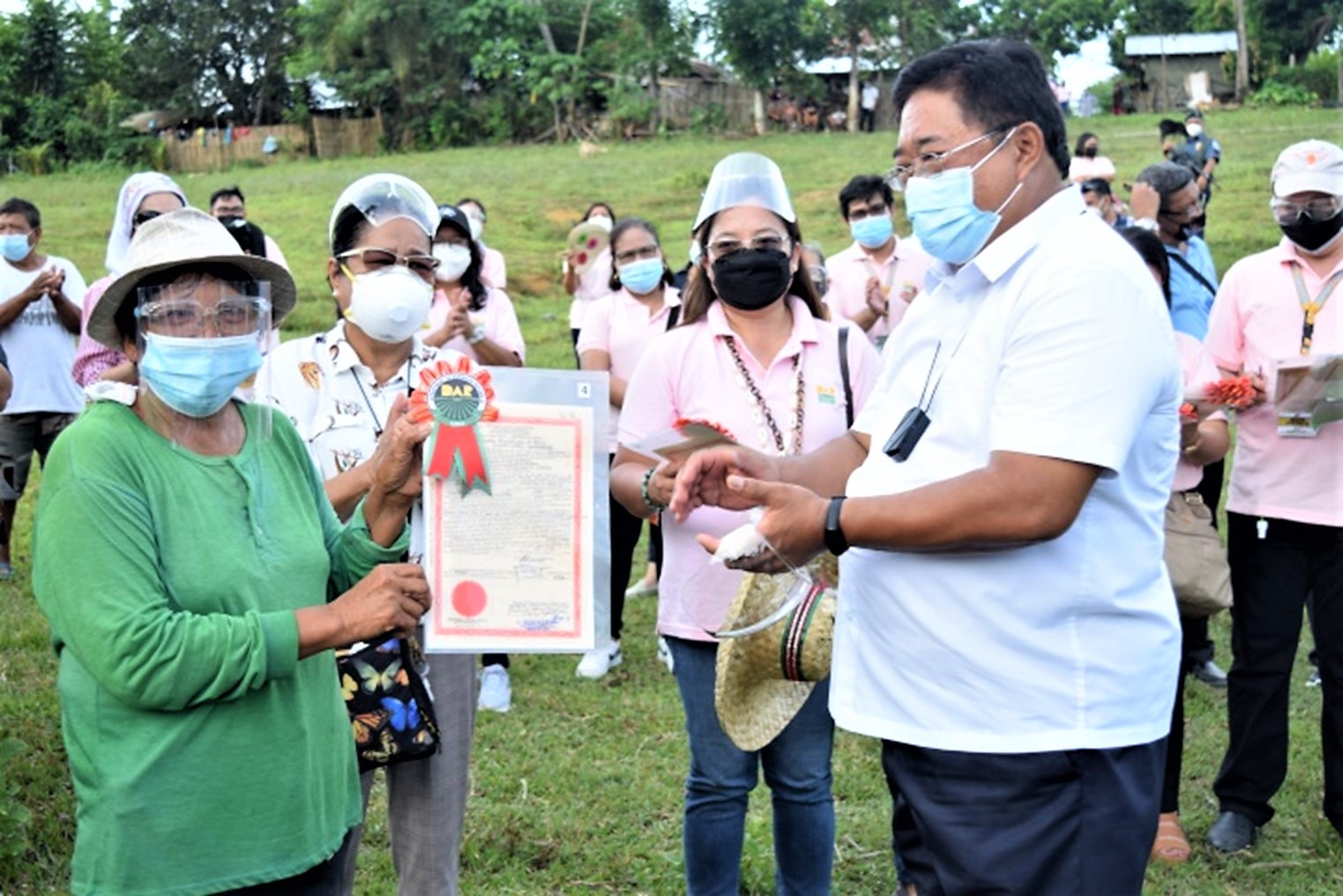 Secretary Bro. John R. Castriciones of the Department of Agrarian Reform (DAR) visited the Municipality of Batad, Iloilo specifically the Barangay Calangag for an activity dubbed as "Serbisyong DAR-to-DOOR" on May 15, 2021.
Twenty (20) Agrarian Reform Beneficiaries (ARBs) of the said barangay were excited and overjoyed after they receive their Certificate of Land Ownership Award (CLOA) personally delivered and handed over by Bro. John Castriciones. 7.5515 hectares of agricultural land were distributed during the said activity.
"Since you are now owners of the land you are cultivating, you are now obliged to pay your taxes in the municipality. However, these payments made for the taxes will be given back to the farmers through series of programs and services of the government". Hon. Mayor Alarcon of Batad said. She also added that Bro. John and President Duterte loves them (farmers) and the initiative of DAR has answered the problems of farmers about the land they are tilling. Further, Mayor Alarcon extended her thanks to Bro. John that Batad was chosen to be the venue for DAR-to-Door activity.
Jocelyn Sobron, one of the awarded ARBs, on a message expressed her gratitude to Sec. Castriciones. "We are finally holding the land title that we have long been waiting for", she added.
Also in attendance during the event were Usec Raribai Dilangalen, Usec Carim Panumpang, Asec Ubaldo Sadiarin, Jr., Congressman Raul Tupas of the 5th District of Iloilo, Hon. Jon Aying, Municipal Mayor of Sara, Iloilo, DAR Regional Office VI Director Atty. Shiela B. Enciso and Assistant Regional Director (ARD) Lucrecia S. Taberna as well as OIC-Provincial Agrarian Reform Program Officer (PARPO) II Harriet A. Loot, OIC-PARPO I Lourdes F. Causing, Stephen Cadete, OIC-Chief Agrarian Reform Program Officers (CARPOs) of Operations Division and Celina C. Candoleta, CARPO for Program Beneficiaries Development Division (PBDD), respectively and Mercy Caspillo, Municipal Agrarian Reform Program Officer of Batad. Also present are the PNP of the Province of Iloilo who did a big job to secure the activity sites.