Agusan Norte coop gets P1.8-M farm tractor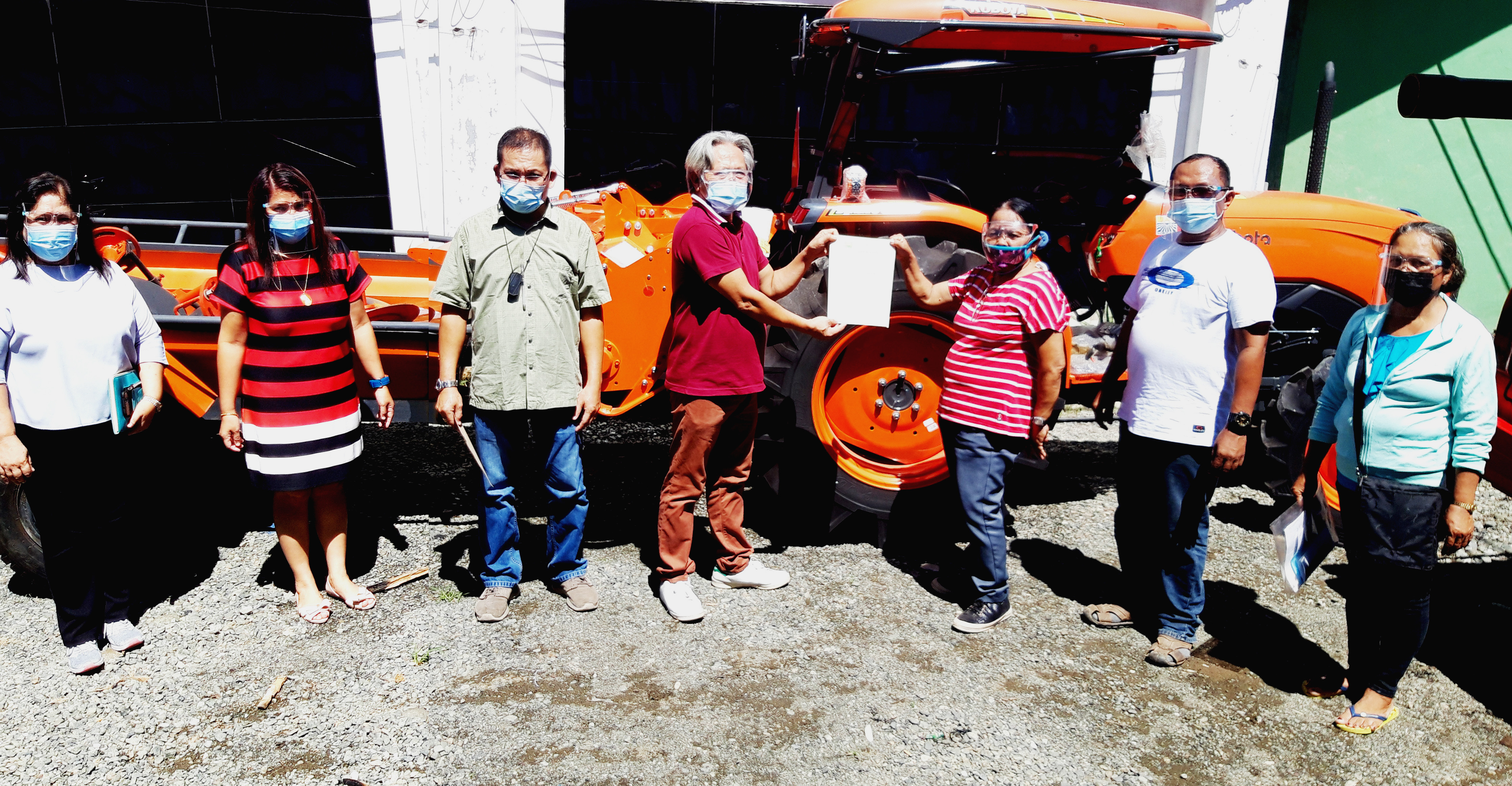 Butuan City – The Guinabsan Farmers Multi-Purpose Cooperative, (GFMPC received a farm tractor worth P1.8 million under the Climate Resilient Farm Productivity Support Project (DAR-CRFPSP) in a ceremony held at DAR provincial office, Butuan City last June 21, 2021.
Provincial Agrarian Reform Program Officer II Andre B. Atega said that the provision of farm tractor aims to address the farm-mechanization gap, which hampered the farmers' development in the agrarian reform communities.
Atega also added, "the farm-productivity of the agrarian reform beneficiaries will be made possible through transforming traditional farming into farm mechanization."
Agusan Norte Chief of the Program Beneficiaries Development Division Ellen J. Torralba said that the agency intensifies its effort to provide a package of support services.
"The CRFPSP will significantly bring growth and livelihood opportunities to the farmer-beneficiaries here," she said.
"The CRFPSP is one of the DAR's initiatives that support the government's farm modernization program and complies with the government's effort to fight climate change," Torralba added.
The equipment is a four-wheel-drive power-35 HP tractor with attachments that include a rotary tiller and trailer.
Elsa O. Bucad, Chair of GFMPC expressed gratitude to the agency for the release of the farm tractor to their cooperative.
"Dako among kalipay na nadawat namo ang ayuda sa DAR, dako kini nga tabang sa among kooperatiba,
(We are grateful and happy for the blessings we received, indeed, this could be a great help to our organization)," she said.
Based on the January to June 2021, the province already distributed 40 units of farm machineries and equipment along with farm
inputs and implements. "We also conducted capacity building for adaptation and mitigation practices to ARBOs",
project pointperson Raul Hermoso said.
Hermoso furthers that the distribution has reached 15 agrarian reform beneficiaries organizations covering more than P3-million
and more than P869 thousands of farm inputs.
The DAR-CRFPSP is a nationwide strategy assisting the ARB organizations aimed to build climate resiliency at the ARC level and
to adopt technology innovations to improve farmers' farm activities and thus boost their productivity and income.
-Gil Miranda, PIO Agusan del Norte