DAR Antique, Pilmico to provide livelihood opportunities to agrarian reform beneficiaries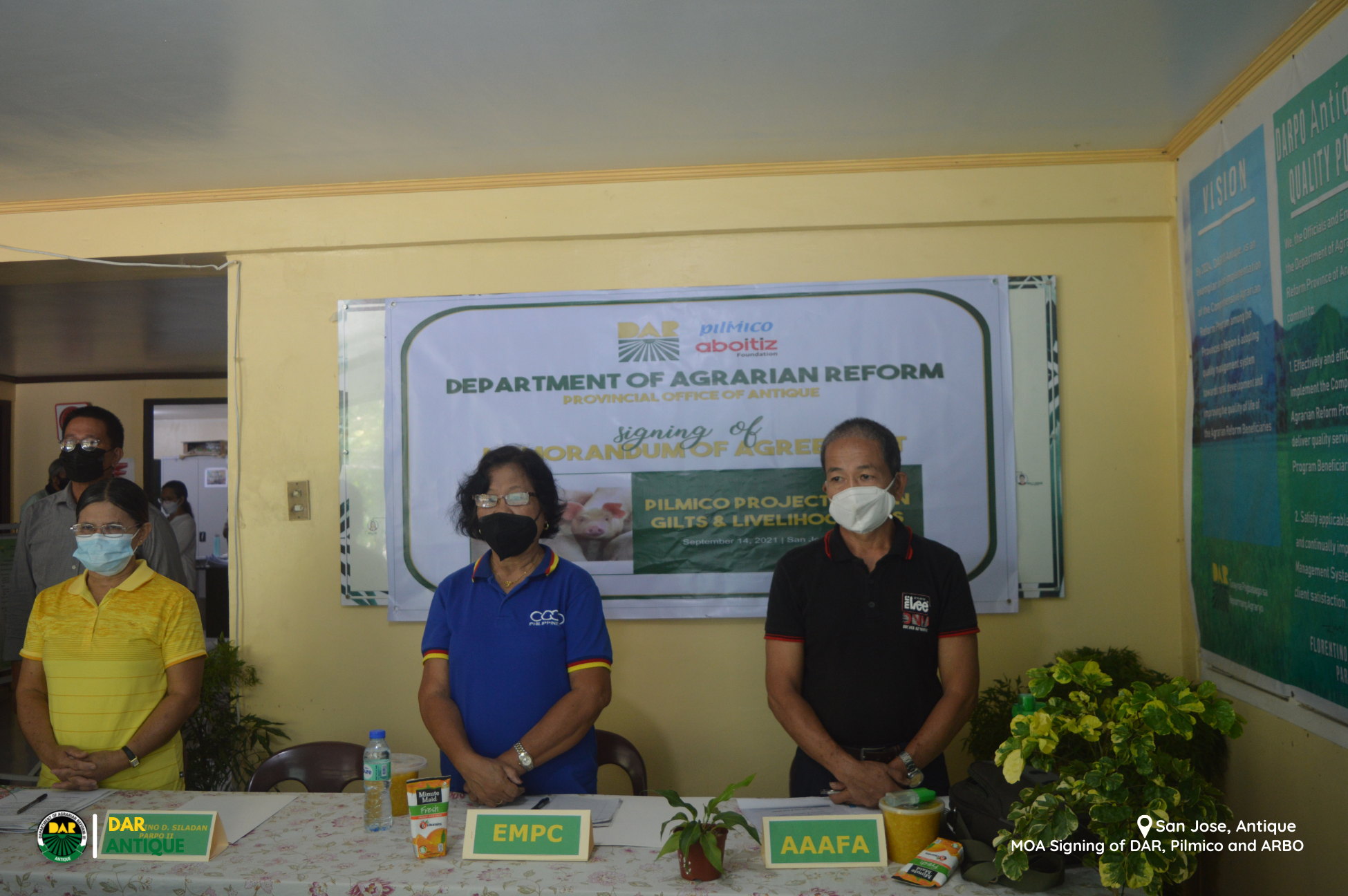 The Department of Agrarian Reform Provincial Office Antique (DARPO Antique) and the Pilmico Foods Corporation, an agribusiness venture of the Aboitiz Equity Ventures Inc. (AEV) has sealed its partnership intended to provide livelihood and technical support services to five (5) agrarian reform beneficiaries organizations (ARBOs) across the province.
The partnership was formalized through the signing of a Memorandum of Agreement on September 14, 2021 at DAR Antique provincial office attended by the beneficiaries organization's representatives, DARPO Antique personnel headed by PARPO II Florentino D. Siladan, and virtually attended by Pilmico's Corporate Social Responsibility Specialists Mr. Manuel J. Villanueva and Mr. Gregory Canoy.
Under the Pilmico's Project Bacon, the five selected ARBOs namely Nasuli-C, Iba, Casay, San Francisco Multi-Purpose Cooperative (NICS MPC), Tigmamale Agrarian Reform Cooperative (TARC), Patria Multi-Purpose Cooperative, Aureliana-Apgahan Agrarian Reform Farmers Association (AAAFA), and Esparar Multi-purpose Cooperative will receive Gilts Livelihood Kit from Pilmico and series of technical support and capability services from DAR which will enable them to sustain and maximize profitability.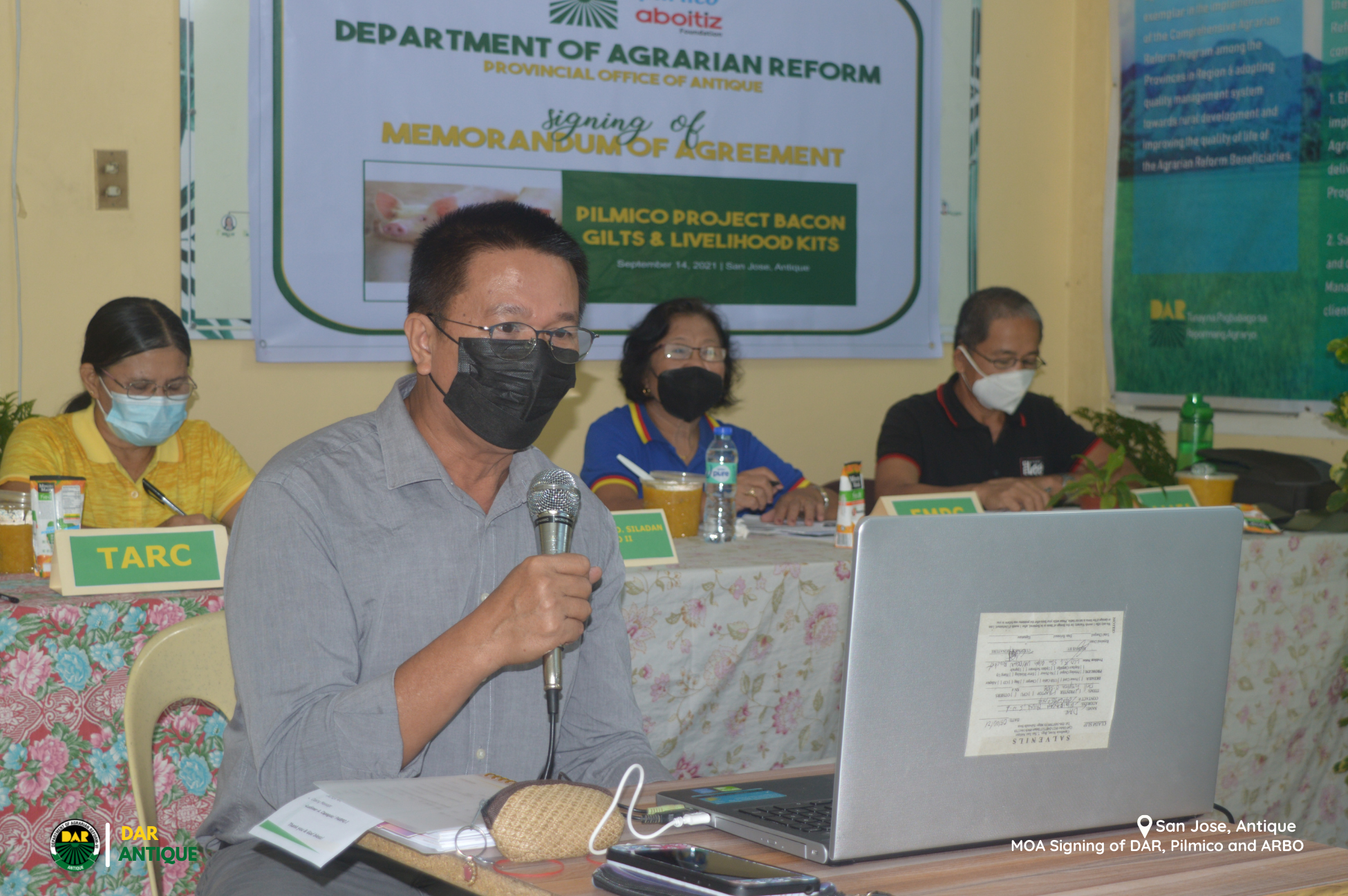 "I hope and look forward for a successful partnership and more returns on the investment the Pilmico will be providing for our ARBOs. This partnership will result to added income providing livelihood to our Agrarian Reform Benficiaries (ARBs) despite the restrictions imposed due to pandemic, said PARPO II Florentino D. Siladan.
A project orientation was also conducted by Mr. Manuel J. Villanueva highlighting the description of the project, background of the organization, and the rights and obligations of both parties.
The ARBO leaders expressed their gratitude to the DAR and Pilmico for providing them with the livelihood assistance to boost their organizations' and family's income.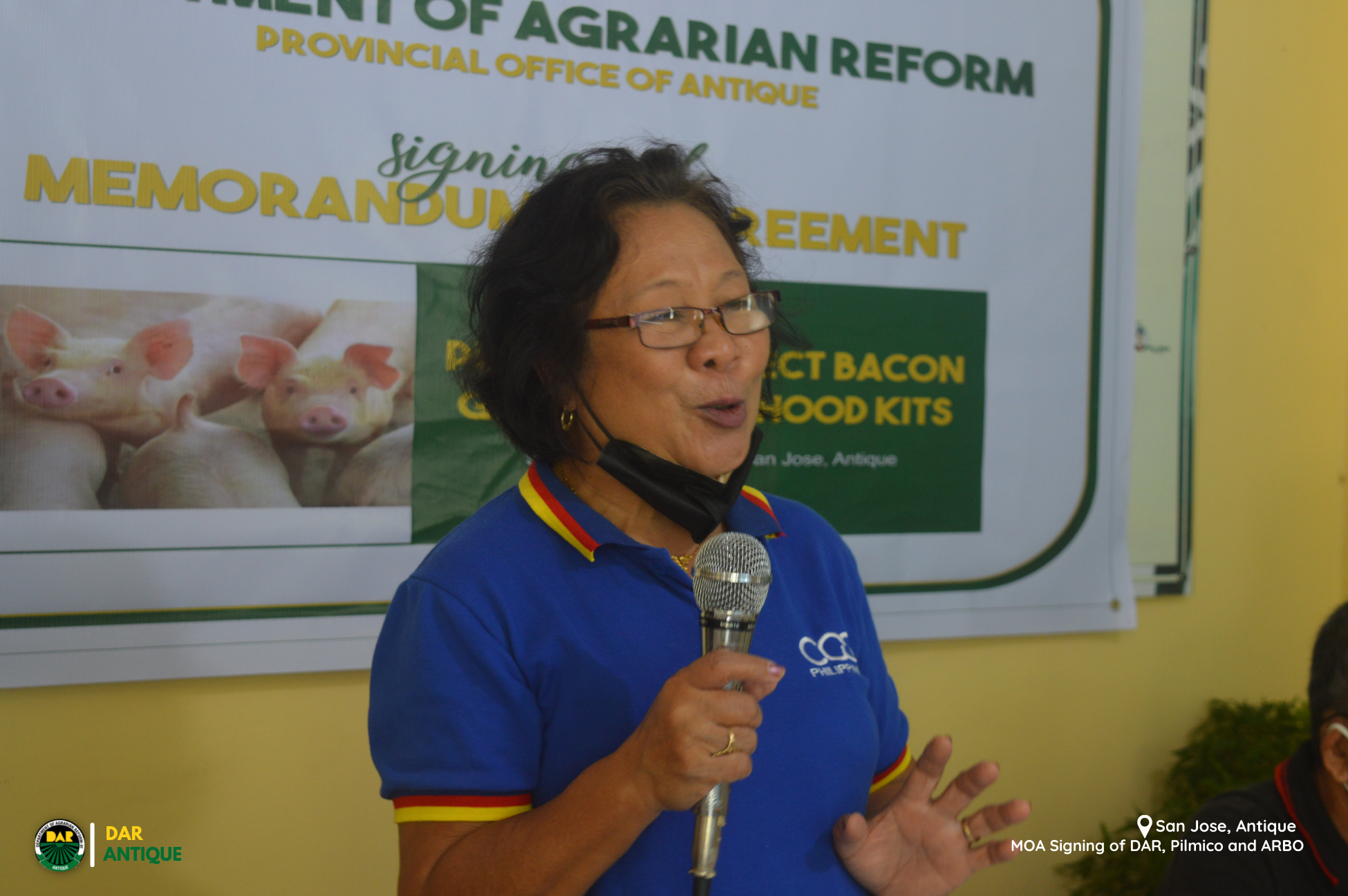 "We are grateful for the unending support of DAR Antique to our organization. This partnership with Pilmico would once again give us hope amidst difficulties" said Domingo M. Huelar of NICS MPC.
Esparar MPC Celia E. Villaram pledged its commitment to grow and enrich the livelihood kit for project sustainability and poverty alleviation.
"Production and delivery of food is essential in daily life especially with the current situation we are experiencing thus we hope to cover more agrarian reform beneficiaries in the province of Antique to avail this livelihood opportunity", Siladan added.