DAR-TO-DOOR Expedites CLOA Title Distribution during Pandemic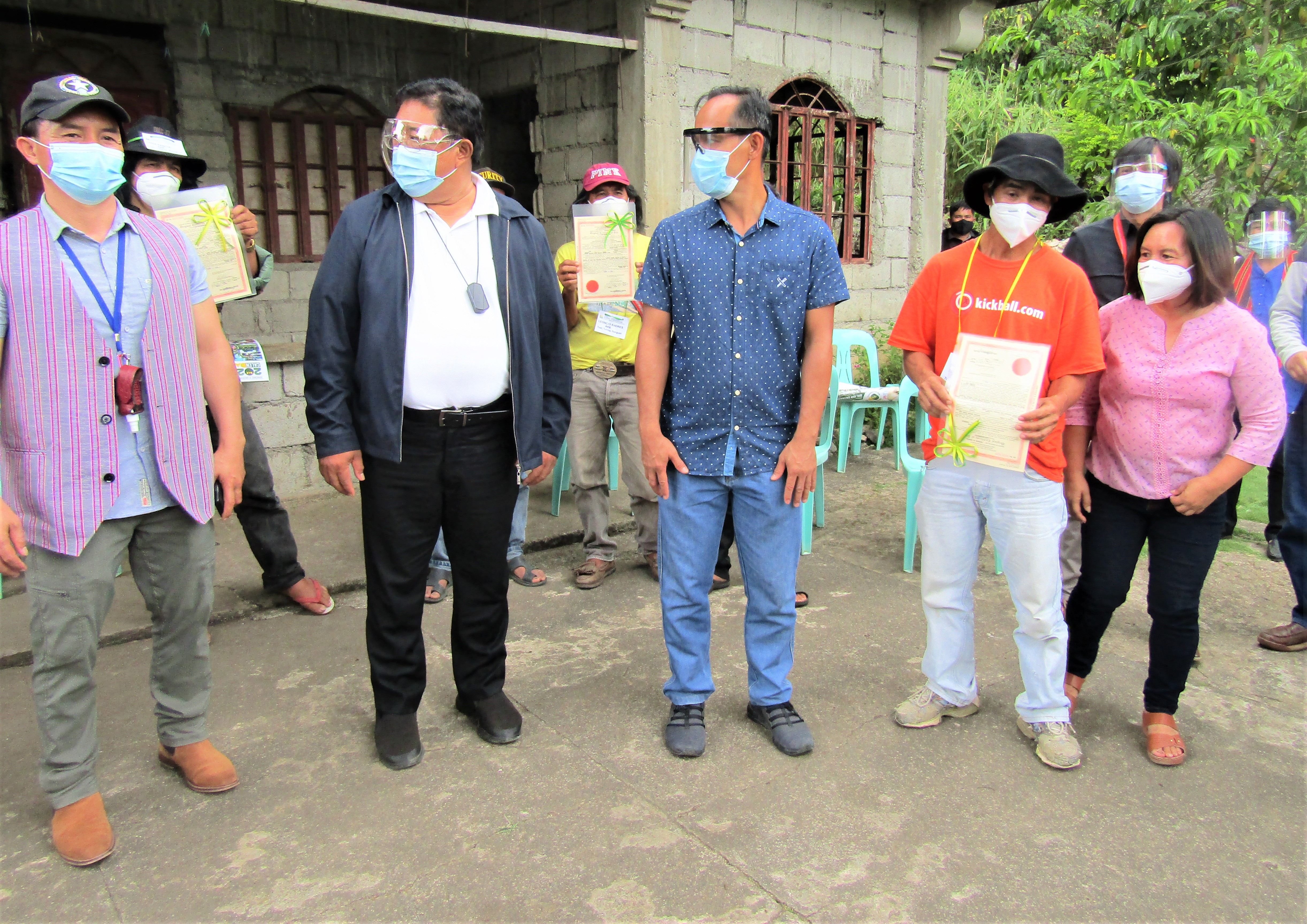 The pandemic brought about by the coronavirus disease (covid-19) gave birth to the DAR-TO-DOOR approach strategized by the Department of Agrarian Reform (DAR), founded by DAR Secretary John R. Castriciones, to expedite CLOA title distribution. Through this approach, DAR Officials particularly led by Sec. Castriciones, or upon his directive to the Regional Directors, personally deliver Certificate of Land Ownership Award (CLOA) titles right at the doorstep of the beneficiary - maybe aging, ailing who are incapable to join the ceremonial CLOA distribution at the designated venue.
As of this date, among the six Provinces of the Cordillera Administrative Region (CAR), the Provinces of Benguet, Ifugao, and Mt. Province conducted the DAR-TO-DOOR. There are 83 CLOA Titles distributed to 67 ARBs, consisting an aggregate area of 44.5094 hectares.
In the Province of Benguet, DAR-TO-DOOR was conducted in the Municipality of Tublay, led by DAR Secretary Bro. John R. Castriciones, on April 8, 2021. Seven CLOAs were distributed to seven ARBs, consisting an area of 8.1482 hectares.
In the Province of Ifugao, the same activity was conducted at Barangay Itab, Municipality of Aguinaldo, led by DAR-CAR Regional Director Eugene Follante, upon the directive of Sec. Castriciones. There are 66 CLOAs distributed to 51 ARBs, consisting an area of 36.3612 hectares, on May 20 this year.
At Poblacion, Municipality of Paracelis, in Mountain Province, also led by Follante, ten CLOAs were distributed to nine ARBs, on May 25, 2021.Coincided to the conducted DAR-TO-DOOR to the aforesaid Provinces, were ceremonial CLOA distributions in the respective Provinces, on a designated venue. During the Ceremonial CLOA Distribution (excluding the DAR-TO-DOOR), the three provinces have distributed 528 CLOA titles to 488 ARBs, with an aggregate area of 464.6830 hectares. Benguet with 376 CLOAs to 349 ARBs, with an area of 362.6332; Ifugao with 44 CLOAs to 41 ARBs, with an area of 28.2151. Mountain Province with 108 CLOAs to 98 ARBs, with an area of 73.8347 hectares. – Rhino Pellis.