DAR turnover Farm Machineries worth P1.2M to Ifugao Agrarian Reform Beneficiaries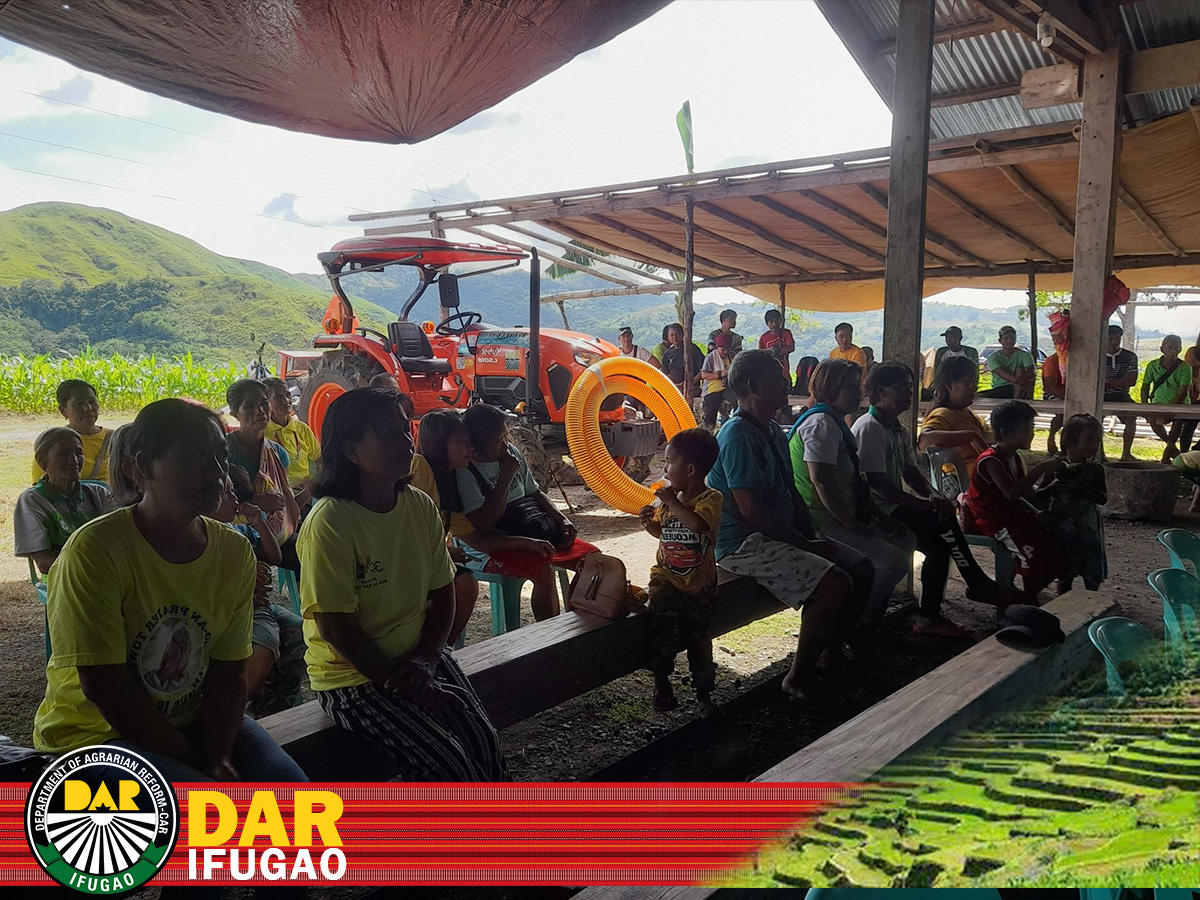 The machineries provided are a water pump, a 50 Hp tractor, and a corn seeder with a total project cost of P1,236,500.00. The turnover of FMEs is under the Major Crop-based Block Farm Productivity Enhancement under the Climate Resilient Farm Productivity Support Project of DAR.
The Department of Agrarian Reform Provincial Office (DARPO) Ifugao held a turnover of Farm Machineries and Equipment (FME) to the Monggayang-Pinto Agrarian Reform Farmers Organization (MPARFO) in Sitio Manaot, Barangay Monggayang, Aguinaldo, Ifugao on November 10, 2022.
DARPO-Ifugao Provincial Agrarian Reform Program Officer II (PARPO II) Atty. Raul C. Laluan shares in his message to the beneficiaries the moral lesson of the Parable of the Talents. "Daytuy nga parabur nga natanggap yu itatta ket haan nga naggapo ti DAR, inpadalan lang ni apo diyos ti DAR ken inusar na kami nga empleyado nga mangited kadakayu daytuy ta isu ti inkarkararag yu." [These blessings that you have received aren't from DAR, it is from the Lord in which he uses DAR and us, the employees, to share these blessings that you have prayed for.]
The Trust Agreement between the DAR & the Organization was also signed during the turnover ceremony. The agreement consists of the duties and responsibilities of the agency and the organization.
MPARFO President Joseph Oman, thanked DAR and the personnel for the FME granted. He assured the department that they will take good care of the things they received and are yet to receive.
Major Crop-based Block Farm Productivity Enhancement is a project for the area where Agrarian Reform Beneficiaries and Non-ARBs are individually or collectively engaged in the production of major crops that primarily include rice, corn, and other crops such as bananas, pineapple, and vegetables. As such, these crops were identified to be major products in a large area of land. It is assumed that the rate of production for the major crop is providing the needs of local/household consumption as well as surplus produce.