Antique farmers benefit from DAR's climate-resilient projects
ANTIQUE: The Department of Agrarian Reform in Antique recently turned over 2 unit of solar dryers through the Climate Change Resilient Farm Productivity Support Program (CRFPSP) to farmer-beneficiaries in Sibalom, Antique last November 10, 2023.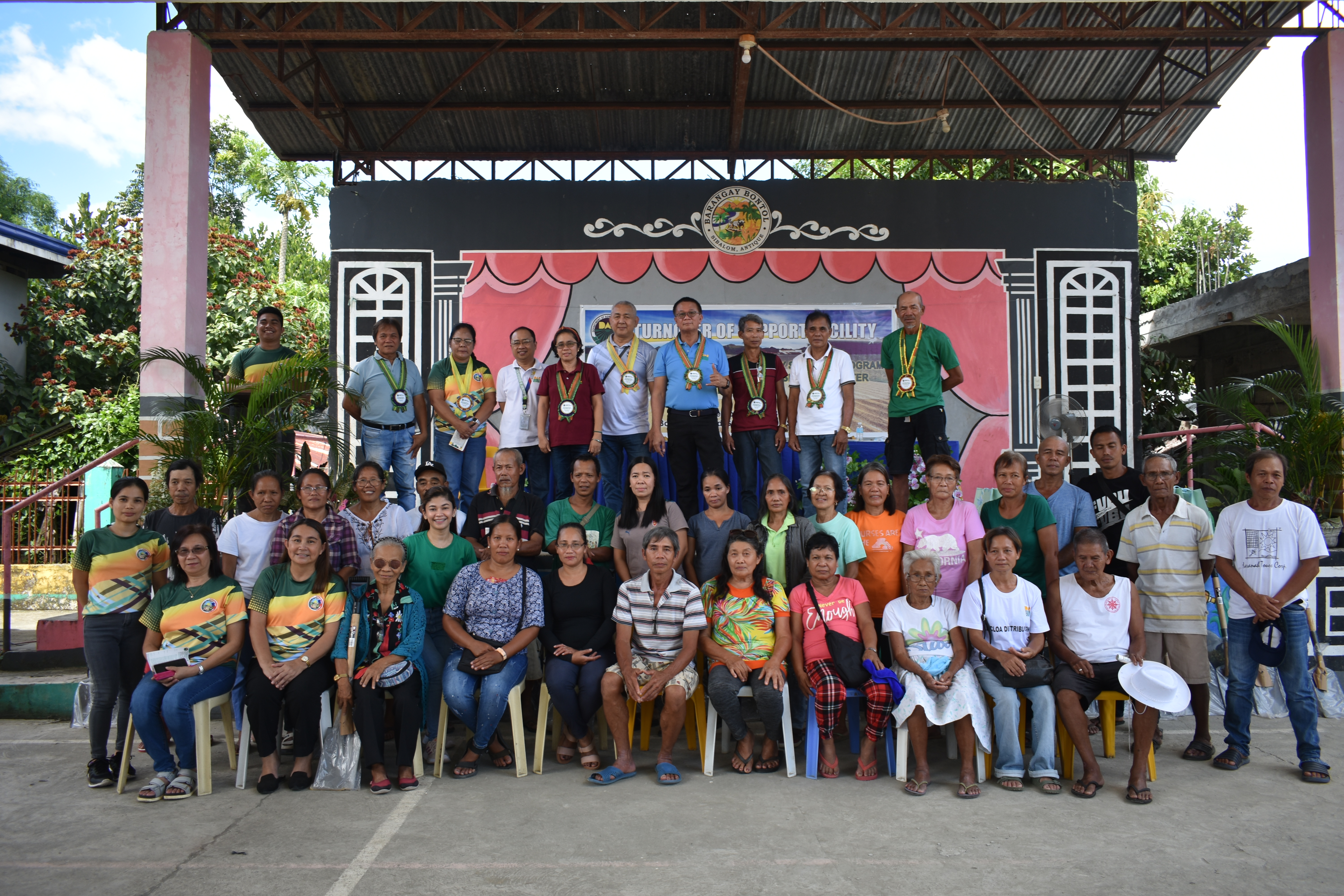 A total of 279 Agrarian Reform Beneficiaries (ARBs) from two agrarian reform beneficiaries organizations (ARBOs) namely Bontol, Indag-An, Luna, Igpanolong (BILI) Agrarian Reform Cooperative and BILI Irrigators Association will benefit from the various agricultural extension services and common service facility given by the agency.
According to OIC-Chief Agrarian Reform Program Officer (CARPO) Ulysses M. Villafuerte, the identified common service facility of the ARBOs is the solar dryer amounting to Php250,000 per unit as support to their rice and vegetable production in the agrarian reform community. He also added that recipients were also provided with technology kits and were capacitated through the conduct of technology training on rice and vegetable production.
Provincial Agrarian Reform Program Officer II (PARPO II) Florentino D. Siladan said that DAR Antique seeks to ensure the farmer-beneficiaries a sustainable livelihood and a steady source of income.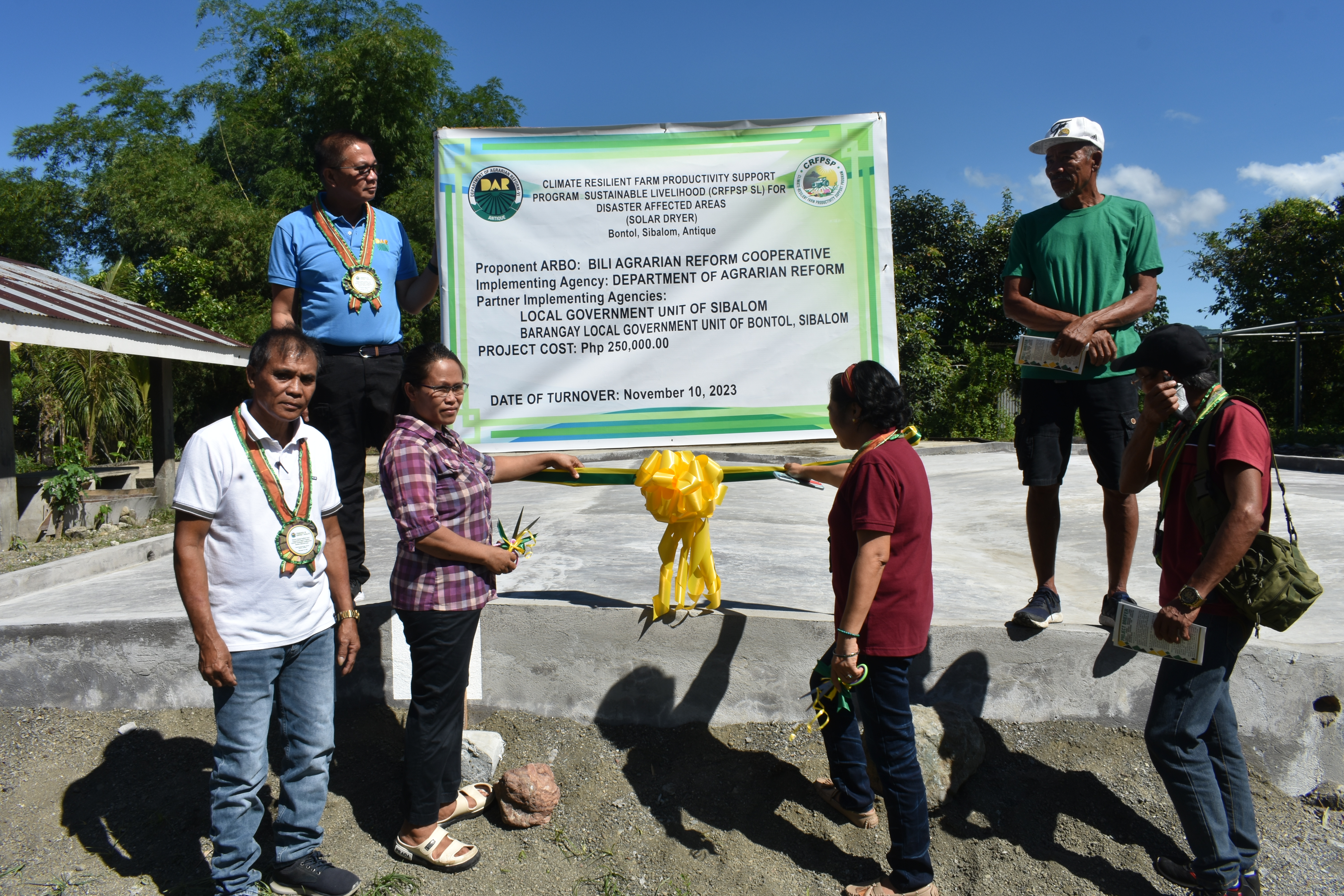 He emphasized that the success of the project lies in their hands. He added that the active participation of the officers and members of the ARBOs coupled with effective leadership and collaboration of the BLGU and ARBO officials plays an important role in the success of this project.
Furthermore, he posed a challenge to all the recipients to make prudent use of the support facilities and to ensure that they are properly managed.
DAR Regional Representative SARPO Arni Sumaylo reminded the ARBO recipients to take care of this support facility and maximize its usability. "Policies should be laid down to effectively sustain the project and enable you to expand the solar dryer in the future," she added.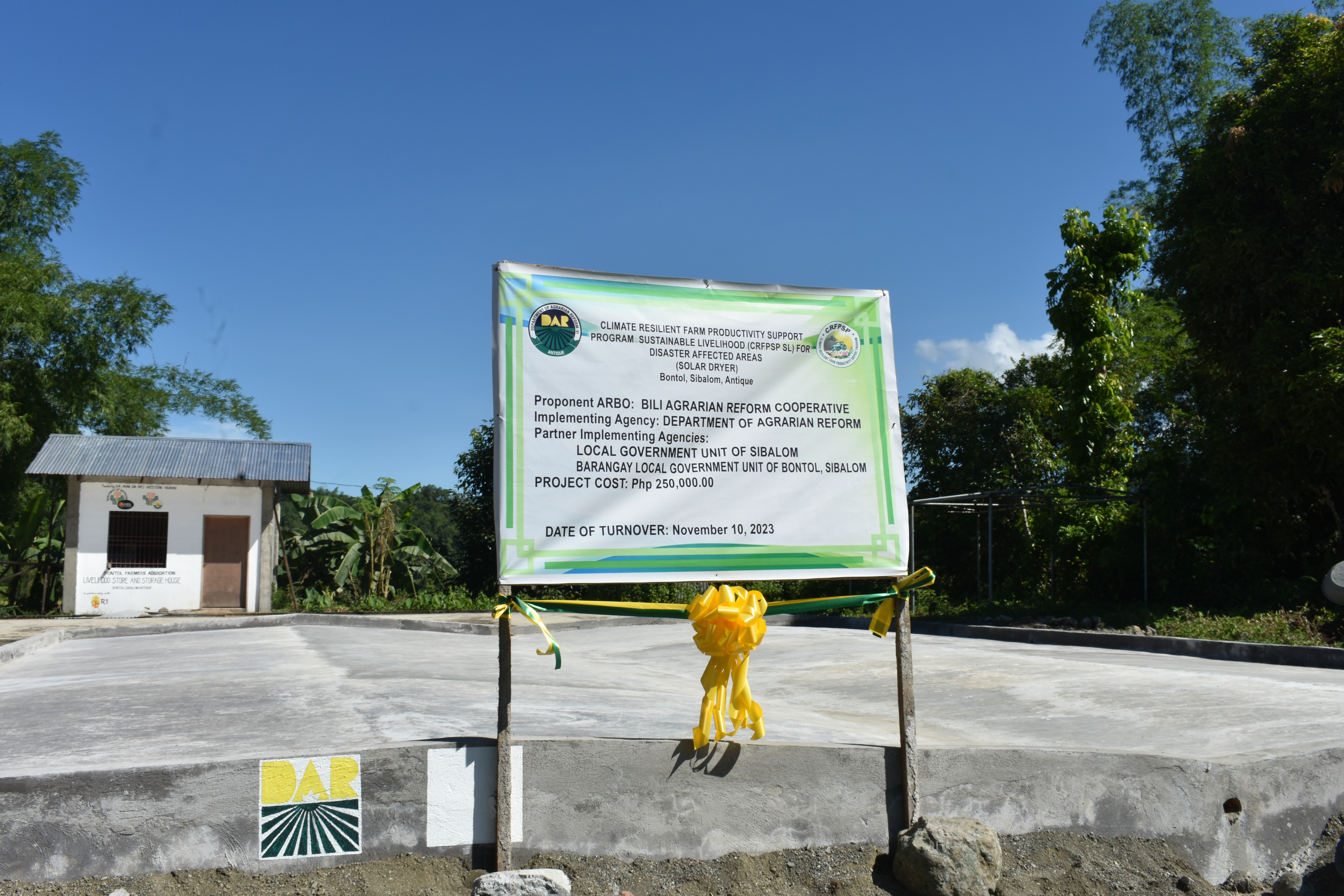 The ARBO representative expressed their sincere gratitude to DAR and promised to use the support facility provided to them at no cost as efficiently as possible.
"The solar dryer is a blessing that will help us farmers enhance our agri-products for storage and drying," Julie Z. Olandres of BILI AR Coop said.
"As the President of our Irrigators Association, I am grateful for this project because through this we will minimize our losses and the cost of our rice production," Quirico A. Nuevacobita of BILI IA said.
The DAR's joint endeavor with the Local Government Unit of Sibalom, Bontol BLGU, and Igpanolong BLGU showcases a mutual dedication to enabling Antiqueño farmers to foster sustainable farming practices and build resilience in the face of climate change.